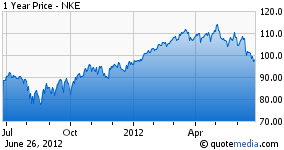 Nike (NYSE:NKE), the athletic footwear and sports apparel giant, is set to report fiscal Q4 '12 after the close on Thursday, June 28th, 2012, with analyst consensus looking for $1.37 in earnings per share (EPS) on $6.5 billion in revenue for expected year-over-year (y/y) growth of 10% and 13% respectively.
One Street firm is expecting "mid-teens" futures growth for the shoe giant, at 14% for that key metric.
The last 5 quarters, sequentially, NKE's "futures growth" has been 9%, 12%, 12%, 13% and 18% the last quarter. Part of this could be London and the buildup to the Olympics, (Nike has been building inventory), but part is no doubt due to strong demand for the product, particularly in North America.
What we know about NKE is that the London Olympics starting in July, 2012 will be a HUGE p/r campaign for the swoosh, and that the stock had a great run for 2012, but it has seen a pullback in the last few weeks to its Jan 1 starting price.
NKE's gross margin has compressed for 4 consecutive quarters, from 44.29% to 43.81%. The last time NKE's gross margin was this low was May '07 and May 09 quarters.
The biggest problem with Nike here is the valuation: while the fiscal 2013 EPS of $5.79 leaves NKE trading at 17(x) next fiscal year's estimates, resulting in 14% expected growth, and doesn't seem too shabby, the 27(x) cash-flow valuation and the 40(x) free-cash-flow valuation, not to mention the free-cash-flow yield of 2%, results in a "tech-like" valuation for the sports giant, reminiscent of the late 1990's. Even Apple is far cheaper than Nike at this point.
Yes, world-class brands often do trade at a valuation premium to the rest of the market given their stability and consistency of revenues, earnings and cash-flows, but our opinion is that NKE has gotten ahead of itself here.
The North American market is 37% of revenues (as of fiscal Q3 '12) but over 2/3rd's of NKE's total EBIT (earnings before interest and taxes) as both Nike North American revenues and EBIT have grown in the high teens the last four quarters. Is it possible to sustain this revenue and EBIT growth at close to 20% for a high-price-point shoe and apparel product ?
The other factor is China (naturally). Just 12% of revenues but in the low 30% range in terms of EBIT, China's has gradually contributed more and more to NKE's total operating income the last 4 years. China's economy is slowing for sure, but consumption or consumer spending is still a low percentage of the Chinese economy, (relative to investment) with the point being that while there is still tremendous secular growth ahead in China for Nike over the next 20 years, I'm worried about 2012 and 2013.
Technically, NKE is below its 200 day m/a and is sitting right on its 50 week moving average at $98.45.
We have a very small position in the stock, but would load up the boat or back up the truck beginning under $90. That cash-flow valuation is scary right now. With a world-class brand like Nike, we would buy at 15(x) cash-flow (which seems pricey) but that is still a long way down from here.
Disclosure: I am long NKE.
Additional disclosure: Small position, low-cost basis from 2004