As the world's leading provider of open source software solutions, Red Hat Inc. (NYSE:RHT) released its Q1 2013 earnings last Wednesday. Revenue was $315 million, up +19% from a year ago, which is better than the street expectation of $310.8 million. Importantly, revenue grew +22% excluding the impact of currency. Operating margins in Q1 was 26.0%, up 108 basis point year over year. Red Hat CEO Jim Whitehurst is highly confident that they can continue to keep the operating margin improving by ~100bps per year. Billings grew +16% yoy (+20% yoy in constant currency), which is slower than the previous five quarters but still very healthy.
Being on pins and needles, and with the stock trading at a lofty valuation, investors panicked about what they perceived as slowing revenue and billings growth. According to CEO Jim Whitehurst, in an interview with CNBC, there are two causes for the slowdown in growth. The first is the weakening Euro, which is important because Red Hat generates 25% of its revenue from Europe. However, it's important to highlight that management noted that southern Europe was one of the strongest regions for the quarter. This indicates when economic growth slows and businesses are under pressure, Red Hat's products offer superior cost advantages over proprietary software from the likes of Oracle (NASDAQ:ORCL) and SAP.
The second reason for the slowdown is that management is intentionally slowing their growth of Training & Service revenue as Red Hat relies more on partners to help them grow their Subscription business. Using the channel as a larger driver of growth will limit the upfront Training & Service revenue, but positively impact the long-term and higher margin Subscription revenue.
Taking these two factors into consideration, the core business continues to perform very well. Specifically, Subscription revenue, which is 87% of total revenue, grew 21% yoy (and +24% yoy ex. currency). Training and Service revenue increased 8% yoy (in constant currency), but Training revenue slowed more than estimated as it's more discretionary than the other revenue streams.
click to enlarge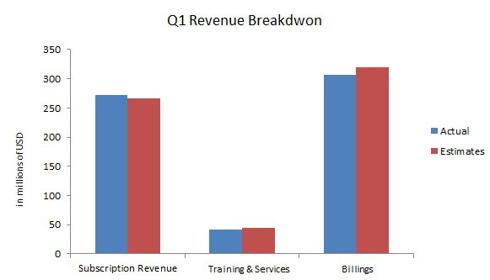 Red Hat purchased $30 million in stock in the quarter, and has $270 million left on the buyback authorization. Full year revenue guidance for 2013 was lowered by $20M in accordance with the current forex rate, but Red Hat kept all other assumptions intact from their initial guidance last quarter.
Based on strong fundamentals, but clear headwinds from currency and a soft global economy, we think Red Hat is fairly valued at $55. Red hat has almost $7/share in cash, so the stock is trading at ~40x our 2012 EPS estimate of $1.20 (ex. cash). We love the long-term exposure to cloud computing, storage, and virtualization, but there are enough headwinds to keep us from adding to our position here.
Disclosure: I am long RHT.