Office REITs Investment Thesis
REITs have a history of providing investors with high-dividend yields. REITs that have the potential to grow their earnings and subsequently distributions to their shareholders are the most attractive. In the event of changing circumstances in the real estate markets, our view is that Liberty Property Trust (LRY) and Digital Realty Trust Inc. (NYSE:DLR) would be the primary beneficiaries. Investors can short sell the REITs ETF (NYSEARCA:VNQ) to hedge against the long positions in DLR and LRY.
Drivers

Tenants have an increasing focus on space optimization, which is why the U.S. office vacancy rates stood flat at 16% when compared with 4Q2011.
U.S. industrial vacancy rates for 1Q2012 dropped, from 9.2% in 4Q2011 and 9.5% in 1Q2011, to 9.1% in 1Q2012, along with a flat average asking industrial rent of $5.05 when compared with 1Q2011.
Liberty Property Trust
Liberty Property Trust owns more than 700 industrial and office properties on 65.1mn square feet, and has relations with 2,300 tenants. The Pennsylvania-based company has a market cap of $4.15b. LRY elected to be taxed as a REIT and is involved in the acquisition, leasing, development and property management within the Mid-Atlantic, Southeastern, Midwestern and Southwestern United States and the United Kingdom.
Revenue and Earnings Review
Operating revenue for the quarter ended March 31, 2012, were up by a modest 2.3% to $169.9mn over 1Q2011. This was largely due to an increase in both rental income and terminations fee. Rental income increased due to an increase in the total operating real estate income, which in turn increased the depreciation and amortization expense for the company by 5.9%.
Net operating income from all the geographical segments of the company decreased. However, the U.K. was the only segment that continued to post net operating losses of $0.23mn. For the quarter ended March 31, 2012, LRY generated revenue of less than 1% of the total revenue from its United Kingdom markets.
Property operating income of same store, excluding termination fees, in 1Q2012 remained relatively flat at $118.5mn year over year. Same-store average occupancy increased moderately from 91.2% in 1Q2011 to 92.1% in 1Q2012.
Cash Flows
LRY's remaining debt payments to be made in 2012 are $245mn, and it expects to initiate new development projects in properties amounting to $300mn. It further expects to make an acquisition of $200mn during 2012. Proceeds from sale of properties would cover $300mn while the company anticipates that other sources are sufficient to satisfy the funding requirements. The company on average generated $300mn since 2007, and it is fair to expect the company to generate the same amount of cash flows this year.
Cash flow from operations increased from $76mn in 1Q2011 to $92.7mn. This increase in operating cash flow was witnessed only after a decrease in unrestricted cash.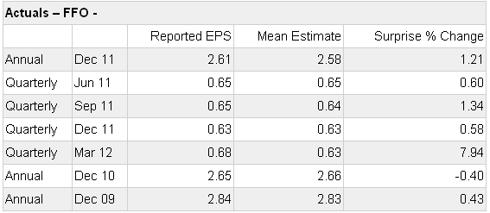 Fund from Operations (FFO) per common share increased by 4.6% from $0.65 in 1Q2011 to $0.68 in 1Q2012. The reported FFO beats the majority of analysts' estimates. Looking at the growth prospects, JP Morgan (NYSE:JPM) has raised its FFO estimates for 2012 by $0.05 to $2.59. LRY has been able to beat analyst estimates of FFO on a consistent basis.
Valuations
The stock is currently trading at a price-to-FFO (2011) of 13.7x. Going forward, the stock is projected to trade at a discount of 11% with regards to its price-to-FFO, when compared with the average peer in the office REIT sector. LRY trades at a 2% discount with regards to its EV/EBITDA when compared with its peers in the office REITs sector.
Investments & Divestments
The company has further advanced its repositioning strategy to exit the suburban office market and enter the industrial space. During the last quarter, in line with its repositioning strategy, the company divested two properties. It started developments on its 126,000-square-foot building in Suffolk, Virginia. The development will result in increased revenue from the building. The company expects to make acquisitions worth $100-$300mn during 2012.
Dividends
The company has the ability to sustain its distributions to shareholders, and the most recent dividend is likely to continue. The quarterly dividend has been unchanged since 2008. The stock is offering an attractive dividend yield of 5.3% along with a FFO yield of 7.3%. This is above the 10-year dividend yield of 1.5%. Besides, the company also offers a dividend reinvestment program where investors can conveniently purchase LRY's common share at a 3% discount with reinvested dividends.
Conclusion
LRY's intelligent reposition strategy to move towards a stronger industrial market, combined with strong operating cash flows, cheap valuations, and a high dividend yield of 5.3% make it an attractive investment opportunity for our investors.
Digital Realty Trust Inc.
DLR owns, operates and leases largely technology-related real estate in the United States and Europe. The $8.1b market cap provides stock liquidity. The stock offers a sustainable handsome dividend yield of 4% with a 5.5% FFO yield. Cash flow from operating activities increased by 9.4% over 1Q2011 to reach $70.5mn.
Going forward, the stock is expected to trade at 15.7x with regards to its price-to-FFO multiple. FFO growth, as expected by JP Morgan, is 9.4% and 12.7% respectively for 2012 and 2013.
The company has an aggressive plan for growth and acquisitions. In this regard, the company purchased properties in London, Dallas, and Texas, during the first quarter of 2012. These acquisitions would add to DLR's revenue and earnings.
Conclusion
DLR provides an attractive and sustainable dividend yield for investors. The company's stock price would be largely driven by its management's continued resolve to grow. Therefore, we recommend our investors to buy the stock.
Boston Properties Inc. (NYSE:BXP)
BXP, with a market cap of $15.6b, is the largest office REIT. It is involved in ownership and development of office properties. The stock is highly liquid and provides a dividend yield of 2.1%. Its FFO yield of 4.7% depicts that the distributions to shareholders will continue in the future.
Government Properties Income T (NYSE:GOV)
GOV, with a dividend yield of 7.7%, stands to be the highest-paying dividend yield in the Office REIT Industry. It has a FFO yield of 9.3%, meaning that dividends are sustainable. The company owns and operates office buildings leased largely to government tenants.
Disclosure: I have no positions in any stocks mentioned, and no plans to initiate any positions within the next 72 hours.