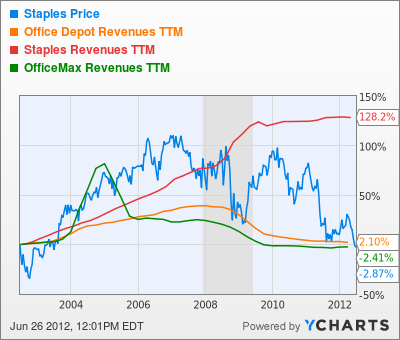 Office Supply Store Space
Staples (NASDAQ:SPLS) has a size advantage and a trend advantage. Over the last 10 years, Staples has increased its revenue by 128%, while Office Depot (NYSE:ODP) is up 2.1% and Office Max (NYSE:OMX) is down -2.87%. Not only is Staples the original office super store, it is also the largest. Indeed, it is the leading office products company in 26 countries.
Case: North American Office Supply Retail
| | | | |
| --- | --- | --- | --- |
| | Staples | Office Depot | Office Max |
| Store Count | 1900 | 1131 | 978 |
| Revenue | $9,364,190,000 | $4,870,166,000 | $3,497,090,000 |
| Revenue per store(2011) | $4.9 million | $4.3 million | $3.5 million |
Electronics Push
It is also expanding away from its core categories. In the 2011 Annual Report (pdf) CEO Ron Sargent said:
Over the past year we've offset weakness in some off our core categories with robust growth in categories beyond office supplies, and we've refocused on accelerating this trend going forward. We'll enhance our offering off technology products and services as we strive to become the only company small businesses turn to for expert technology advice and solutions. (Emphasis added.)
Further that:
Over the past two years we've remodeled the technology area in more than half off our stores to improve how we sell and service technology products. This helped to drive strong sales growth in categories like tablets and e-readers, as well as our EasyTech business during 2011. We also made a big push into the mobile phone business to address an essential need off small business customers, and we now have a mobile department in 500 stores across the United States.
While Staples competes in the office supply store market, it is also becoming an electronics competitor to Best Buy (NYSE:BBY). In fact, its "big push" for the mobile phone business reminds me of Best Buy's latest strategy of pushing Best Buy Mobile (as discussed in the article here).
Broader Competitive Landscape
Staples is typically classified as an office supply store but it competes with almost all retails in some space. Its 10-K lists Target (NYSE:TGT), Wal-Mart (NYSE:WMT), Costco (NASDAQ:COST), Tesco (NASDAQ:TESO), and Amazon (NASDAQ:AMZN) as competitors.
Amazon is always mentioned when discussing brick-and-mortar retailers, but the brick-and-mortar aspects of Staples--along with its delivery segment, its business-to-business relationships and its customer service--all contribute to the concept of making business easy. Amazon, while competitive on price, does not compete in the important categories of customer service and physical presence.
As for the "office supply" space specifically, it looks like its advantage will continue absent a change of strategy by Office Depot or Office Max.
Because of its large presence in that market, the long-term future looks bright. There remains, for now, a place for office supply specific stores.
Valuation
Staples is currently selling at about 8.5 times conservatively-estimated free-cash-flow. Its long-term debt is about 1.5 times 2011 free-cash-flow (ignoring operating leases). Revenue is on the uptrend internationally and domestically.
Historically, its shares have not sold this cheap since 2003. That being said, the good news for current shareholders is that it has purchased back $629 million worth of shares since the start of 2011, reducing the shares outstanding by 3.5% (net of share issuance for share-based compensation).
As noted in the most recent 10-K:
Under the 2011 Repurchase Plan, a total of $182.5 million was used to repurchase 12.6 million shares as of January 28, 2012. The Company has the authority to repurchase up to $1.32 billion under the share repurchase program as of January 28, 2012.
Staples has the best position in the industry, healthy cash flow and low debt. Not to mention its dividend yield is 3.5% at today's prices. And hopefully it is putting the authority to repurchase shares to work at these favorable prices.
Disclosure: I have no positions in any stocks mentioned, and no plans to initiate any positions within the next 72 hours.