It was just several months ago that West Texas Intermediate was topping out at $110 a barrel, with Brent Crude was around $130 a barrel. With the ECB having recently announced the operation long-term refinance and economic data beginning to improve the S&P 500 and its tracking exchange traded fund, SPY (NYSEARCA:SPY), rallied over 20% during the first four months of the year. Market leaders such as Apple (NASDAQ:AAPL) were up over 30% during the first quarter of the year as well.
Today, starting with the deterioration of economic data in early April, and continuing over the last several months, equity markets have sold-off hard. Most leading commodities, such as copper and oil, have been weak as well, with oil prices selling off over 30% since early March. Indeed, while the S&P 500 has sold-off about 10% in the last several months, by far, the worst performing asset during the recent sell-off, has been oil.
(www.thestreet.com)
While West Texas Intermediate and its tracking exchange traded fund, USO, have consistently stabilized in the 70-80 dollar a barrel range over the last three years, it is easy to forget that oil prices were around $30 dollars a barrel in 2003 and 2009.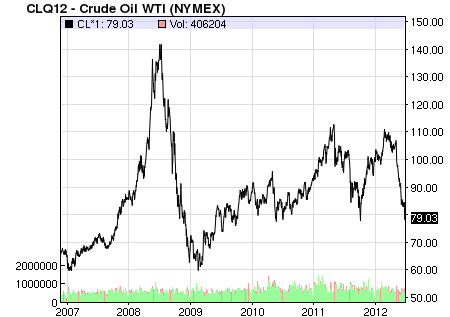 (www.nasdaq.com)
Oil prices topped out at around $110 a barrel in early March, and have declined to nearly $80 a barrel today. While the world's most traded commodity has held the $75 level during most sell-offs over the previous several years, oil prices also have little support below the $75 dollar a barrel level until the $60-65 a barrel level, and West Texas Intermediate and Brent prices have still tripled since 2009.
While, obviously, economic activity is much stronger today than in 2009, there continues to be what appears to be a perfect storm of negative factors that will likely continue to put significant pressure on crude prices near-term.
The first reason oil prices will likely continue to decline is because the dollar is likely to continue to rally against most major currencies. While the dollar has rallied many times in the past several years because of increasing fear levels over the European debt crisis and renewed concerns of a recession, the dollar is now rising because of superior fundamentals. While growth in the U.S. remains tepid, most leading industrial companies, such as Caterpillar (NYSE:CAT), GE and Boeing (NYSE:BA), reported significant growth in these companies' North American businesses, while also reporting significant drops in demand for these leading industrial companies' products and services in most emerging markets. Countries such as Brazil and China also continue to aggressively cut rates, and leading economic indicators in these emerging market economies have been very weak of late. Fear levels also remain high, with continuing concerns in the eurozone over the PIIGS borrowing costs, and the rapid economic data continues to deteriorate at a faster pace in the eurozone.
The second reason oil prices are likely to continue to decline is because tensions in the Middle East have dropped significantly in the last year. While conflicts in this troubled region remain, with ongoing violence in Syria, Iran is now cooperating with international regulators, the recent Egyptian elections went smoothly, and the Libyan civil war has ended. While the U.S. and EU have been sanctioning Iran for some time, China, by far the largest buyer of Iranian oil, is now cooperating with the international community. With China increasingly concerned over the deterioration of the European economy, and Europe being China's biggest trade partner, China's been increasingly willing to cooperate with EU and U.S. efforts to sanction Iran. Iran, in turn, has greatly increased its recent cooperation with international authorities over the country's nuclear program in the last couple months.
Finally, the third reason oil prices are likely to continue to decline is because significant new oil production is coming on line while energy demand remains weak. While recent leading economic indicators from emerging markets such as Brazil and China have been very weak, countries such as Libya and Iraq are beginning to significantly ramp up production, and oil production in North America is growing at an increasingly strong rate as well. Even though the sanctions against Iran have taken much of Iranian crude off the market, Libya's oil production has now risen to pre-war levels, Iraq is ramping up production, and oil production in the U.S. is now the highest it has been in several years.
While Obama had been very hesitant to lift the drilling moratorium imposed on new drilling efforts in the Gulf, oil production in the U.S. is higher today than it ever was under Bush. Crude oil inventories have been increasing at the fastest rate since 2008, even BP has resumed significant drilling operations in the Gulf.
To conclude, while oil bottomed in the mid-$70s after the summer sell-off of last year, the economic environment and supply-demand dynamic is significantly more bearish today. Obviously, concerns over future supply disruptions remain in the Middle East. Still, with more moderate leaders in countries such as Egypt and Libya today, oil production levels in the Middle East and North America continuing to increase, and demand for the world's most-traded commodity still fairly weak in Europe and most emerging markets, oil prices are likely to continue to fall.
Disclosure: I have no positions in any stocks mentioned, and no plans to initiate any positions within the next 72 hours.