We've caught a little flak from Apple (NASDAQ:AAPL) bulls in recent months arguing that our current target "Buy Zone" for the stock is way too conservative. Well, today we are raising our target (albeit ever so slightly).
As we highlighted in our previous article, our target "Buy Zone" is based on fundamental and technical resistance levels (not necessarily current valuation). While we think Apple is a great company and we currently own the stock, stock prices often diverge from fundamentals during a market correction.
That said, based on diluted EPS for the latest twelve month ("LTM") period, Apple isn't necessarily trading at "back-up-the-truck" valuation levels.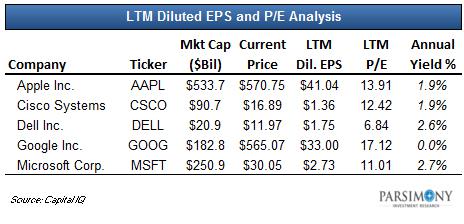 With a current trailing P/E ratio of around 14, Apple is still trading at a premium to some of its peers. One could argue that Cisco Systems (NASDAQ:CSCO), Dell (NASDAQ:DELL), and Microsoft (NASDAQ:MSFT) are currently offering investors a better "value". However, these companies are obviously not growing at Apple's pace, so it isn't the best apples-to-apples comparison (pun intended). Google (NASDAQ:GOOG) is probably the best comparison out of the group and that stock is currently trading at a premium to Apple.
Valuation and Dividend Yield Support Levels
Since Apple is due to report third quarter earnings in the next few weeks, it's probably more relevant to look at Apple's valuation based on estimated 2012 EPS (to account for Apple's expected near term growth).
Many analysts talk about technical support and resistance levels for stock prices, but we also believe that fundamental resistance levels exist as well. The analysis below calculates forward EPS and dividend yield for a range of downside prices. The analysis also computes the cumulative percent decline from Apple's peak price ($644.00) for each downside price.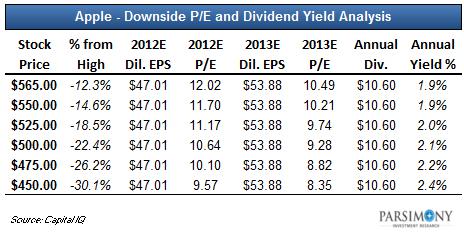 For Apple, we believe that there will be a downside floor on price based on valuation and dividend yield. For 2012E P/E, we believe that the downside floor valuation is between 10.0x and 11.0x, which is the level at which we think institutions will strongly support the stock. In addition, we think that the a dividend yield over 2.0% will also be extremely hard to pass up for institutions. This equates to a downside price range of $475-$525 for the stock (see table above).
In addition, we also try to estimate the maximum peak-to-trough decline in a stock to determine how far the rubberband could stretch to the downside. For Apple, we think the current peak-to-trough decline will be in the 20%-25% range (based on past corrections). At $570, the stock is already down over 11% from its recent high of $644.
Target "Buy Zone"
Based on the analysis above, we are raising our target "Buy Zone" for Apple from $450-$515 to $475-$525.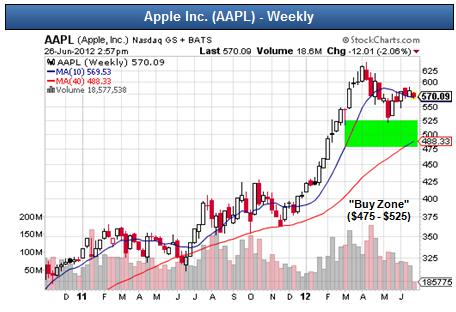 We believe that the new dividend (which is expected to be paid sometime in next few months) is the biggest near-term catalyst for the stock, despite all the hype over new products.
Even though we think the stock could go as low as $475 based on the fundamental resistance discussed above, $525 is the magic 2.0% dividend yield level for Apple shares and we would feel comfortable starting to add to our position at this level.