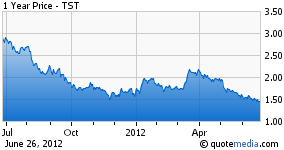 Love him or hate him, Jim Cramer is one of most well-known personalities in the financial world. His comments can cause stocks to post substantial moves, especially in smaller equities. The one company that he has been unable to move in the right direction ironically is the one he founded, TheStreet.com (NASDAQ:TST). However, that could change in the near future and deep value and turnaround investors should take note.
6 reasons TheStreet will reward investors at $1.47 a share:
Roughly 75% of the company's market capitalization is represented by the $1.08 a share in net cash on its balance sheet, an investor is basically getting the rest of the company for 39 cents.
Even though the company has negative net income, the company has posted positive operating cash flow the past three completed fiscal years.
The company has brought in a new CEO and board members with extensive experience running successful digital media companies. In addition, a new CTO has been hired and Stephanie Link is an increasingly common presence at CNBC, giving TheStreet a second personality to drive awareness of the site.
The stock has a robust dividend yield of over 6%.
TST is selling for just 57% of book value and under 1 time annual revenues (84%).
Only one analyst covers the stock, but has a price target of $4 a share on the shares. The stock was over $3 a share less than a year ago.
Disclosure: I am long TST.