Market Recap: The market continued its recent seesaw behavior as it rebounded back after dropping significantly yesterday. The market is pretty much range-bound right now, trading between 1300 - 1400 on the S&P (NYSEARCA:SPY), and today's rally came after another solid data point from housing. The market continued to hold the 1300 level on the SPY, which allowed the bulls to push things higher. The EU took a step out of the spotlight today, which allowed the market to see some upside. Most rally potential, though, was limited by the fact that Consumer Confidence came in below expectations at 62.
Moving into tomorrow, attention will most likely turn back to Europe as the EU heads to a week ending European summit. Additionally, we have a few economic reports due out tomorrow as well that should give the market some movement. If fear renews again tomorrow, which seems likely, the euro will drop and leave us staring down another bad tape again. If somehow the EU can get into a more positive light, perhaps we continue this rebound rally today.

Two Trades
Two trades we are watching right now are a pair trade in eBay (NASDAQ:EBAY) and Williams Sonoma (NYSE:WSM) as well as a short in Qualcomm (NASDAQ:QCOM). We like pairing a long EBAY with short WSM. EBAY had a very positive announcement today that they are bringing the Pay Pal lineup all under one umbrella, and the stock has been on fire as of recent. It has performed very well despite tough market conditions, and we look for that success to continue. WSM, on the other hand, has continued to make lower lows since its earnings announcement, and the stock has failed all support lines. They have no catalyst, and we look for these two to continue in opposite directions. QCOM should continue to be shorted on strength. The company has limited catalyst until the iPhone 5 is released, and lots of data recently has not supported as high of growth in smartphones as was originally predicted for the year.
Trade #1: EBAY, Long and WSM, Short
Trade #2: QCOM, Short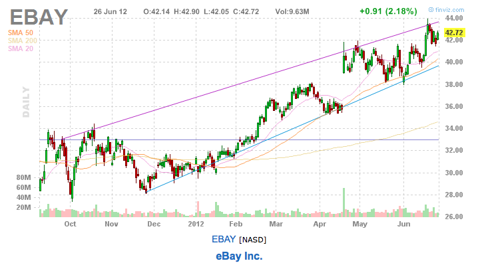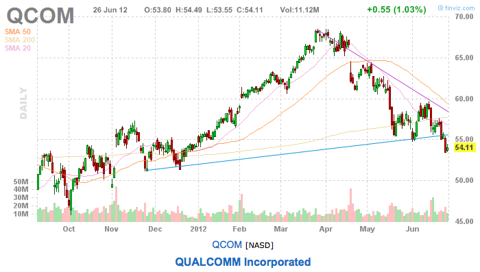 Tomorrow's Outlook
Tomorrow, we should be busy again as the market will be preparing for the EU summit. We have a good deal of data to be released for tomorrow to be digested. It starts with a Chinese Leading Index for May. Some good news out of China would go a long way in this market. We also will be getting an important German Consumer Price Index report as well tomorrow. The biggest report for us here in the States will be Durable Goods Orders, which are expected to rise from 0.2% to 0.5%. A beat there would help at least divert some attention from the disasters in Europe. We also get Pending Home Sales as well as Crude Inventories. A solid crude report could help send oil (NYSEARCA:USO) back over $80, which would be very positive for the market in fact. We also are going to get some interesting earnings in after hours today and tomorrow morning that should be watched. H&R Block (NYSE:HRB) reports tonight with General Mills (NYSE:GIS), Lennar (NYSE:LEN) and Monsanto (NYSE:MON) reporting tomorrow morning. GIS will be crucial to see how Europe is affecting consumer staples especially with currency exchanges. Lennar will give us a taste of just how solid the housing market is doing. Monsanto is a big name in the ag sector to watch.
Our Moves
We had a great day in the market as our Equity Portfolio saw three nice gains. We got a 4% gain on our 3D Systems (NYSE:DDD) position. We got a 6.5% gain on our long Home Depot (NYSE:HD), short Advance Auto Parts (NYSE:AAP) position, and we got a 2% gain on half of our Marathon Petroleum (NYSE:MPC) long, Home Properties (NYSE:HME) short pair. We added the above pair trade in EBAY and WSM. We placed an order that we are going to adjust in Nike (NYSE:NKE) bull put spread for Earnings Alpha position.
We have the following positions. In our Short-Term Equity Portfolio we are long eBay, Apple (NASDAQ:AAPL), Monster Beverage (NASDAQ:MNST) and Marathon Petroleum. We are short Williams Sonoma, SPDR S&P, Qualcomm and Home Properties. In our Options Portfolio, we are long Dollar General (NYSE:DG), Monster Beverage and AutoZone (NYSE:AZO). We are short Aflac (NYSE:AFL), Garmin (NASDAQ:GRMN), Kohl's (NYSE:KSS). We have a reverse iron condor on Apple. In our Earnings Alpha portfolio, we are long Vertex (NASDAQ:VRTX), Intuitive Surgical (NASDAQ:ISRG), Marriott (NYSE:MAR). We are short Schlumberger (NYSE:SLB) and Walgreen (WAG). We have a reverse iron butterfly in Decker's Outdoor (NASDAQ:DECK).
Chart courtesy of finviz.com.
Disclosure: I am long PNRA.