Huron Consulting Group, Inc. (NASDAQ:HURN) dredges through financial statements when businesses fail to stay afloat. The firm provides a variety of financial consulting services to corporate clients that are in financial distress or involved in other legal and regulatory disputes. Its consultants offer forensic accounting and economic analysis expertise and often serve as expert witnesses. Huron Consulting also provides a range of operations consulting services to help keep companies out of dire financial straits.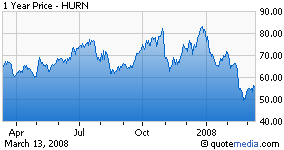 The worse things get, the better Huron does. In fact, 2008 is shaping up to be a banner year. With the economy in a recession (let's not dance around this anymore, it's in a recession no matter what the official definition is or what Washington officials say), Huron will be seeing more business as companies seek help in various fields for SEC and regulatory agency investigations, litigation to reduce healthcare spending, lawsuits targeting large companies, merger and acquisition related activies and Sarbanes-Oxley requirements, both in the U.S. and Japan. One area of expertise that will definitely be in demand: litigation consulting resulting from sub-prime mortgages and other credit related suits.
Analysts think HURN will see revenues grow by 24% a year, on average, over the next 5 years while profits increase by 23.5% a year, on average. Investors were disappointed recently when the company gave preliminary revenue and earnings guidance which was below analysts' expectations. The stock dropped from about $82 a share to a low of $48.26 before moving back to the mid $50 range.
That disappointment should be short lived as the company recently signed new hospital contracts. Other problems that should bring more business include Pharmaceutical, Medicare, and Medicaid compliance and pricing issues as well as restructurings in the auto industry.
To further bolster 2008 results, the company is adding 150 more consultants to its base of 1200, raising the average hourly billing rate by 5% which was $275 an hour in 2007, as well as increasing billable hours to its historical average of 70% to 75%. In the fourth quarter of last year, the rate was 69.9%.
There's also a new product offered to lawyers called V3locity, a fixed price per page service that entails all aspects of e-discovery. Eletronic discovery in legal disputes usually runs about 70% of a general counsel's costs.
The numbers: A small cap stock with a market cap of $925 million and 18.7 million shares outstanding. Debt is 40% of the balance sheet. Earnings should be $3.20 a share this year, up from $2.32 a share last year. Look for $3.90 next year. Revenues were $504 million in 2007. Analysts predict $655 million this year, $785 millon next. Return on Equity was an attention getting 22.8% last year. Expectations are for 24.5% this year and 23% next year. Net profit margin was 8.3% last year with forecasts of 9.2% this year and 9.3% next year.
Huron is in the right place at the right time. With all the problems currently in the U.S. economy, demand for its services will only grow. Of course, there's competition. And the P/E on the stock is relatively high. But this is the same stock that was trading at $82 a share only a few weeks ago. Tread carefully and do lots more homework before committing to this one.
Disclosure: none