Shares of Lee Enterprises Inc (NYSE:LEE) surged more than 16% on Tuesday following despite the absence of news on the company. The move higher was part of a sector-wide rally following news that News Corp (NASDAQ:NWSA) is considering a breakup that would split off the publishing side of the company..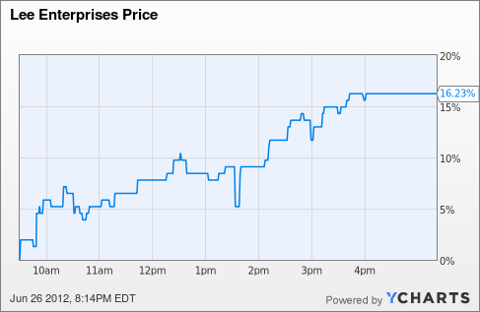 Click to enlargeLEE data by YCharts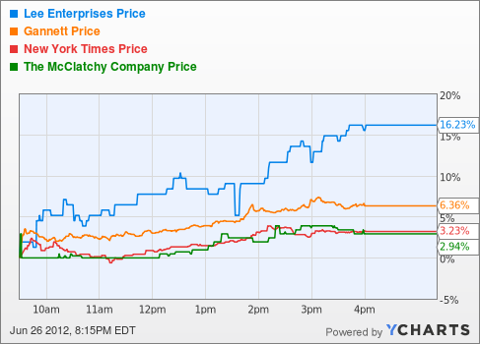 Click to enlargeLEE data by YCharts
While shares of New York Times Co (NYSE:NYT), Gannett Co (NYSE:GCI), and McClatchy (NYSE:MNI) all moved higher, LEE was the standout performer.
Berkshire
In a recent disclosure, Berkshire Hathaway (NYSE:BRK.B) revealed a 3.2% stake in the company. I would not be surprised if Berkshire eventually acquires the whole company - it would not be a big deal considering Berkshire's market capitalization.
My Take
My take on LEE remains unchanged from my previous commentary:
I would not be a seller into the Buffett rally in LEE. Rather, I would look to buy shares if the stock gives up gains anytime soon. The company is now in better shape financially and Buffett's commitment to the newspaper business in general makes me more confident that LEE will continue to be accumulated by Berkshire.
I continue to believe that LEE is a buy on dips. As far as the other newspaper stocks are concerned, I would reccommend Gannett for investors looking for yield. Despite it not being Warren Buffett's newspaper of choice, I also believe there are reasons to be bullish on the New York Times Co.
Disclosure: I have no positions in any stocks mentioned, and no plans to initiate any positions within the next 72 hours.