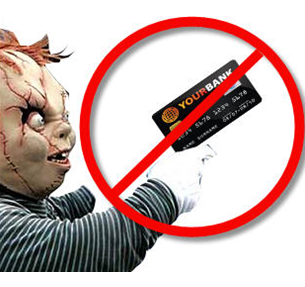 News from the U.S. included the Case Shiller Home Price Index, which was about as expected (.7% vs .4% expected & prior .7%) with YOY (-1.9% vs -2.3% expected & prior -2.6%). So in realtor lingo this would indicate a "stable" market. When realtors tell you prices are stable, this usually means they haven't sold a house in months.
The Richmond Fed Manufacturing Index was a disappointment (-3 vs 5 expected & prior 4) keeping the economy on a weakening path.
Consumer Confidence stunk (62.0 vs 63.5 expected & prior 64.4) so don't expect "Chucky the Consumer you can't kill" to bailout the economy this go round. The chart below reflects the relationship and performance with the S&P and previous Consumer Confidence data.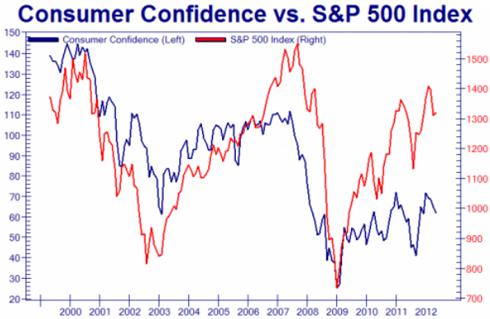 Click to enlarge
Meanwhile the drama in the eurozone continues as we lumber along toward Friday's "it's fixed this time" decision. So we expect plenty of rumors and manipulation before then. The European Stability Mechanism (ESM) which is expected to provide a bailout facility floated a few positive ideas which would expand the facility. This got some algo buying going despite the fact that both Germany's Merkel and Schauble have put the "nein, nein, nein" to it. Speaking of Germany, lesser known (and less conflicted) rating agency Egan Jones downgraded Germany from AA- to A+. This will only aggravate Germans. The more curious development was Greece has its second new Finance Minister in as many days by tapping Professor Stournaras for the job. He was instrumental in getting Greece into the eurozone to begin with. (They may not greet him with a parade in Brussels this week.) Finally, Italy's Mario Monti lashed out at Germany prior to the summit as noted.
Speaking of credit downgrades, Moody's ratings cuts to 28 Spanish banks (10 to junk) had little effect so either Moody's is still either disrespected or leading from behind.
Bulls seized on rumors and data they liked to get algos pumped-up to launch some buy programs especially when the IMF's Blanchard said: "Short-term must be the focus for Europe." This must mean QE or just plain old, "kick the can".
Stocks put in gains on this Turnaround Tuesday with tech (NYSEARCA:XLK) leading along with consumer discretionary (NYSEARCA:XLY) and retail (NYSEARCA:XRT). Of course the latter flew in the face of Consumer Confidence data.
The dollar (NYSEARCA:UUP) was flat while gold (NYSEARCA:GLD) prices sank once again. Commodity prices (NYSEARCA:DBC) were mixed to slightly higher mostly led by grain (NYSEARCA:JJG) markets. Bond (NYSEARCA:IEF) prices were slightly lower.
Volume was still on the light side while breadth per the WSJ was positive.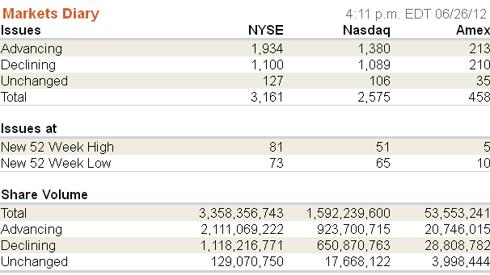 Click to enlarge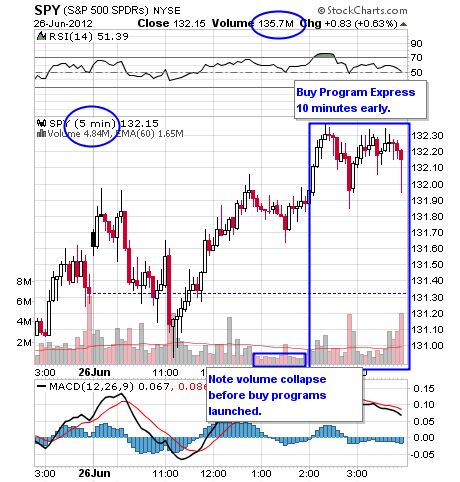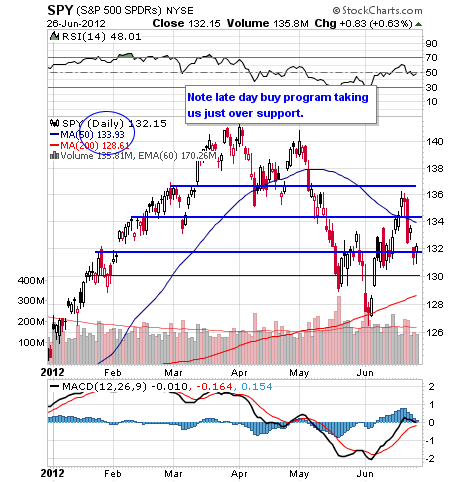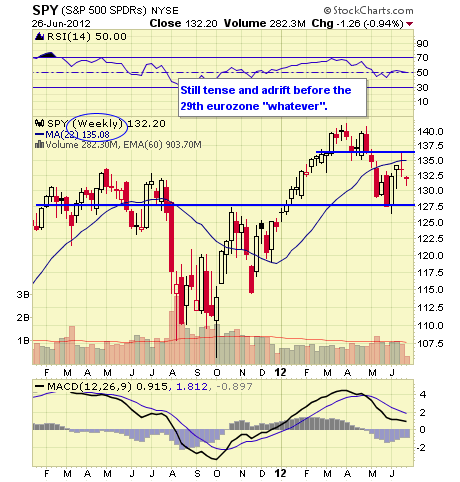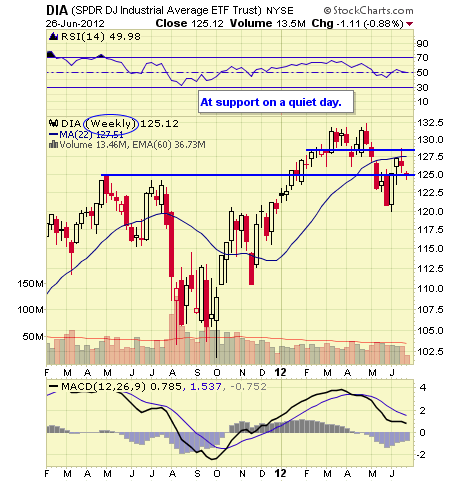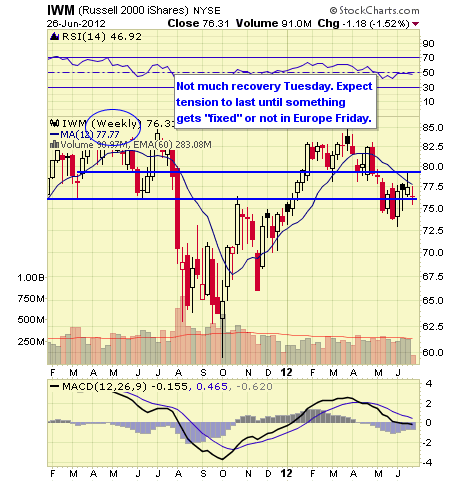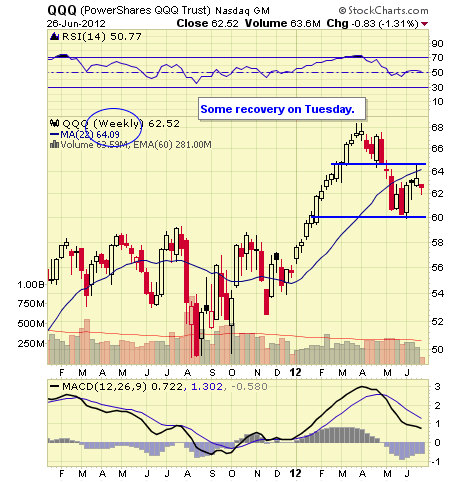 U.S. Sector, Stocks & Bond ETFs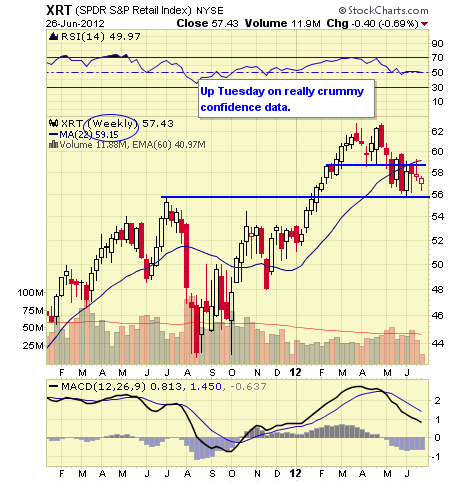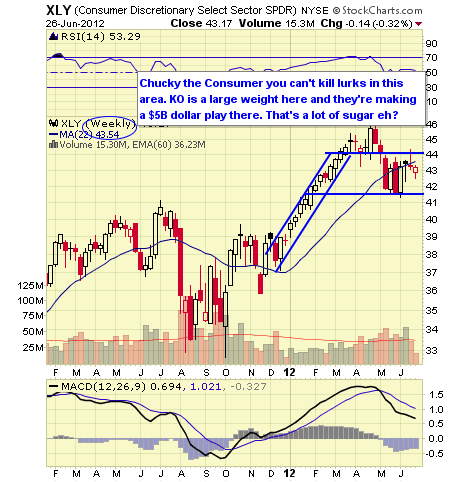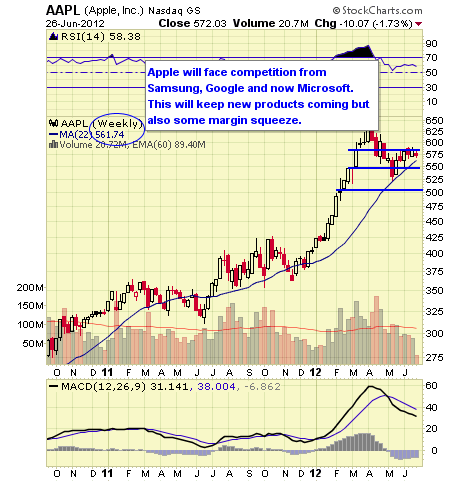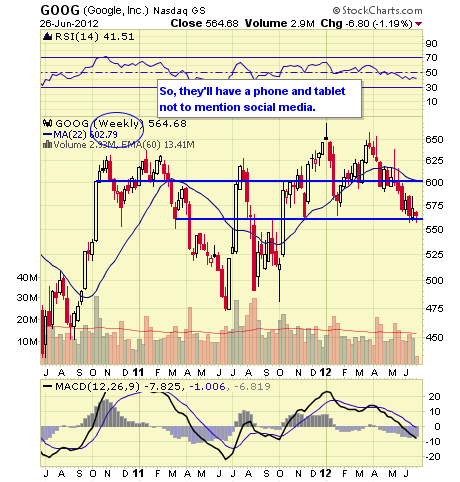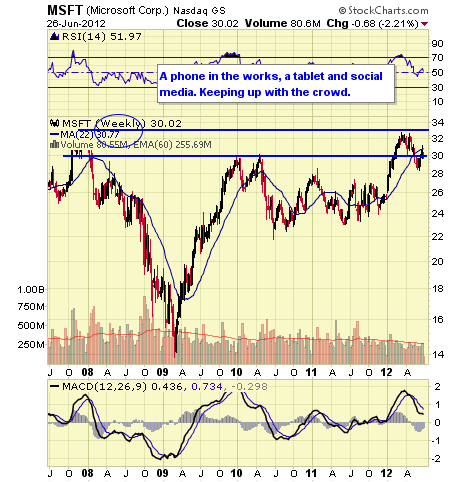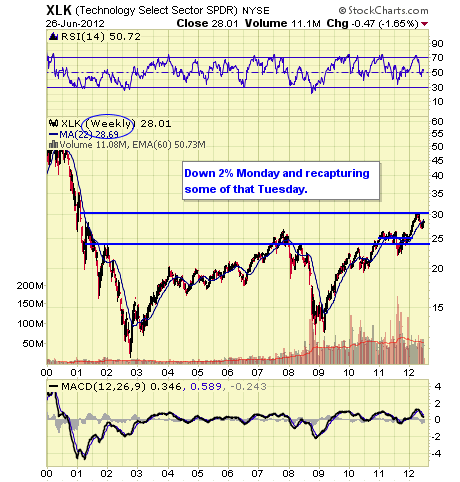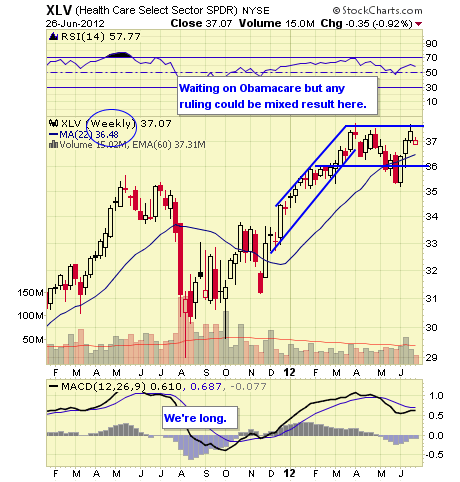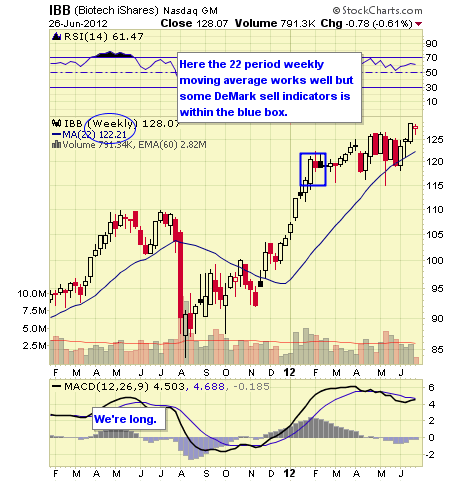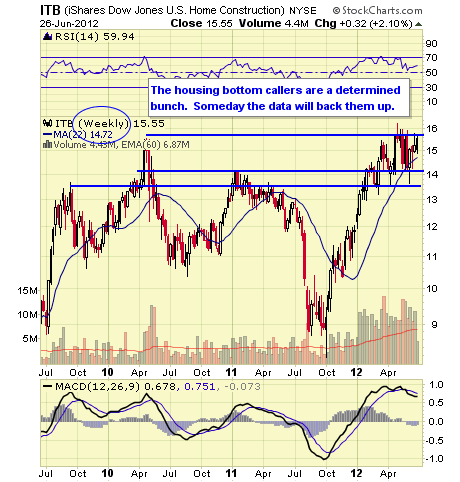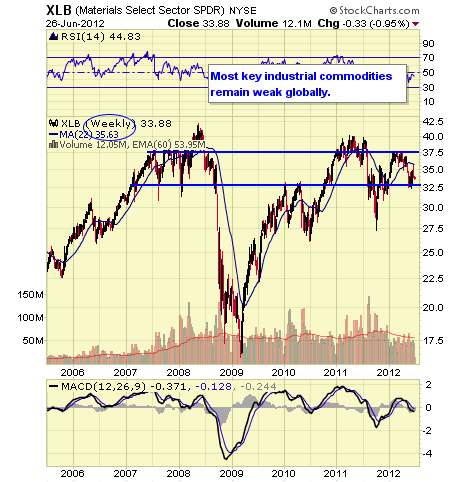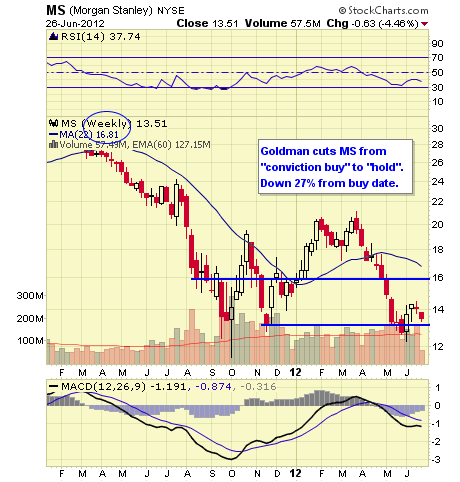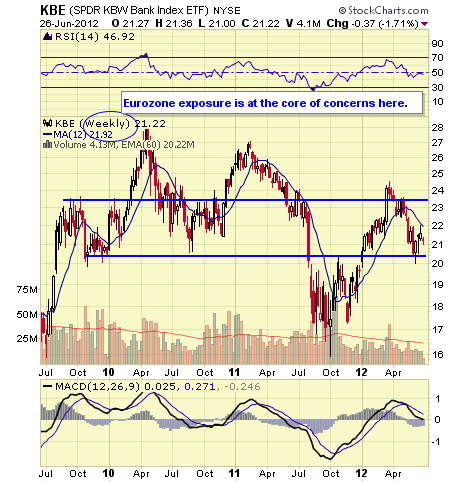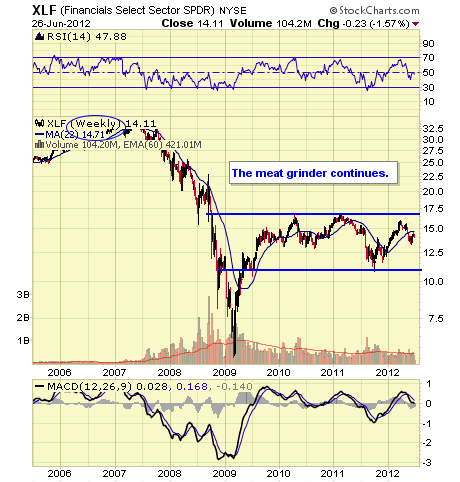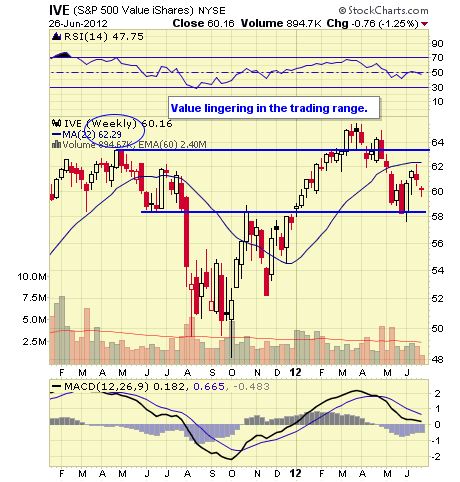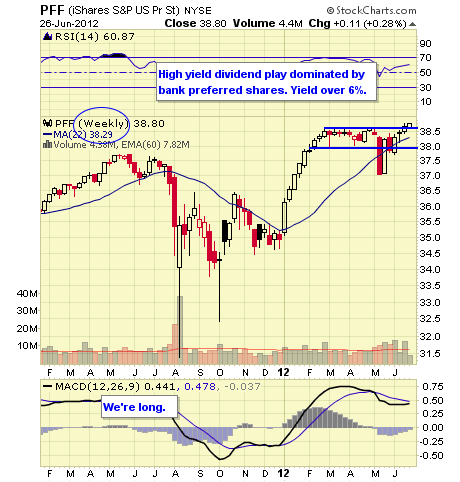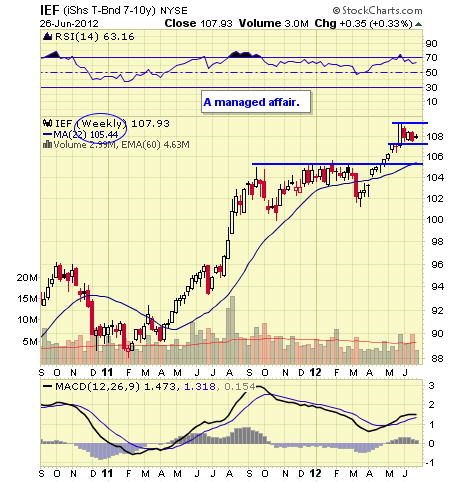 Currency & Commodity Market ETFs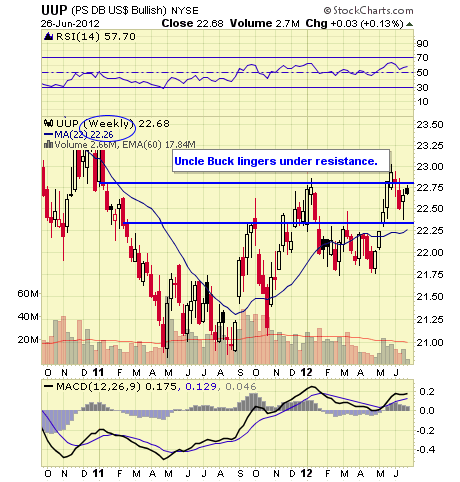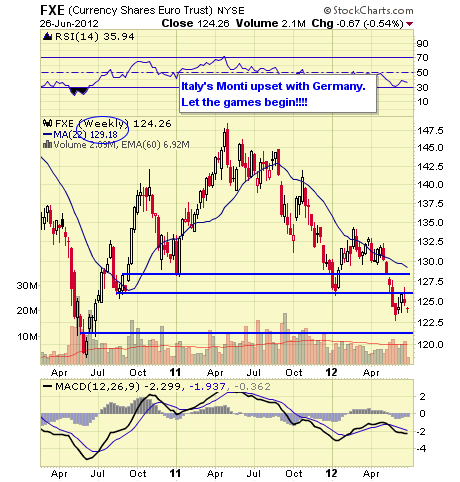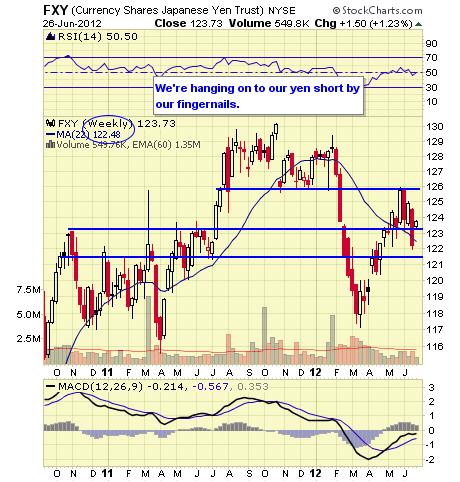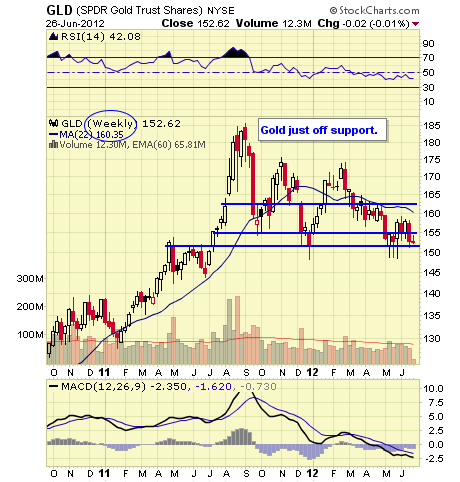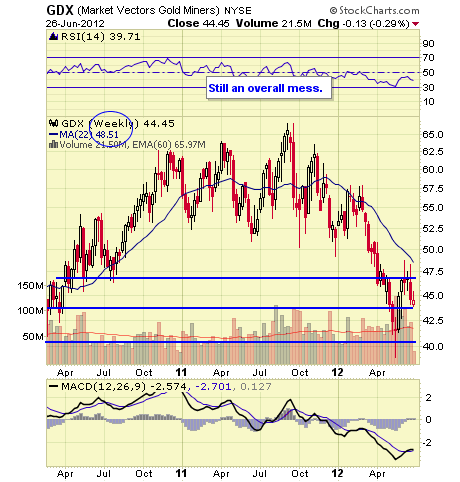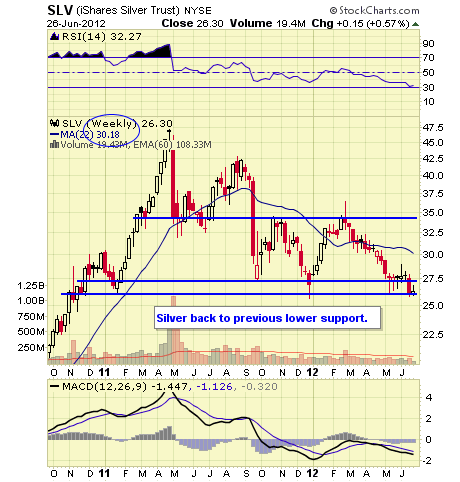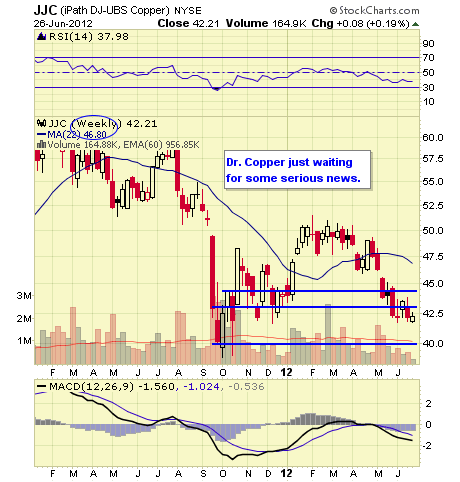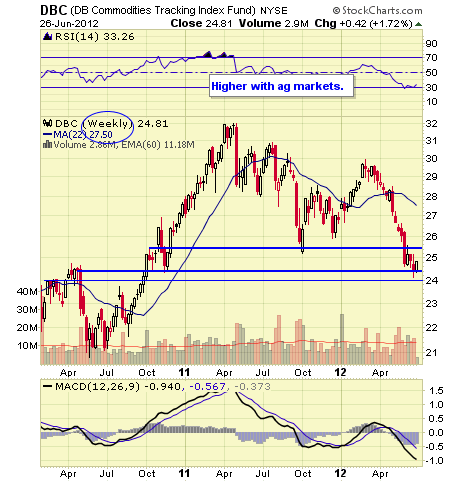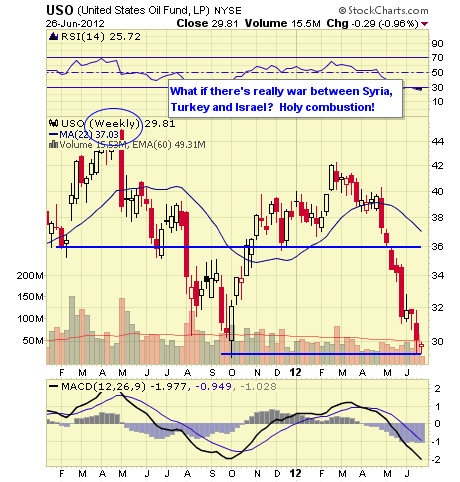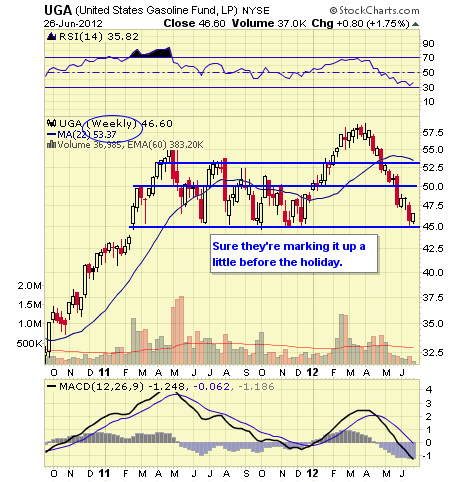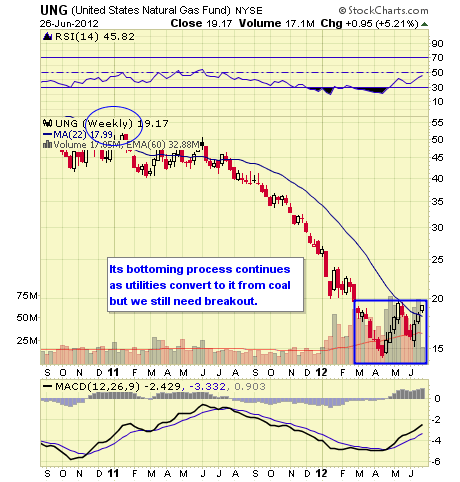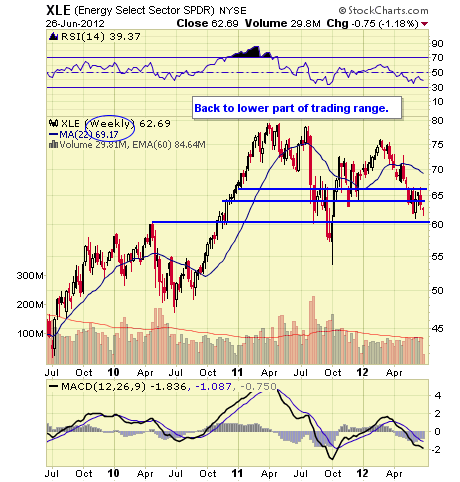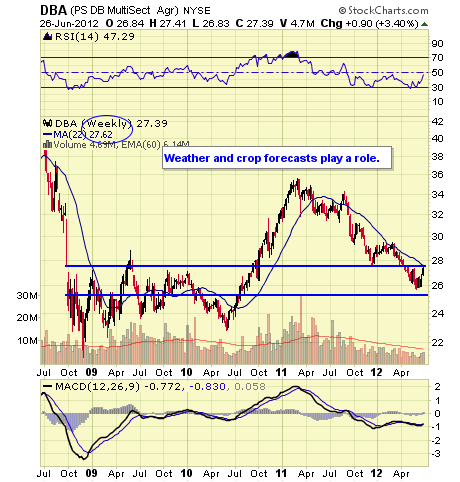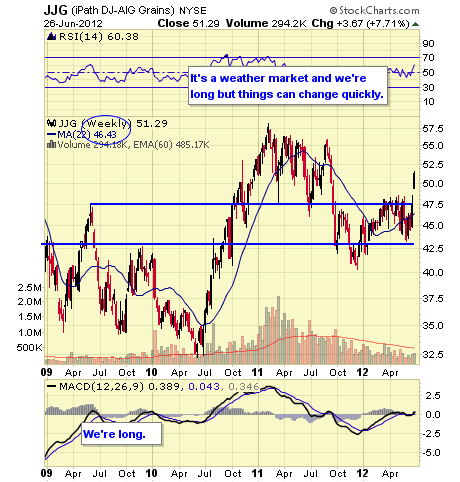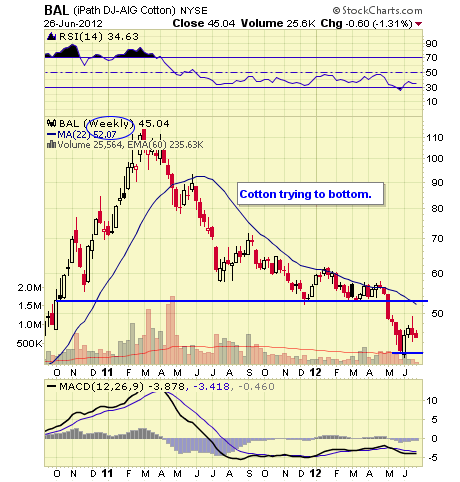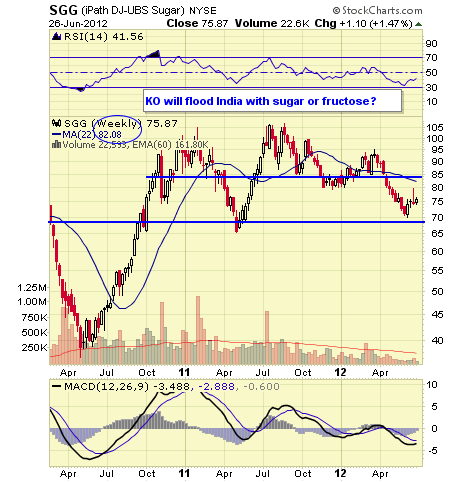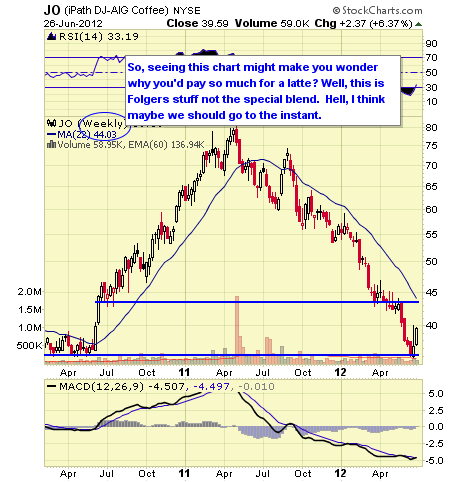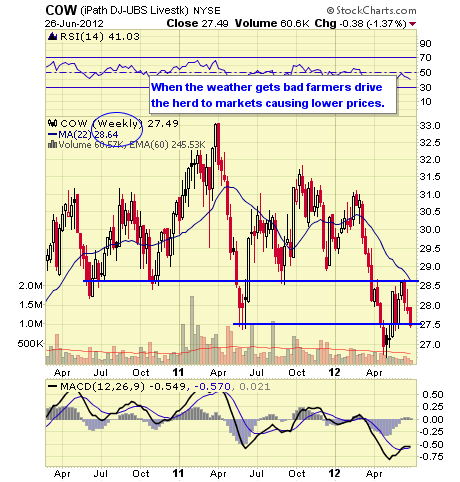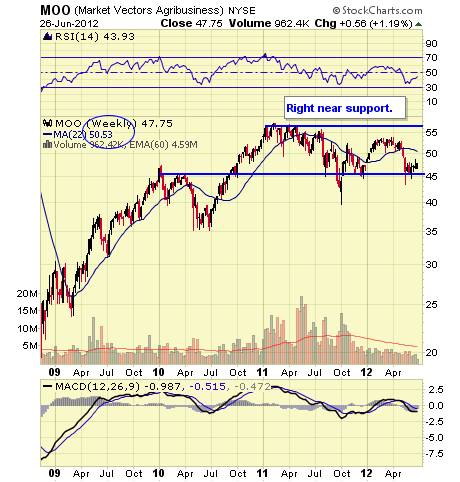 Overseas Sectors & ETFs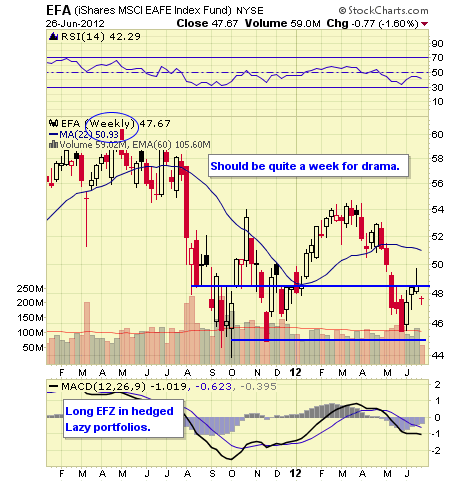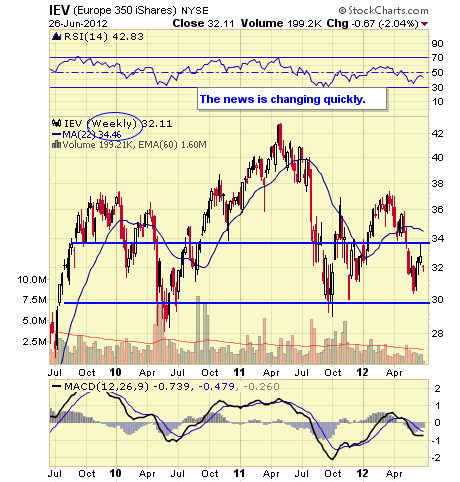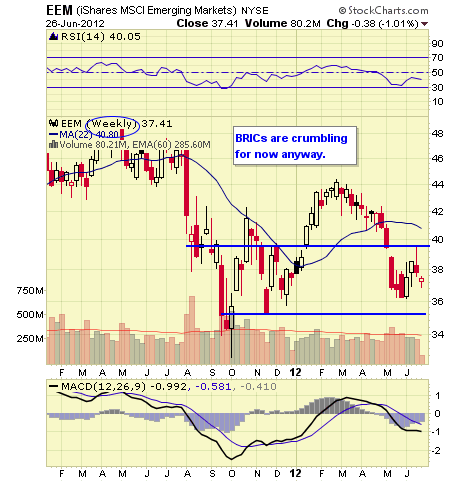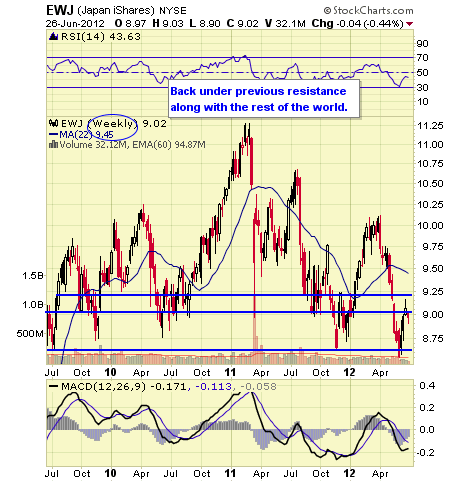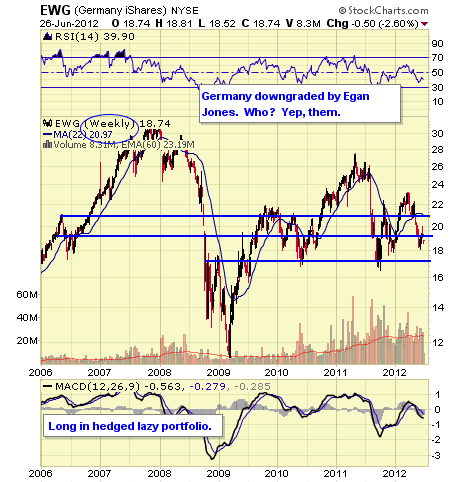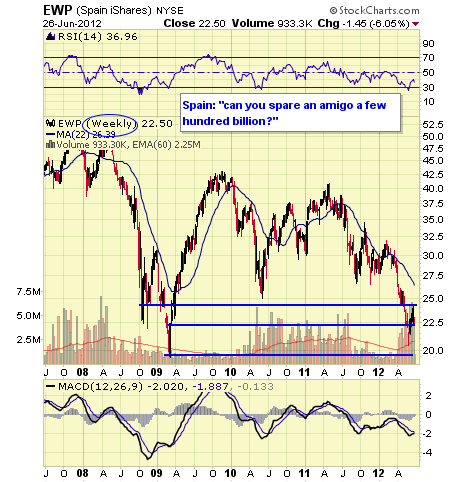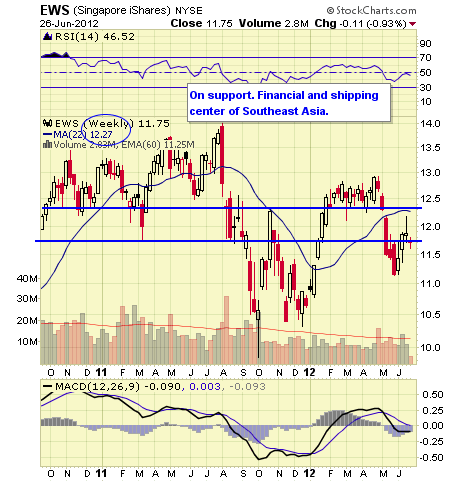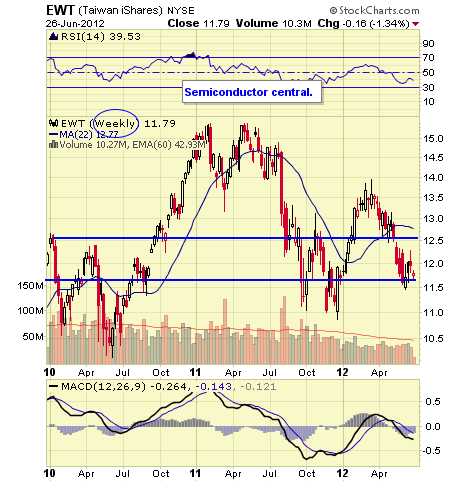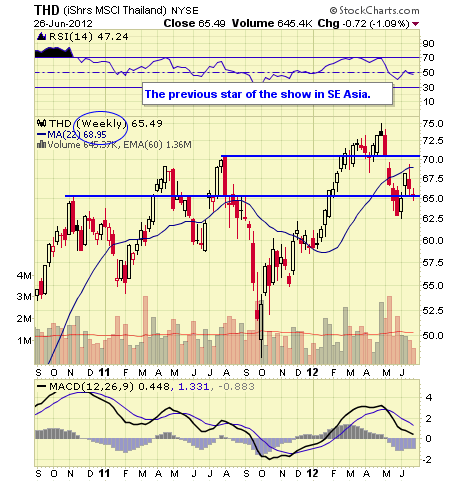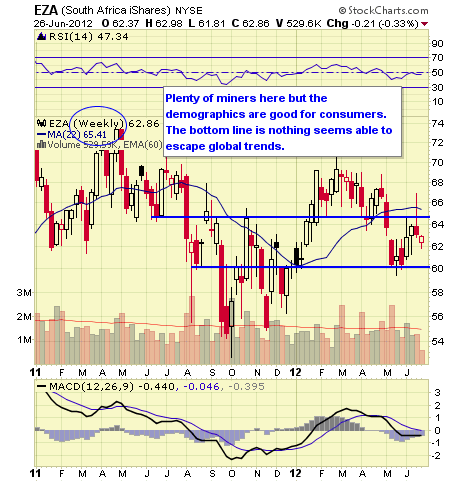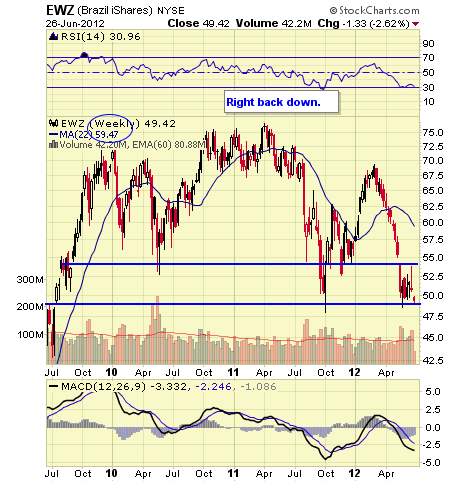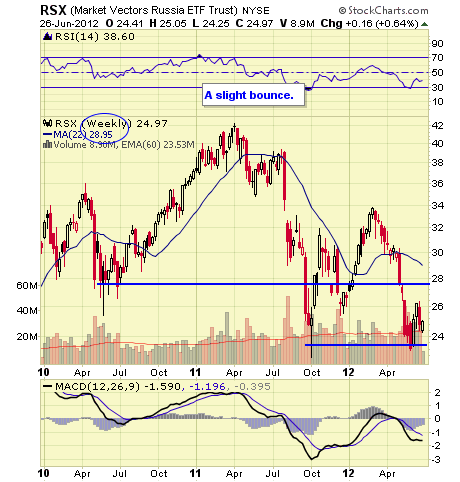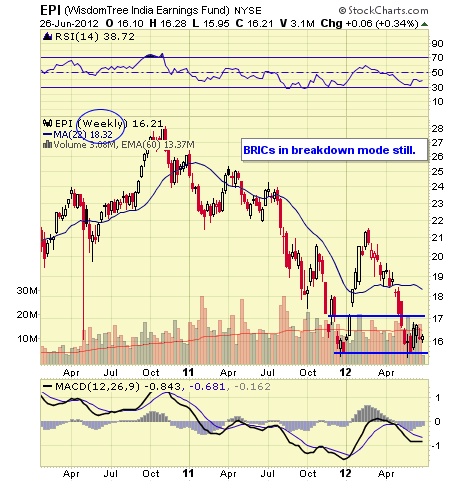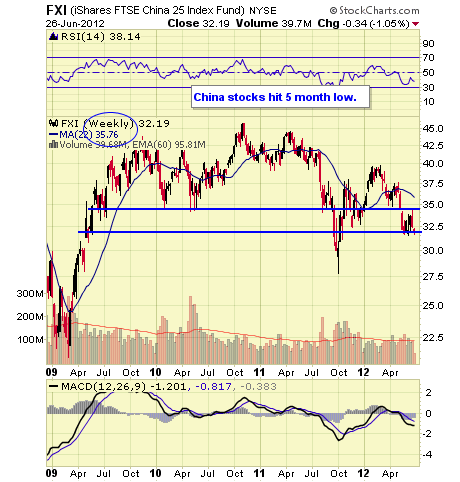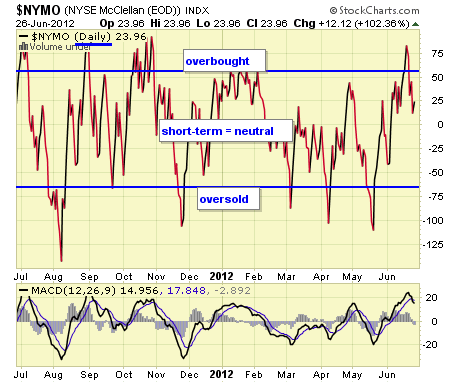 The NYMO is a market breadth indicator that is based on the difference between the number of advancing and declining issues on the NYSE. When readings are +60/-60 markets are extended short-term.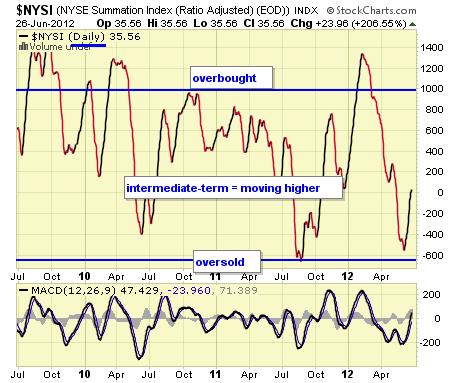 The McClellan Summation Index is a long-term version of the McClellan Oscillator. It is a market breadth indicator, and interpretation is similar to that of the McClellan Oscillator, except that it is more suited to major trends. I believe readings of +1000/-1000 reveal markets as much extended.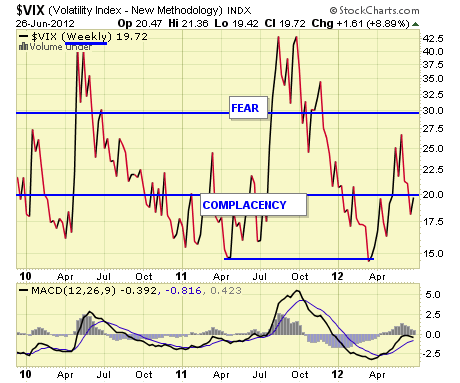 The VIX is a widely used measure of market risk and is often referred to as the "investor fear gauge". Our own interpretation is highlighted in the chart above. The VIX measures the level of put option activity over a 30-day period. Greater buying of put options (protection) causes the index to rise.
Here's the deal-the tension in the tape and rumors won't end until the 29th if the schedule is maintained.
Wednesday brings Durable Goods Orders and Pending Home Sales.
Let's see what happens.
Disclosure: I have no positions in any stocks mentioned, and no plans to initiate any positions within the next 72 hours.
Disclaimer: The ETF Digest maintains active ETF trading portfolio and a wide selection of ETFs away from portfolios in an independent listing. Current "trading" positions in active portfolios if any are embedded within charts: Lazy & Hedged Lazy Portfolios maintain the follow positions: SH, EFZ, VT, MGV, BND, BSV, VGT, VWO, VNO, IAU, DJCI, DJP, VMBS, VIG, ILF, EWA, IEV, EWC, EWJ, EWG, & EWU.
The charts and comments are only the author's view of market activity and aren't recommendations to buy or sell any security. Market sectors and related ETFs are selected based on his opinion as to their importance in providing the viewer a comprehensive summary of market conditions for the featured period. Chart annotations aren't predictive of any future market action rather they only demonstrate the author's opinion as to a range of possibilities going forward.