Among all of the bad economic news recently there have been a few morsels of positive news for certain REIT companies such as American Capital Agency Corp. (NASDAQ:AGNC). First the Fed announced that it would continue to keep Fed Funds rates low until at least late 2014 (perhaps into 2015). This should ensure that AGNC's investments retain their value. Mortgage REITs make money on the spreads between their borrowing costs and the yields of the higher interest rate mortgage backed securities they buy. In the case of AGNC, it is leveraged 8.4 times as of Mar. 31, 2012, so this effect is magnified. In Q1 2012 AGNC had a 2.31% annualized net interest rate spread for the quarter. This highly profitable situation allows AGNC to pay its great dividend of 15.39%.
The problem can come when interest rates rise. Then bundles of fixed rate mortgages will lose their value as borrowing costs become higher. Dr. Bernanke has just announced that this will not happen for another three years. This should mean you will be safe investing in mortgage REITs at least until mid 2014. He has also extended Operation Twist until the end of 2012. This should help keep rates low too. It should help support the value of houses. You might think lower mortgage rates would be bad, but in the overall picture Operation Twist is actually good. It will mean there will be more people who want to buy homes, and it will mean there will be more qualified buyers. This will help keep home prices from falling. It will keep the default rates low. It will keep the overall mortgage rate picture stable. In support of this outlook, this week's real estate news has been good. The New Homes Sales figure for May of 369K sales versus an expected 350K and a previous month's 343K is encouraging for real estate. The Case-Shiller composite index gained +1.3% (with 19 of 20 cities showing price gains). This meant the one year drop shrank from -2.6% to -1.9%. This lends stability to AGNC's holdings. It makes AGNC's leverage position more secure. Given that AGNC had an $81B investment portfolio as of Mar. 31, 2012, stability is important.
AGNC invests in residential mortgage pass-through securities and collateralized mortgage obligations for which the principal and interest payments are guaranteed by a US government agency or a US government sponsored entity such as Fannie Mae (OTCQB:FNMA) or GNMA. The company funds its investments primarily through short term borrowings structured as repurchase agreements. There is still the risk of defaults, haircuts, etc. but thus far the federal government has made good on all guarantees. There is also the issue of the possible insolvencies of FNMA and GNMA. If you invest in AGNC, you will want to watch for news of these entities. The federal government has been putting off dealing with this issue for some time. Eventually it will decide to do so.
Another worry is when or if the Fed may decide to do more QE. If the Fed does so decide, it may implement large scale purchases of agency mortgage-backed securities. If the Fed did this, this would increase the prices of MBS, but it would likely cause more prepayments. Plus it would increase the risk of new acquisitions as the new acquisitions would offer lower yields. If you invest in AGNC you will probably want to watch what the Fed is doing closely.
To decrease the probability of prepayments AGNC's portfolio as of March 31, 2012 was comprised of 58% HARP or lower loan balance securities. Still given the current rate levels, prepayments on generic mortgages will probably exceed their recent highs. The chart below shows AGNC's recent Constant Prepayment Rates by month.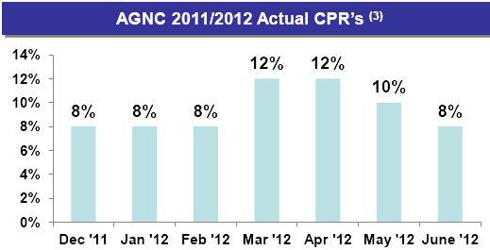 Click to enlarge
As you can see the constant prepayment rate has risen. Then it has fallen. The charts below show the CPR analysis for the two biggest categories of AGNC's portfolio.

Click to enlarge
At least the 30 year loan portfolio seems to have still excellent CPRs. Still CPRs do seem to be rising. If they keep it up, that will mean lower profits for AGNC. I think the Fed's recent actions are most likely to maintain the status quo though. Plus AGNC's exposure to HARP II eligible loans is very low. These are the most likely to have high prepayment rates as more people avail themselves of HARP II (started March 17, 2012).
In sum AGNC still seems like a great investment. It had a declared quarterly dividend from Q1 of $1.25 ($5 annualized or 15.39%) and a net gain in book value of $1.35 ($5.40 annualized) per share (from $27.71 at the end of Q4 2011 to $29.06 at the end of Q1 2012). This total return on an annualized basis is 38%. Most people would take this any day. Of course, there is no guarantee that the stock price will follow the book value, but it has approximately tended to. I should also mention that AGNC uses swaps and other hedges extensively to mitigate the book value risk to its portfolio. The two year chart below shows AGNC's price performance.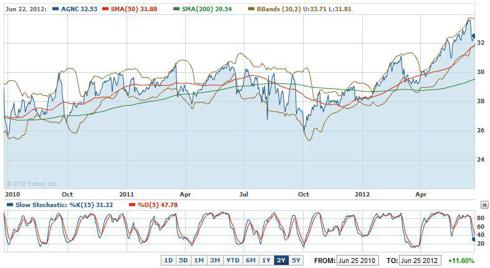 Click to enlarge
The chart shows that the stock price has only had a +11.60% gain over the last two years. However, this is still a good return when you add in the dividend. The slow stochastic sub chart shows AGNC is near oversold levels. The main chart shows that it is far above its 200-day SMA. It is above its 50-day SMA, and its 50-day SMA is far above its 200-day SMA. This indicates a strong uptrend. You may want to wait for AGNC to fall down below its 50-day again, or you may wish to average in. Averaging in over a longer time period is probably a good strategy in this economically troubled market. Overall AGNC still looks like a good investment until mid 2014 or so, although I would pay attention to Fed actions if you buy it.
If you are interested in other high dividend REITs, a few that you might look at are Two Harbors Investment Crop. (NYSE:TWO), and ARR Residential REIT (NYSE:ARR), and Annaly Capital Management Inc. (NYSE:NLY).
Note: Some of the fiscal financial data has come from Yahoo Finance.
Good Luck Trading.
Disclosure: I have no positions in any stocks mentioned, but may initiate a long position in AGNC over the next 72 hours.