Kent Croft, portfolio manager of the Croft Value Fund (CLVFX), erroneously believed that energy exploration would sizzle as an investment trend in 2012. Back in January, he said, "Exploration and production companies with large natural gas exposures will be prime beneficiaries of higher natural gas prices going forward."
Unfortunately, the exchange-traded fund that holds a basket of the brightest explorers/producers has significantly underperformed the broader market. The First Trust ISE Natural Gas ETF (NYSEARCA:FCG) is down roughly -17.5% year-to-date, while the S&P 500 SPDR Trust (NYSEARCA:SPY) is up about 6.1%.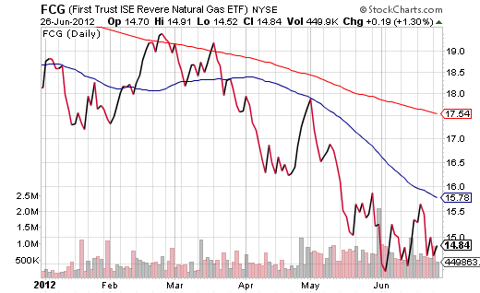 Of course, Mr. Croft is hardly the only adviser to miss the mark so far. Jeff Layman, chief investment officer at BKD Wealth Advisors with $1.4 billion under management, began the year bullish on commodities. "Improvement in the global economy would translate into gains in most commodities… reversing the negative returns of 2011," he said.
Regardless of the commodity basket you choose to look at, however, the asset class has struggled. Greenhaven Continuous Commodity (NYSEARCA:GCC) has registered a loss of nearly -8.5% over the first 6 months, while the current price is well below 50-day and 200-day trendlines.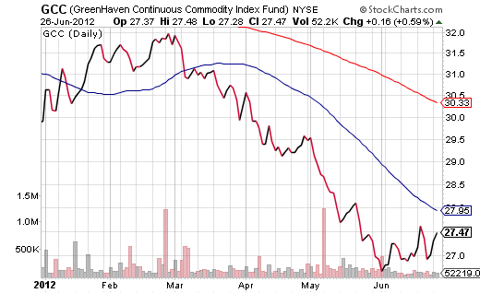 Both of these "calls" share one big thing in common: a faulty notion that the global economy would find solid footing in 2012. Yet halfway through the calendar, nearly all of the world's economies are showing signs of fatigue.
How bad is the "slowdown?" Europe is already contracting. GDP growth in the U.S. is anemic. And China may expand at the slowest pace in 7 years.
Nevertheless, there are several reasons to believe that investors may be rewarded for keeping their 2nd half fears at bay. For one thing, emerging market stocks are trading at P/Es below 10 and their central banks do have wiggle room to stimulate. Consider Asian neighbors of China that have held up relatively well… exchange-traded vehicles like iShares MSCI Malaysia (NYSEARCA:EWM) and iShares MSCI Thailand (NYSEARCA:THD).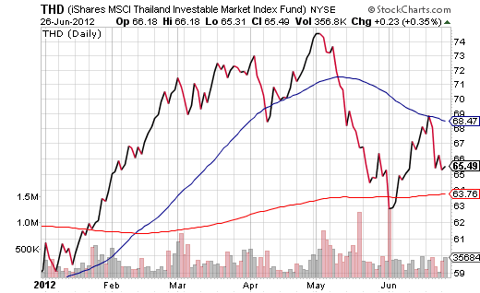 Secondly, even though U.S. companies may be very reluctant to bring on new employees until after the November election, earnings and balance sheets are solid. Whether those companies increase their dividends or they gobble up competitors, blue chips are leaner and meaner than they were in 2008. It follows that — absent a systemic collapse in Europe — I am quite comfortable with dividend-paying ETFs. Consider Vanguard High Dividend Yield (NYSEARCA:VYM), iShares High Dividend Equity (NYSEARCA:HDV) or First Trust Dividend Leaders (NYSEARCA:FDL).
The above-mentioned stock ETFs will not be winners if the entire world goes to heck in a stock ETF basket. What's more, you will require a venerable sell discipline to protect against that possibility.
Disclosure Statement: Gary Gordon, MS, CFP is the president of Pacific Park Financial, Inc., a Registered Investment Adviser with the SEC. Gary Gordon, Pacific Park Financial, Inc, and/or its clients may hold positions in the ETFs, mutual funds, and/or any investment asset mentioned above. The commentary does not constitute individualized investment advice. The opinions offered herein are not personalized recommendations to buy, sell or hold securities. At times, issuers of exchange-traded products compensate Pacific Park Financial, Inc. or its subsidiaries for advertising at the ETF Expert web site. ETF Expert content is created independently of any advertising relationships.