General Mills (NYSE:GIS) - a name synonymous with baking, snacks, cereal and vegetables - made an announcement Tuesday that continues another long and well known tradition: a dividend increase.
From the release:
General Mills said today that its board of directors has approved an 8 percent dividend increase for General Mills common stock. The new quarterly dividend of $0.33 per share is payable Aug. 1, 2012, to shareholders of record July 10, 2012.

The new annualized dividend rate of $1.32 per share represents a yield of roughly 3.4 percent at recent market prices for General Mills shares.

"We view dividends and dividend growth as a key component of value creation for shareholders," said General Mills Chairman and Chief Executive Officer Ken Powell . Over the past five years, which was a challenging period for the capital markets overall, General Mills' dividends per share increased at an 11 percent compound annual rate. The company's dividend yield has averaged roughly 3 percent over this same period.
General Mills and its investors should not be surprised by this development as the company and its predecessor firm have paid shareholder dividends, without interruption or reduction, for 113 years. This makes General Mills a dividend Goliath.
For dividend growth investors, this is indeed tasty news as it continues a fine tradition of baked in dividend increases. But what of the income investors (price plus income focused)? Is General Mills a Lucky Charm deserving of a gold medal?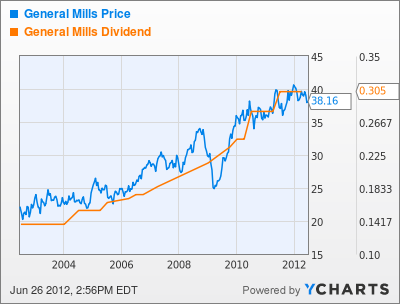 Both the price and the dividend have been rising for ten years (okay, the price fell during that pesky great recession), giving investors the total package.
General Mills fares well when compared with other dividend stalwarts: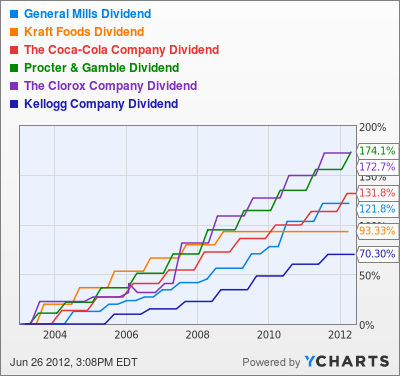 GIS Dividend data by YCharts
This chart does not include Tuesday's dividend increase for General Mills.
And on a price basis against the same group: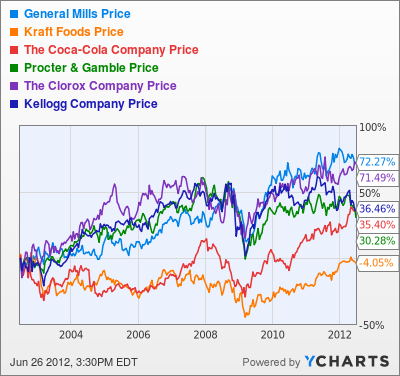 On a price basis, General Mills leads the pack in price increase with a 72% increase over the last ten years.
And on a value (price/book) basis: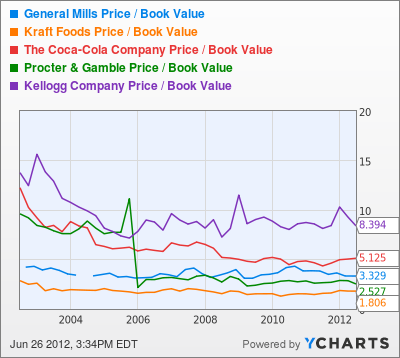 GIS Price / Book Value data by YCharts
On a price/book basis, General Mills falls into the middle of the pack.
Bottom Line: General Mills has been a consistent dividend payer for over a century and has a history of growing its dividend. As well, the company's share price has appreciated well over the last ten years which is accretive to the value proposition of the company. While there are some headwinds (private label growth, feedstock price increases and slowing global growth among them), the company has continued to manage its growth (both revenue and dividend) and international business expansion in a very sound manner. The equity of the company is worth of consideration for dividend growth investors, income investors and investors generally.
Disclosure: I have no positions in any stocks mentioned, and no plans to initiate any positions within the next 72 hours.