After scrupulous back-testing we have elaborated a screening method which has proven to perform much better than the main indexes of the U.S. stock markets.
The screen, that will be called G-1, requires all stocks to comply with all following demands:
The stock is traded on one of the following exchanges: NYSE, NASDAQ and AMEX.
The current ratio is greater than 1.5.
The total debt to equity is less than 20 %.
Earnings last quarter are greater than the earnings in the same quarter year ago.
Earnings last quarter are greater than the earnings in the prior quarter.
Earnings last 12 months are greater than 0 %.
Earnings growth last 5 years is greater than 0 %.
The company is paying a dividend.
The stock price has performed better than the market median in the last 13 weeks.
The asset turnover in the last 12 months was better than the industry median.
The Sharpe ratio is greater than 1.
After running this screen on June 24, 2012, we obtained as results the 4 following stocks:
| | | | | | | |
| --- | --- | --- | --- | --- | --- | --- |
| Company | Symbol | Last price | Market Cap ($millions) | Trailing P/E | Forward P/E | Forward Annual Dividend Yield |
| Mastercard Incorporated | MA | 435.02 | 54,990 | 27.41 | 16.66 | 0.30% |
| Mead Johnson Nutrition | MJN | 88.65 | 18,070 | 34.62 | 24.49 | 1.40% |
| Sturm, Ruger & Co. | RGR | 38.40 | 736 | 15.61 | 13.21 | 3.40% |
| Visa, Inc. | V | 124.18 | 84,120 | 20 | 17.62 | 0.70% |
Data: Yahoo Finance
Mastercard Incorporated (NYSE:MA)
MasterCard Incorporated, a payments and technology company, together with its subsidiaries, provides transaction processing and other payment-related services in the United States and internationally. Its payment solutions include payment programs, product development, payment processing technology, payment security, consulting, and information services and marketing.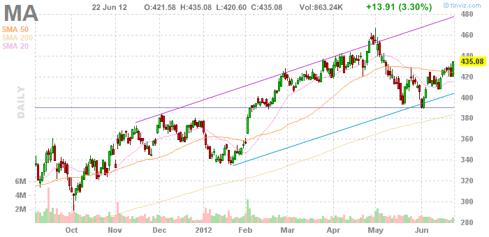 Chart: finviz.com
Mead Johnson Nutrition Company (NYSE:MJN)
The Mead Johnson Nutrition Company manufactures, distributes, and sells infant formulas, children's nutritional products, and other nutritional products in Asia, Europe, Latin America, and North America. Its infant formula products include formulas for routine feeding; solutions formulas for mild intolerance and specially formulated products, including formulas for severe intolerance; formulas for premature and low birth weight infants; and medical nutrition products.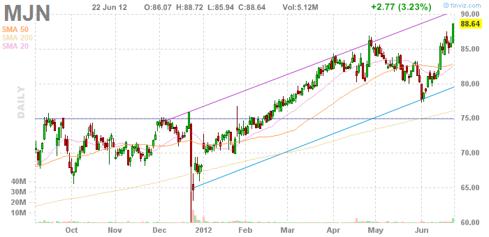 Chart: finviz.com
Sturm, Ruger & Co. Inc. (NYSE:RGR)
Sturm, Ruger & Company, Inc. Engages in the design, manufacture, and sale of firearms in the United States. It offers single-shot, autoloading, bolt-action, and sporting rifles; shotguns; rim fire autoloading and center fire autoloading pistols; and single-action and double-action revolvers. The company also manufactures and sells accessories and replacement parts for its firearms.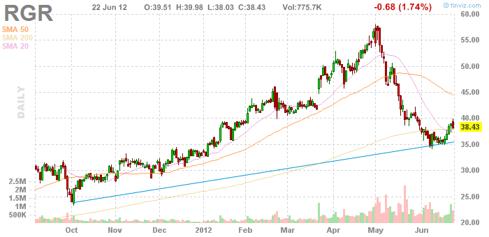 Chart: finviz.com
Visa, Inc. (NYSE:V)
Visa Inc., A payments technology company, engages in the operation of retail electronic payments network worldwide. It facilitates commerce through the transfer of value and information among financial institutions, merchants, consumers, businesses, and government entities. The company owns and operates VisaNet, a global processing platform that provides transaction processing services. It also offers a range of payment platforms, which enable credit, charge, deferred debit, debit, and prepaid payments, as well as cash access for consumers, businesses, and government entities.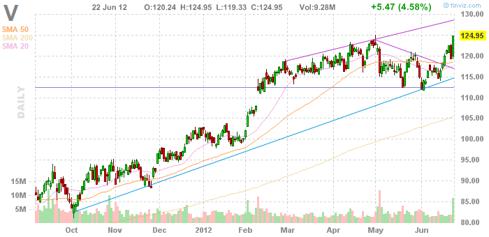 Chart: finviz.com
It is mostly recommended to run this screen each month and replace the stocks that no longer comply with the screening requirement with other stocks that have a better chance to comply with the requirement.
Disclosure: I have no positions in any stocks mentioned, and no plans to initiate any positions within the next 72 hours.