As all 27 EU leaders prepare for a critical summit this Thursday and Friday, German Chancellor Angela Merkel has drawn a Germanic line in the sand. As I noted in a previous article, the so-called "Latin Bloc", led by France, has been pushing Germany to agree on some form of mutualization of sovereign debt across the Eurozone. While at a private meeting on Tuesday, however, Merkel issued a ringing declaration that there would be no Eurobonds "as long as I live!".
Markets reacted as could be expected to the escalating crisis. Spain's short-term borrowing costs leaped precipitously at an auction yesterday. The interest rate paid on a 3-month Spanish bill jumped to 2.362 percent, up from just 0.846 percent a month ago. For six-month bills, yields soared to 3.237 percent from 1.737 percent in May. Meanwhile, Spanish 10 year bonds jumped 23 basis points to 6.87%, once again approaching the markets' psychological threshold of 7%.
At an Italian debt auction meanwhile, yields on two year zero coupon bonds jumped to 4.71%, a 70 basis point increase from May. As the graph below demonstrates, Italian government debt to GDP has continued to grow, and now tops 120%. In my opinion, markets are clearly becoming increasingly worried about the Italian Government's ability to service its debt in the current environment.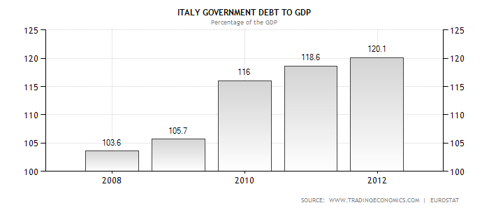 Click to enlarge
Meanwhile, speculation is increasing that France is next in line to be engulfed by the crisis. As this article from CNBC (appropriately titled Greece, Ireland, Portugal, Spain, Italy - France?) explains, the real fear in the markets is the exposure of French banks to the Club Med countries, especially Italy. As the graph below demonstrates, French banks are nearly three times as exposed to Italy as German banks. In this context, it is not surprising that France is the strongest advocate in the Europe for a Eurozone banking union and the direct recapitalization of banks through a planned "European Stability Mechanism" or ESM.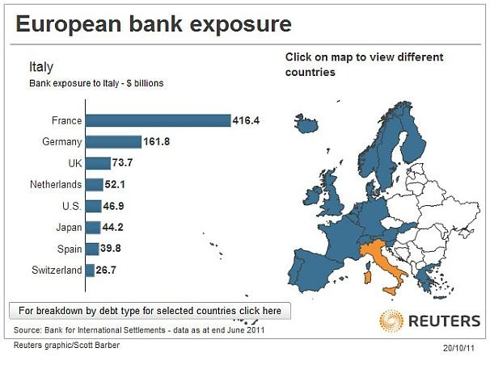 Click to enlarge
While I think markets already have a low expectation for results from the forthcoming EU summit, I would still argue that investors with a substantial percentage of money in equities should enter Thursday well hedged.
I have long felt that Treasury bonds are an ideal hedge. I fully understand how low yields are, but used strictly as an equity-hedge they make sense. Some combination of the iShares Barclays 7-10 Year Treasury Bond ETF (NYSEARCA:IEF) or the iShares Barclays 10-20 Year Treasury Bond ETF (NYSEARCA:TLH) make sense in my view.
The other option is to immediately - by close of business Wednesday - buy the iPath S&P 500 VIX Short-Term Futures ETN (NYSEARCA:VXX). VXX closed Tuesday at $16.67, down 2.74%. If you look at the chart below from Seeking Alpha, VXX is close to its one year lows, which seems quite unusual to me given the volatility in Europe. If markets go haywire on Thursday or Friday, VXX should soar.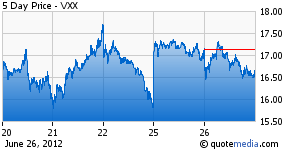 Disclosure: I have no positions in any stocks mentioned, and no plans to initiate any positions within the next 72 hours.
Additional disclosure: I own some Treasuries in my 401(k)