Your cat needs a kidney by year's end and you try raising $1,000,000. You figure with that money you can hire a contractor to harvest someone from a rival sports team's community's kidneys. You go door-to-door. No one gives. Hmmm... You'll have to raise the money yourself. This one's for Harvey (my first cat).
$1,000,000 Mostly Death Portfolio
Well, I am about to tell you what NOBODY in the financial media will tell you. No respectable talking head will tell that you can make 30 times your money in 6 months. But I am here to tell you that it is possible and I intend to perform this miracle before your very eyes. Harvey needs a kidney from a Chicago Bears fan.
We will start the $1,000,000 Mostly Death portfolio with $33,000. This requires a 3,030.3% return to get to $1,000,000 and save your cat from certain death. This is also the same amount of money with which we started our $33,000 American Portfolio and these two portfolios are meant to be very different. The $33,000 American Portfolio keys on acceptable risk, the Mostly Death portfolio, uh, does not.
The $1,000,000 Mostly Death portfolio is called mostly death for a reason. We are NOT recommending this strategy or any of the trades therein. Let us live vicariously through this dangerous and hopefully exciting portfolio. The point of this exercise is that the 3,000% is in the market somewhere. We are conditioned not to go for it, and almost always for good reason, but if we never look for the big trade then we may never get it, and the trades are sitting there right now. Let's use this hypothetical portfolio to work out the parts of our minds that anticipate big gains. Maybe this will serve us well with the speculative portion of our real portfolios.
Outlook
We are really, really, doubtful that the EU is going to pull together in any way that will be looked back on as "successful" at year's end. We think there will be real stress to the financial system and founded and unfounded panic.
But first we suspect there will be a head-fake rally, a "things are now calming down in Europe" rally that is going to end horribly by the new year. And we think this rally will culminate in a "Mission Accomplished and We Stand United as a European Family" moment. A literal declaration of victory by heads of state. Fanfare. Huge market rally. That "Mission Accomplished" moment is the moment we think will be the moment to switch from bull to bear and pounce.
From C to Shining C
Citigroup (NYSE:C) is a perfect stock to game for such a thing, as it is an international bank and gets slammed or buoyed alongside European banks AND is liquid in the options market, which is straight where we are headed of course.
We think euro-phoria will be good for a better than 10% rally for Citi in the next few months and then a better than 10% drop from where it started as reality sets in along with Winter. That's how we will play it.
What if we are right about the set-up and play-out? Are we millionaires? Let's see (Sources: ETrade):
Let's see, $.85 ask for the Aug 18 $29 call; $33,000 divided by $.85 and we can get the right to buy 38,800 shares of C at $29. If we can flip that for $33 that's $155,200 ($4 X 38,800). We could put that to work on the puts: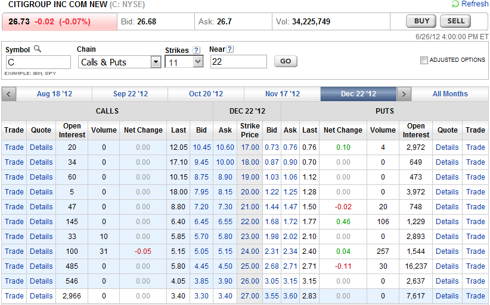 Now, $2.02 is the going rate for a $23 Dec put. If C traded $6 higher (at $33), the $23 strike would be 6 strikes better so it would go for about $.76 (where the $17 put trades). So we could potentially get the right to sell about 200,000 shares at $23. If C trades at $18, that's a $5 profit, times 200,000, for $1,000,000.
Conclusion
The leverage of options can make for some huge paydays if done right. We've shown that if market conditions go right then huge gains can be gamed. What we did not show is the most likely outcome: 100% loss. Buying short term out of the money options is a quick way to lose your money and that is probably going to happen here.
We will make our purchase of 388 August 18 $29 calls with complete confidence, and we can do that with fake money. Please enjoy this trade from the sidelines and watch out for a man covered in cat hair putting a measuring tape to your lower back.
As the macro-situation plays out keep an eye out for swings in these financial names: Berkshire Hathaway Inc. (NYSE:BRK.A), Wells Fargo & Company (NYSE:WFC), HDFC Bank Ltd. (NYSE:HDB), JPMorgan Chase & Co. (NYSE:JPM), Bank of America Corporation (NYSE:BAC), Royal Bank of Canada (NYSE:RY), The Toronto-Dominion Bank (NYSE:TD), China Life Insurance Co. Ltd. (NYSE:LFC), American Express Company (NYSE:AXP), Mitsubishi UFJ Financial Group, Inc. (NYSE:MTU), Westpac Banking Corporation (NYSE:WBK), Itau Unibanco Holding S.A. (NYSE:ITUB), U.S. Bancorp (NYSE:USB), Banco Santander, S.A. (NYSE:SAN), The Bank Of Nova Scotia (NYSE:BNS), American International Group, Inc (NYSE:AIG), Banco Bradesco S.A. (NYSE:BBD), The Goldman Sachs Group, Inc. (NYSE:GS), Banco Bradesco S.A. (NYSE:BBDO), Simon Property Group Inc. (NYSE:SPG), UBS AG (NYSE:UBS), Sumitomo Mitsui Financial Group Inc. (NYSE:SMFG), Mizuho Financial Group, Inc. (NYSE:MFG), Barclays PLC (NYSE:BCS), Bank of Montreal (NYSE:BMO), Banco Bilbao Vizcaya Argentaria, S.A. (NYSE:BBVA), Deutsche Bank AG (NYSE:DB), Lloyds Banking Group plc (NYSE:LYG), MetLife, Inc. (NYSE:MET).
Disclosure: I have no positions in any stocks mentioned, and no plans to initiate any positions within the next 72 hours.