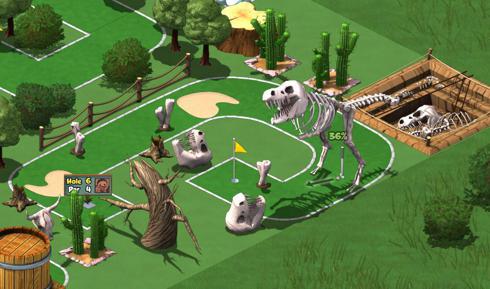 Majesco Entertainment (NASDAQ:COOL) saw its shares rally into closing after the Zynga (NASDAQ:ZNGA) Unleashed event (Highlights) announced Majesco as a partner in Zynga's third party platform. Shares shot up to $1.90, up about 10%, when investors caught wind of the Zynga partnership. Shares closed at $1.81 before shooting up to $1.97 in after-hours trading.
Majesco Entertainment confirmed the partnership in a press release Tuesday afternoon. The partnership brings Majesco's Mini Putt Park game to the Zynga platform. The game allows players to create their own mini golf course. The game, currently available on Facebook (NASDAQ:FB), is averaging 71,000 monthly users. The game offers seventeen different themes and will be adding more when the game has its full rollout this summer. Top in game purchases for Mini Putt Park Cash are all sold under $1. The numbers are not amazing, but will see a large increase when the game goes live on zynga.com later this summer.
Majesco owns the Cooking Mama brand that currently has a game on the Facebook social gaming platform. The game, Cooking Mama's Friends' Café, has 200,000 monthly users on Facebook currently. Could the Mini Putt Park game be a test before Majesco brings the Cooking Mama franchise to Zynga?
The biggest announcement came recently from Majesco regarding its Zumba Fitness franchise. The company will launch Zumba Fitness Core in October. The game increases the already successful Zumba Fitness franchise by targeting the abs of players. The game will be available for the Nintendo (OTCPK:NTDOY) Wii and Microsoft (NASDAQ:MSFT) XBOX 360. The game will attempt to make player's abs tighter and toner. Zumba Fitness games are now the second best selling fitness franchise game of all time, behind the Wii Fit.
With a large portion of its revenue coming from Zumba Fitness games, Majesco Entertainment has been making strides to diversify itself. The company will be rolling out an interactive NBA game for Microsoft Kinect, and a Hello Kitty game for Nintendo 3DS. Majesco also acquired the rights to the American Idol brand for video games in North America.
Majesco shares have lost over 30% over the last three trading months. I bought shares of Majesco Entertainment last year after believing the company can diversify and also push into the mobile and social gaming world. Look for shares to rally Wednesday on the Zynga news and consider buying on a pullback. The gaming company has an exciting 2012 ahead of it.
Disclosure: I am long COOL.
Additional disclosure: I may initiate a long position in Zynga over the next 72 hours.