The Federal Reserve is engaged in a program referred to as "Operation Twist", the selling of short-dated maturities and the purchase of longer-dated issues in an attempt to flatten the yield curve. The selling of short-term issues might push shorter-term interest rates higher with its purchase of longer-term issues pulling longer-term interest rates lower. Generally, when the Federal Reserve pushes short-term interest rates higher, it is attempting to slow economic growth. Given that the Fed recently reduced its economic growth forecast, the desire to flatten the yield curve is a curious development.
A Bloomberg article suggests that Lennar (NYSE:LEN) is seeking $1 billion in funding for a US project from a Chinese bank. That was a surprise given the Federal Reserve has given the okay for selected U.S. financial institutions to repurchase stock. Wouldn't making loans create more jobs than the repurchase of shares?
There is a number of interesting data points that hit the financial markets the remainder of the week. On Wednesday there is the MBA mortgage index, durable orders, pending home sales and crude inventories. Thursday has initial jobless claims, expected Supreme Court decision on healthcare, GDP third estimate, and information from a summit in Europe. Friday has personal income and spending, PCE prices, Chicago PMI and Michigan sentiment. Many potential market moving figures and events to digest.
Encouraging Economic Figures from Newswire Headlines seen June 26, 2012
Richmond Fed Services Revenue index +9 June vs. -2 May
US Chain store sales +1.9 in week ended June 23 vs. year ago (Redbook)
US Chain Store Sale +2.7% year on year in June 23 week (ICSC / Goldman Sachs)
US Home prices rise for 3rd month in April (S&P)
US May Building Permits revised to +8.4% from +7.9%
US June Consumer Present Situation Index 46.6 June vs 44.9 May revised
On June 25th, the Federal Reserve Bank of Dallas released the Texas manufacturing outlook survey and the production index was the strongest in 15 months increasing from 5.5 to 15.5. The employment index was 13.7, up from 8.5. New orders grew to 7.9, up from minus 0.6 with the growth rate of orders coming in at 1.6, up from minus 3.7. Finished good inventories were down 7.7 versus down 2.4. Hours worked turned positive at 1.0 versus minus 2.2.
Many comments in the survey concerned the November election. This suggests that Washington is having an impact upon confidence and the economy. And judging from the level of 10-year US Treasury yield the outlook is not for robust economic activity, though the low interest rates is helping corporations such as John Deere (NYSE:DE) that registered $2.250 billion of Notes split between the 2.600% Notes due 2022 and the 3.900% Notes due 2042, per 8-K. The common stock closed at $76 and has a dividend yield of roughly 2.40%.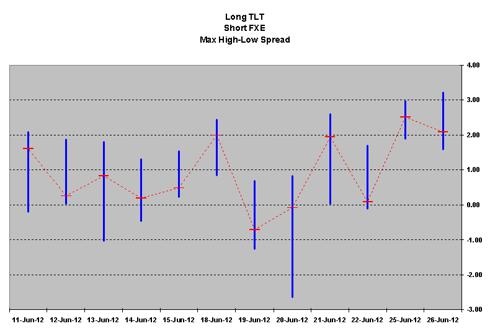 Click to enlarge
Chart of 3-Month and 1-Year T-Bill yields: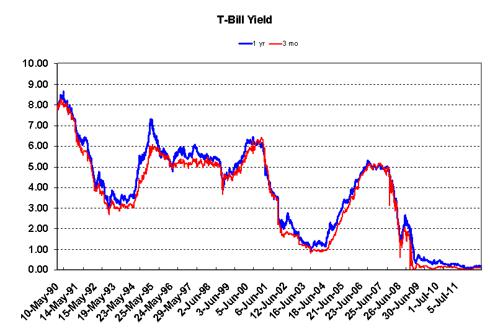 Click to enlarge
Disclosure: I have no positions in any stocks mentioned, and no plans to initiate any positions within the next 72 hours.