We believe that if investors want exposure to a telecom company that offers great turnaround potential, they should buy Sprint Nextel (NYSE:S), instead of Nokia (NYSE:NOK).
Both companies were pioneers in the mobile communications industry: Nokia introduced the first car phone "Mobira Senator" in 1982 and was the dominant cellular phone handset vendor in the late 1990s and early 2000s, and Sprint built the nation's first all-digital, fiber optic telecommunications network and the first national digital PCS mobile communications network from the ground up.
Both companies have seen shocking revenue declines and losses, value-destroying acquisitions and have seen company credit ratings cut to junk during the last five years. Here is why we believe that Sprint offers a better opportunity for investors than Nokia:
Magnitude of Revenue Decline: Sprint's revenue peaked in 2007 at $41B and troughed in 2009 at $32.26B, a decline of 21.4%. Since it bottomed out in 2009, it has shown incremental growth in 2010 and 2011 and we are estimating that Sprint will generate $37B in 2012. We forecasted Sprint continues to generate healthy revenue growth from 2012 to 2016 due to these factors:

Click to enlarge
Source: Mobile Carrier Websites
Sprint now sells Apple's (NASDAQ:AAPL) hot-selling iPhone. Sprint and Verizon are the only carriers that sell the iPhone without a contract.
Sprint has improved its customer service rankings and competes with Verizon for top rankings in wireless telecom customer service
Nokia's revenue also peaked in 2007 at €51B and with the exception of 2010, has seen continued revenue declines. 2011 revenue was €38.66B, a decline of 24%. Moreover, Q1 2012 revenue declined by nearly 30% versus Q1 2011 and we don't see Nokia being able to stop this declining revenue trend this year.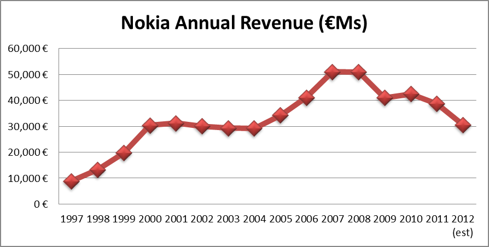 Click to enlarge
Sources: Nokia's 2001-2011 SEC 20-F Reports and Saibus Research Estimates
Key Business Drivers: We see that Sprint is at least showing signs of life here. Sprint has shown six straight quarters with ~1.1M or more new subscribers. Sprint's CDMA platform has also registered seven straight quarters of 225K new postpaid customers. Sprint's CDMA platform even picked up more paid customers than AT&T in Q1 2012.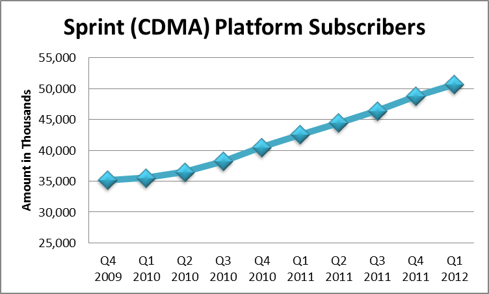 Click to enlarge
Sources: Sprint's 2011 Annual Report and 2012 Q1 10-Q Report
Nokia's key business performance indicators have shown that Nokia is rapidly regressing as a company. Nokia's mobile device volumes peaked in 2008 then saw a steady downward drift from 2009 to 2011 and collapsed in Q1 2012. Furthermore, Nokia's volumes for its relatively lucrative smartphone devices have sunk like a stone since 2010, suffering a 25% decline in 2011 and a 51% decline in Q1 2012 for good measure.
Sources: Nokia's 2011 Annual Report, Q1 2012 Earnings Release and Saibus Research Estimates
Cash Flows: Despite ramping up capital expenditures in 2011 and 2012 as part of its Network Vision transformation, Sprint had a small free cash flow deficit of (-$37M) in 2011 and positive free cash flow of $10M in Q1 2012. Nokia had a free cash flow deficit of €328M in 2011 and €712M in Q1 2012. I guess it's a good thing Nokia has more cash and liquid assets on its balance sheet than Sprint since Nokia looks like it will need it more.
Macroeconomic environments: Nokia has more global diversity than Sprint. Nokia has access to fast growing markets in Asia, Latin America and Africa, as well as slow-growing markets in Europe and North America. Europe and North America have seen the sharpest declines in sales volume for its mobile devices. However, Nokia's Chinese unit sales were a real disaster-piece, declining by 62% in Q1 2012 versus Q1 2011. Sprint generates all of its revenues from the US, which we believe will perform better than Europe and offers greater potential than consensus economic estimates in 2013 and beyond.
Based on these 4 reasons, we conclude that Sprint offers a much greater likelihood of turnaround potential in the telecom sector instead of Nokia. Aggressive investors may want to finance a long position in Sprint by entering into a short position with Nokia. We can see how even while Sprint was in the midst of a multi-year, multi-step transition process, it was still able to outperform Nokia by a wide margin since the end of 2008.
We can see that both companies are gambling on a revolutionary smartphone. Sprint is gambling its company's future on selling the Apple iPhone, and Nokia is hoping to restore its growth and profitability with the Nokia Lumia 900 Windows phone. We are surprised that Nokia does not make phones available for the Verizon and Sprint networks, since those two companies comprise about 50% of the US wireless carrier market.
So far we find much greater momentum for Sprint and its Apple iPhone partnership than Nokia and its Windows phone partnership with Microsoft (NASDAQ:MSFT) and AT&T. To paraphrase the former Mayor of Boston Kevin White, we think he would agree if we were to say about Sprint Nextel , it may not yet be Verizon , but at least it's not Nokia.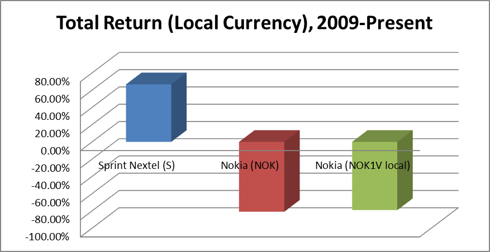 Click to enlarge
Source: Morningstar Direct
Disclosure: I am long S, AAPL.
Additional disclosure: Saibus Research has not received compensation directly or indirectly for expressing the recommendation in this report. Under no circumstances must this report be considered an offer to buy, sell, subscribe for or trade securities or other instruments.