This strategy not only provides the chance to leverage one's position in Corning Inc (NYSE:GLW), but it always provides one with the chance to get into the stock at a much lower price. This technique should only be employed if you are bullish on the stock. If you are not bullish on the long term prospects of this stock, then you would be better served by looking for other plays.
Reasons to be bullish on Corning Inc
It recently unveiled a new flexible Glass, called "Willow Glass". It is extremely thin, versatile and rather durable in nature. It can be made as thin as 0.05 mm, which is significantly thinner than the current 0.2mm display glass. Willow Glass has the potential to completely revolutionize the smart phone, TV, Laptop and tablet industry due to its thinness, durability and extreme flexibility. It could even replace gorilla glass, which is used on many of the above stated devices. Due to its nature, Willow glass could be incorporated in a host of products that have yet to be invented. For example, roll up tablet computers, and it may perhaps also be of use to the solar industry. If Willow Glass is embraced widely, it could provide a significant boost to the company's bottom line.
A five-year dividend growth rate of 4.9%
It's trading over $1.17 below book value
A free cash flow yield of 5.65%
A projected 3-5 year EPS growth rate of 8.5%
A low payout ratio of 16%
A low long-term debt to equity ratio of 0.15
A splendid current ratio of 5.5
A great quick ratio of 3.67
A very good interest coverage ratio of 36.7
Net income increased from $2 billion in 2009 to $2.8 billion in 2011
Cash flow increased from $1.87 in 2009 to $2.38 in 2011
Annual EPS before NRI increased from $1.41 in 2007 to $1.76 in 2011
$100K invested for 10 years would have grown to $404K. If the dividends were reinvested the rate of return would have been higher.
Click to enlarge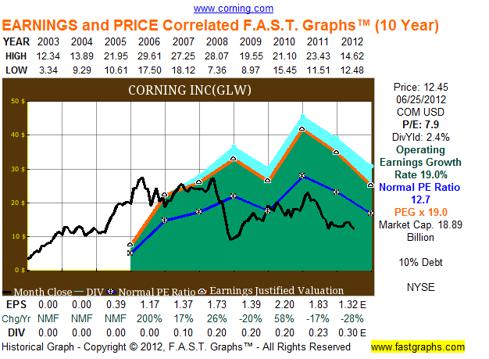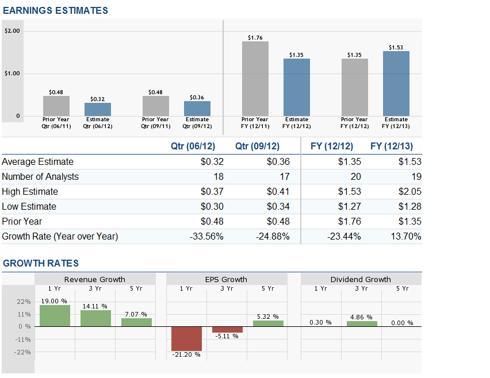 Suggested strategy for Corning Inc.
Part I
The stock is still in a downtrend, and it could test its Oct 2011 lows before putting in a bottom. Consider waiting for a test of the 11.50-12.00 ranges before putting this strategy to use.
Click to enlarge

The Jan 2013 11 puts are trading in the $0.7-$0.75 ranges. If the stock dips down to the suggested ranges, these puts could move in value from $0.30-$0.50. For this example, we will assume that the puts can be sold for $1.00 if the stock trades down to the suggested ranges. For each contract sold, $100 will be deposited into your account.
Part II
Click to enlarge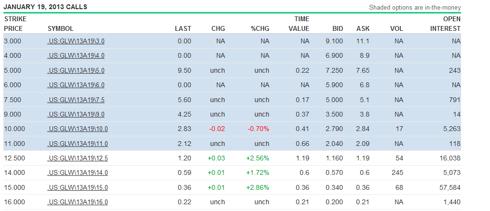 If the stock trades down to the suggested range, the Jan 2013, 15 calls should drop down to the $0.23-$0.27 ranges. Use the proceeds from step 1 ($100) to purchase the Jan 2013, 15 calls at 27 cents or better. You will be able to purchase three calls and still have $19 left over.
Benefits
This strategy allows you to leverage your position with no out of pocket cost. In this instance, you get a leverage of 3-1. For every put sold you can purchase up to three calls. If the stock trades below the strike price you sold the puts at, the shares could be assigned to your account. As you were bullish from the onset, this should not be an issue because you get a chance to get into the stock at a lower price. Your final cost per share will depend on how many calls you purchased, and could range from $10.27- $10.81 per share.
On the other hand, if the stock takes off you could stand to lock in some very handsome returns. The stock has traded as high 15.75 in November of 2011, so there is a decent chance it could test these ranges again. All it needs is some good news.
Risks
If the stock trades below the strike price, the shares could be assigned to your account. However, as stated before, as you were bullish on the stock, this should not be an issue. If you have a change of heart, you can always roll the put (if the put is in the money and you do not want the shares to be assigned to your account).
Conclusion
Only put this strategy to play if your outlook on this stock is bullish. A normal correction usually ends of with a retest of the recent lows. Thus, there is a good chance that the markets could test their lows again and Corning could pull back to the 11.50-12.00 ranges in the process. The markets should generally trend up until around August of this year, and then depending on the action, they could put in another multi month top. Investors looking for other ideas might find this article to be of interest.
Note: EPS and Price Vs industry charts obtained from zacks.com. A major portion of the historical data used in this article was obtained from zacks.com. Options tables sourced from money.msn.com. Earnings and growth estimates sourced from dailyfinance.com.
Disclosure: I have no positions in any stocks mentioned, and no plans to initiate any positions within the next 72 hours.
Disclaimer: It is imperative that you do your due diligence and then determine if the above strategy meets with your risk tolerance levels. The Latin maxim caveat emptor applies-let the buyer beware.