On June 8th, our report analyzing and comparing Exelon (NYSE:EXC) versus Wisconsin Energy (NYSE:WEC) was published. Our thesis was that dividend investors should consider Wisconsin Energy instead of EXC because Wisconsin Energy is targeting an increased dividend payout in 2013 and 2014, while Exelon is bogged down in integrating its merger with Constellation Energy Group (NYSE:CEG).
On June 18th, we published our report further analyzing Exelon. We analyzed the following points of interest with regards to Exelon as an investment:
Exelon's formation and its business operations structure.
Its poor Q1 results and its poor stock performance since 2008.
Our recommendation that investors sell it or even short it based on the $1B in concessions that the Maryland utility regulators wrung out of Exelon-Constellation.
We can see why TRC thought that it was slick by offering an unsolicited mini-tender offer of $36.55 a share for up to 3M shares in Exelon, or about 0.35% of its common stock on May 23rd. As Exelon's stock was trading at $36.81 on that date, Exelon advised shareholders not to tender their stock to TRC. In our opinion, we think that Exelon shareholders should hope that mini-tender offer is extended.
As bad as the Q1 2012 results were for Exelon, the outlook for Exelon is worse. 30 days ago, Consensus estimates for Exelon's FY 2012 and FY 2013 EPS were $3.01 and $3.03, respectively. This represented a 20% decline versus 2011 EPS - which has stagnated since 2007.
On June 7th, Exelon had an Analyst Meeting, where the Cover Slide said "Exelon: Performance That Drives Progress". We couldn't help but be amused at the irony of that slide - for Exelon and its stock has shown many things, but not performance or progress since the consummation of the Unicom-PECO merger. At the meeting, Exelon announced that the company couldn't even meet those low bar targets. Exelon announced that 2012 adjusted operating EPS was $2.55-$2.85.
Click to enlarge
Exelon says that it is on its way to realizing the value from the Constellation acquisition. It believes that it can generate $500M in annual cost reduction synergies, $100M in annual gross margin synergies and $4.2B in reduced liquidity facilities, resulting in $40M of annual financing cost synergies. We sure hope so, for the sake of the thousands and thousands of shareholders of the combined company.
We were disappointed that Exelon wrote down $3B from the PECO-Unicom merger as well as Boston Generating LLC assets. But there is a bright spot to Exelon's $7.4B acquisition of Constellation. We don't expect Exelon to write down $3B from the Constellation acquisition because Constellation took $4.2B in impairment charges from 2008-2011.
Since Exelon did not incur any goodwill or acquisition related intangible assets from this deal, we believe the odds of a write-down are lower than the PECO-Unicom deal. Maybe Exelon's poor track record with mergers is why the Exelon was unable to take over Public Service Enterprise Group, NRG Energy and Illinois Power.
We noted that management said that it was committed to maintaining the $2.10 per share dividend and that it will go to great lengths to defend the company's investment grade credit rating. We don't think that management's lofty rhetoric at this pep-rally was soothing to the investment community because Moody's subsequently announced that it placed its investment-grade ratings on Exelon Corp. and its power generation subsidiary on review for a possible downgrade, pointing to concerns with the wholesale power plant operator's financing plan.
Moody's noted Exelon's financing plan outlined last week includes primarily debt financing due to the expected negative free cash flow of Exelon's unregulated businesses, the funding of a large capital investment program and a dividend. Deutsche Bank (NYSE:DB) also added Exelon to its short-term sell list. We only wonder what took DB so long. We also think the milder summer will serve as a headwind to all utilities, especially Exelon.
Exelon's stock reached a high of $92.13 on July 7th, 2008, at the height of the first oil and gas commodities speculative boom. Since then Exelon has seen a drastic decline in its stock, even taking into account its $2.10 annualized dividend, which has been frozen since November 2008. As we can see here, Exelon has drastically underperformed the S&P 500 and the S&P SPDR Utilities ETF (NYSEARCA:XLU) during this time period.
Exelon should be embarrassed that its stock has dropped like a rock during this period even with Exelon's man Barack Obama getting elected to the Presidency of the United States of America. Obama's Chief of Staff, Rahm Emanuel worked on the Unicom-PECO merger creating Exelon and David Axelrod has provided consulting services to Exelon.
Obama's friend Bill Ayers's father Thomas Ayers was the President of ComEd (a subsidiary of Exelon) from 1963-1980. We guess Exelon and its shareholders were counting on Cap and Trade getting passed. We would have thought that since Exelon was such a politically wired company in such a heavily regulated industry, it would have been able to generate better performance during this time period.
In conclusion, we believe that if one is looking for a high-quality, high dividend-yielding utility to invest in, we don't recommend investing in Exelon. While Exelon has the highest dividend yield of all utilities headquartered in the United States at 5.6%, investors who own Exelon would be better off selling Exelon and redeploying it towards a higher quality utility rather that watch Exelon muddle through integrating its merger with Constellation.
Exelon already wrote off $3B from its 2000 merger of Unicom's ComEd utility and PECO Energy and was prevented by the state regulators from three targeted acquisitions. Now, it has issued nearly $7.4B in EXC stock to acquire Constellation, which has slashed its dividend twice in the last twelve years, incurred $4.2B in write-downs in the last four years, and is the utility industry's equivalent of a broken-growth company. Exelon had to offer over $1B in concessions to the Maryland regulators to acquire Constellation.
On a note apart, we ponder over the names of the companies - Exelon and Constellation - which we don't like. What exactly is "Exelon" supposed to represent? And why did Baltimore Gas and Electric name its holding company "Constellation"?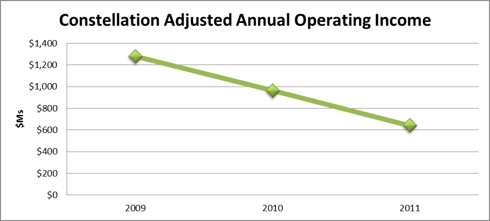 Source: Constellation Energy Group 2011 10-K
Disclosure: I am long WEC.
Additional disclosure: Saibus Research has not received compensation directly or indirectly for expressing the recommendation in this report. Under no circumstances must this report be considered an offer to buy, sell, subscribe for or trade securities or other instruments.