McDermott International (MDR) looks like a strong infrastructure and energy play for the long term. The question is, where do you buy it? Some independent analysts say it's trading at or above fair value, while others think it has a long way to go.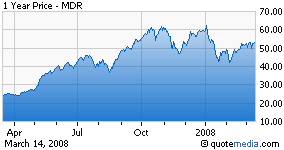 The stock closed Friday at $51.90. MDR January 2010 60 calls indicate the stock will touch $72.20 before they expire; the bearish puts indicate the stock could correct to $37.40. MDR's point and figure chart has a price objective of $78. This objective may not be realized, and if it is, it's impossible to predict when the stock might hit its objective. A point and figure chart's objective can be taken as an indication of whether the market is buying or selling the stock and should be considered with other variables. For example, McDermott's daily, weekly and monthly charts are all at least somewhat bearish even though its fundamentals look strong. And Jaywalk says independent analysts have a weak hold on the stock, while Market Edge says the stock is a long.
In other words, the stock is building a base, and it's not clear whether whether it will rise or fall short term. Because few independent analysts have published reports on McDermott, potential speculators and investors probably would find the transcript of the company's fourth-quarter conference call on Seeking Alpha very useful.
In short, the conference call strikes me as a good sign that the company is looking for continued prosperity and growth. Bruce W. Wilkinson, chairman and CEO, told analysts on the call:
McDermott's consolidated backlog at the end of the year exceeded $9.8 billion, up a $0.5 billion from last quarter and up $2.2 billion from a year ago despite this year's roll off of $5.6 billion in revenues. Strong levels of bookings in Government Operations and Power Generation Systems provided the sequential quarter improvement. While backlog changes will also be somewhat choppy, this periods consolidated increase is another positive sign and leading indicator for our company. In addition, these two businesses are operating in higher throughput and earnings than over prior years. Turning to each segment for a little more detail. Offshore Oil & Gas Construction segment revenues up $700 million for the first time in my memory and therefore obviously both up sequentially and year-over-year. With the high levels of revenues in 25% of the quarter, nearly 3 weeks pretty well short due to holidays, this segments year-end backlog was down modestly on a sequential basis to $4.75 billion indicating bookings in the quarter of about $580 million. However due to the active market, we currently participate in our worldwide bids outstanding in the Oil and Gas segment grew to over $3.6 billion at year-end, and while our focused project list remains much more sizeable at about $7 billion, what I'm particularly pleased with is that we currently believe there are handful of large projects that we will book in the next month or two that will represent well over $1 billion in new awards. For these projects, we generally have either a letter of intent or actively negotiating the contract. Stay tuned as always, we'll wait until contracts are signed before we begin making talking specifically about the projects or issuing press releases. In addition to these large awards, we also have a good number of what I'd call bread and butter work projects that range in size between $100 million and $300 million. Clearly if this comes to past our oil and gas backlog at March 31, will improve sequentially from year-end. Despite this active market however, our company will remain to be selective on projects we pursue and will avoid work that doesn't fit our criteria for risk and return. Moving on to Power Generation Systems. This segment generated over $600 million in revenues during the quarter. Backlog in the quarter grew about $300 million sequentially, ending the year at about $3.3 billion, clearly the highest in recent memory, if not ever.
Read more here.
Recent price momentum and earnings reports are useful to investors, but there is no guarantee that what went on in the past will continue or accelerate enough to move a stock. Having said that, most of the data published by investors.com (Investor's Business Daily) shows that MDR is both a momentum stock and one with sound fundamentals. The stock's composite rating is 97, its earnings per share growth rank is at the top, 99, its relative strength is 95, it's group's strenght is an A, its profitability rank (SMR) is an A, but its accumulation/distribution rank as fallen to an E. The A/D rank shows institutions probably aren't buying and may be selling the stock.
The question is why? Does this mean institutions just aren't buying in a bear market and may be taking profits? Does it mean they think the stock is fairly priced? Or do they see some clouds on the horizon do to the credit crisis, the looming recession and uncertainties about the U.S. political situation? McDermott's key statistics are here. A brief profile of the business is here. And its options prices are here. Given the somewhat weak daily, weekly and monthly charts and A/D rank, it's probably wise to let the stock correct before making a long-term commitment.
Disclosure: I do not have a position in McDermott.