This past Tuesday evening on "Mad Money", Jim Cramer praised one of his favorite stocks World, Wrestling Entertainment (NYSE:WWE), by inviting CEO Linda McMahon on the show to talk about the growth of the company. Cramer, who professed that he had been following the stock for a long time, claimed that the recent dividend increase and earnings growth were signals to buy and that investors on Wall Street were "snobs" for not having invested in them earlier.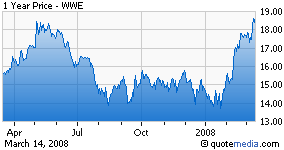 Well, first of all Jim, you've been bullish on WWE since its first "lightening round" mention on a June 1st 2006 episode of "Mad Money". Following that show, it reached a record high around $19 a share, a level that was only surpassed three days ago after your recent on-air interview with CEO Linda McMahon. So what happened during the almost two year period where you re-iterated your bullish sentiment on WWE a total of 9 times? (Source: Seeking Alpha)
To put it simply…Nothing. Since its first mention on "Mad Money" two years ago, WWE has consistently achieved mediocre growth and beat the low earnings expectations of Wall Street. Its share price has floundered between $14 and $18 despite its consistent "beating" of expectations. Why? Well if Jim Cramer's memory was as good as his temper he would remember perhaps the greatest media flop of the 21st century because I can assure you NBC Universal and its parent company GE (NYSE:GE) haven't forgotten about it. Do the words "XFL" mean anything to you?
It seems as though every time WWE has attempted growth in areas outside of its core activities it has failed. Starting with the XFL, and most recently with WWE Films, it has failed to produce substantial growth in anything besides live events and merchandising. And Jim Cramer wonders why the stock has never taken off… Being known for perhaps the worst sports experiment of all time (the XFL) and one of the worst movies of 2007 does have an impact on investor sentiment, regardless of how high WWE's dividend yield may be.
On the February 5th 2007 episode of "Mad Money", Jim Cramer was again asked about WWE, and whether he thought it really had growth potential. Here is his response:
Here's the thing: WWE has done absolutely nothing since I recommended it, [bold and italics are mine] but you got a 6% yield. And you know what? ... I am sticking by WWE, because of international business.
So Jim has stuck with WWE because of "international business" and now he is giving it a full "buy buy buy" recommendation. Even though WWE experienced strong international growth last quarter and overhauled its operations, what makes Jim's buy recommendation any different than his last one?
In my opinion: nothing. I guess you could go back to the old saying "Don't count on anything and you won't be disappointed" as a way to describe how Wall Street has felt about WWE. For years Wall Street has had low expectations of WWE and for the most part, they have been justified. Every time the bar has been raised for WWE, it has failed to meet expectations. In 2001 we had expectations of the XFL, but it failed. In 2006 and 2007, we had high expectations for the much anticipated WWE films division but so far it has seemingly failed. Now Jim is raising the expectations for WWE again and assuming that it won't fall short again like it has in the past.
But should you like WWE? Yes, but only for its dividend yield and safety. As I've outlined in previous posts, it has issues that are constantly threatening to derail its growth and destroy its public image. (See: World Wrestling Entertainment: Is The Worst Over?) Along with these issues, WWE's growth has not been consistent enough to merit buying for anything other than its dividend. Although the annual 'wrestlemania bounce' in share price is coming up, given the current market climate, I'd wait to see what this stock does in the weeks and months following its "Mad Money" appearance before I make any moves.
Disclosure: none