Over the past three years, companies such as ECOTALITY INC (ECTY), Car Charging Group (OTCPK:CCGI), and NRG Energy, Inc. (NYSE:NRG) have been quietly gobbling up major US real estate in a nationwide race to establish an electric car charging infrastructure in the United States and Canada. Each of these companies is positioning itself in what according to Zpryme Research & Consulting will be a multi-billion dollar market on a fast growth tract.
Many of their current clients include some of the largest major retailers and shopping mall operators in the country, such as Cracker Barrel Old Country Store, Inc. (NASDAQ:CBRL), Walgreen Co. (WAG), and major REITS such as Simon Property Group, Inc. (NYSE:SPG), Federal Realty Investment Trust (NYSE:FRT), Equity Residential (NYSE:EQR) and private companies such as Gehermezian Organization's Mall of America. Additionally, major commercial parking management operators such as Icon Parking and Laz Parking, as well as many others, have already adopted charging stations in many of their locations.
Why to invest in microcap companies like ECOtality and Car Charging Group

With only 15,000 electric-powered vehicles out of the tens of millions traversing our roadways each day, why would someone invest in low volume trading risky microcap companies such as ECOtality and Car Charging Group? Additionally, what are causing big name REITS, shopping centers, managed residential communities and parking management companies to sign long-term deals with them?
First, let's understand the real estate. According to data from International Council of Shopping Centers and Urban Land Institute, there are approximately 105,000 shopping centers throughout the United States. The typical ratio of parking spaces to shopping center's gross leasable area ((NYSEMKT:GLA)) is 4-6 parking spaces per 1,000 sq. ft. For example, for every 100k sq. ft. of mall GLA we are looking at approximately 450 parking spaces. Out of all the retail space in the United States, shopping centers hold approximately 7.3 billion sq. ft. of GLA in the United States. That alone would amount to over 31mm parking spaces available in US shopping centers.
Data taken from a Zpryme s EV study showed that 61% of Americans do not have the capability to charge an EV in their home or place of residence. This means that the overall majority of Americans would need to use public parking locations to charge their cars i.e. shared residential parking, shopping malls, and street parking.
All of the above property holding companies share one thing: their core business is in real estate and not vending. By partnering with providers, they keep to their core business, with no risk with a shared revenue potential projected at over 500mm in the next few years. Clearly, the real estate value exists.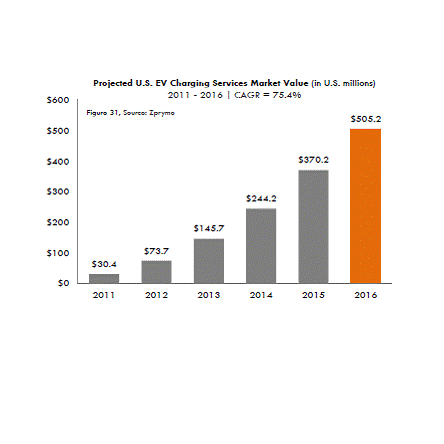 Rising Stars
ECOtality is also a manufacturer of car charging machines. It has been operating since 1989, but got its big break in 2009 when it was awarded a $99.8 million dollar grant by the Department of Energy as part of the US policy of encouraging the adoption of alternative energy. Therefore, for the most part, it is actually giving these charging units away to real estate holders with lucrative agreements that will provide long-term revenue. With over $90 million in cash, ECOtality is amassing a large real estate portfolio.
Car Charging Group opened its doors in late 2009, introducing a different business revenue sharing model; its successful strategy has been to focus on REITS and chain stores in the US and Canada. To date, it has attained large chunks of US real estate to rival NRG on a fraction of NRG's operating budget. Car Charging Group's strength is in its realistic approach to the market. How so? Car Charging Group is technology agnostic, which means that it does not adhere to any single charging technology. Not being in the business of selling machines, with no need to maintain a large inventory, allows the company to install the latest technology as it becomes available. This model thus allows for each location to grow organically without the necessity of installing charging units beyond what is required for each particular location. This explains the company's lower operating costs and long-term projected profitability by focusing on the real value: the real estate.
For both ECOtality and Car Charging Group, share prices are low at $.50 and $1.00, respectively. Another common denominator between the two is their low trading volumes.
Considering the latest DOE data on publicly available electric charging facilities, which shows that there are approximately only 10,275 charging stations throughout the United States, coupled with the estimated 15,000 electric-powered vehicles on US roads today, it's complicated to understand why they both have a low market cap. Yet they are undervalued. Why? Because their stock price does not reflect the tens of millions of parking spots they have under long-term leases: their real assets. When mass adoption to the electric car becomes a reality, which is not too distant in the future, these companies already having secured their asset locations will be generating significant and continuous revenues. So the question that begs to be asked is when will mass adoption arrive? Consider the following economic realities:
That the price of oil has effects on a country's GDP is a known fact: higher prices of oil affect costs throughout the supply chain. According to the McKinsey & Company economic model, should the price of oil spike to $125 -$175 a barrel for a number of years, "… by 2020, global GDP would be about $1.5 trillion smaller than expected…" Like it or not, oil is a part of our everyday life, whether itconsists of the products we buy or the gas we need in our tanks. This demand of oil, and our continued dependency on it, is what was and is keeping the price of oil at such a high level.
According to a Deutsche Bank Report, between 2000 and 2010, China increased its consumption of oil more than any other country, by 4.3m b/d, a 90% jump. It now consumes more than 10% of the world's oil.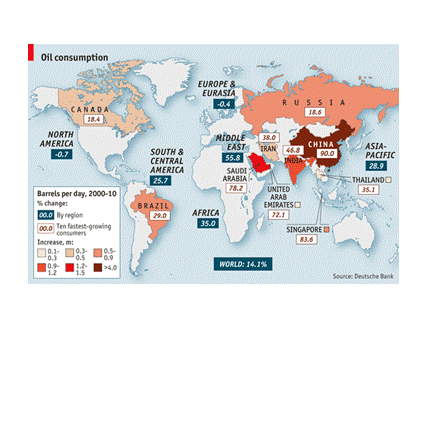 When we consider geopolitical factors related to the Middle East and the sanctions on Iran, it is more than conceivable that prices will be going up.
According to the United States Energy Information Administration (EIA), the use of petroleum products as vehicle fuels is classified as "transportation" use. In the United States, in contrast to other regions of the world, about 70% of all oil use is for transportation, of which 45% is used to power the cars we drive. Incidentally, the United States imports 45% of its oil from foreign countries.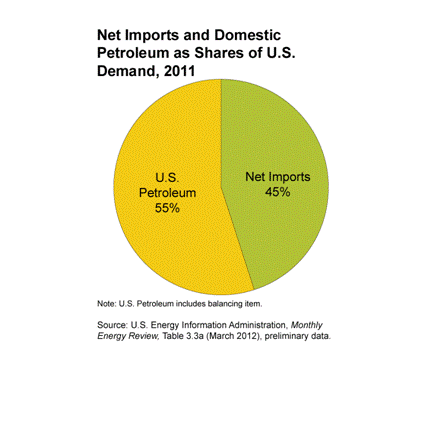 The EIA's forecast assumes US real gross domestic product (GDP) grows 2.8 percent in 2012, while world real GDP (weighted by oil consumption) will grow by 3.7 percent in 2012.
It is also worthy to note that every $10 increase in the price per barrel translates into about a 25-cent increase per gallon of gas.
While many pundits speak about expanding oil exploration, the answer simply lies in lowering the demand while maintaining economic growth. How is this accomplished? By reducing or eliminating automobile gas consumption, the demand drops significantly, thereby effectuating lower prices throughout the supply chain.
The United States, China and Europe realize that in order for their economies to grow and not be at the mercy of any one single commodity, alternative energy is a necessity. It is perceived as a method for a counter balance to sustainable oil prices. As such, understandably, over the past few years, these very governments have implemented, in various forms, alternative energy policies.
With the passing of the Energy Improvement and Extension Act of 2008, the United States entered a new era in personal transportation: the electric car (EV). In 2009, the Department of Energy (DOE) increased consumer awareness of electric vehicles by awarding $2.4 billion to organizations developing electric vehicles and EV infrastructure.
Considering the driving factors stated above, the market over the next few years will undoubtedly require a shift from gas-powered vehicles to electric-powered vehicles. It then would come as no surprise that companies such as ECOtality and Car Charging Group, with their massive real estate, stand to benefit. At their current low stock price, it is apparent that to go long on a few blocks is ideal.
Disclosure: I have no positions in any stocks mentioned, and no plans to initiate any positions within the next 72 hours.