by Michael A. Gayed CFA

Emerging markets have been muddled at best over the last week, but Russia and India have been surprising to the upside, despite manifest economic headwinds for both.
We regularly compare the nations of China, Brazil, South Korea, Taiwan, South Africa, Russia, India, Mexico, Malaysia and Indonesia against the broader Vanguard Emerging Markets ETF (NYSEARCA:VWO) to see where momentum is picking up and where it lags. The following is an assessment of six country ETFs that are showing strong outperformance potential relative to broader emerging markets.
This is done by showing the trend in the country's price ratio relative to the broader Emerging Markets ETF. A rising price ratio means the numerator / country is outperforming (up more/down less) the denominator/VWO.
The Emerging Leaders Report is exclusive to Emerging Money. Observations:
China (NYSEARCA:FXI) is trading back below its 20-day relative moving average, unable to choose a direction in terms of out / underperformance. Excitement over further policy easing has lessened, which appears to have caused some near-term uncertainty. However, China still looks washed out, particularly given single digit P/Es for many high growth companies.
Malaysia (NYSEARCA:EWM) is hanging around resistance, and I maintain that leadership potential is likely low at these levels for now.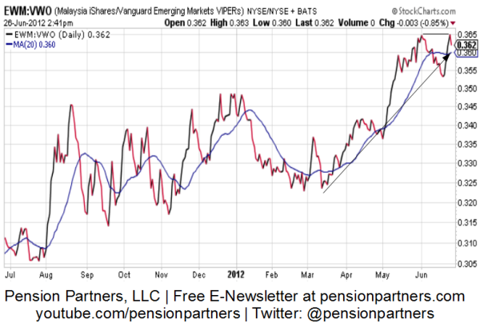 Brazil (NYSEARCA:EWZ) continued to lag last week, but I maintain we are nearing the bottom given underperformance that has been fairly severe.
South Africa (NYSEARCA:EZA) may be nearing the end of its leadership given recent price action with a potential resistance line now in place.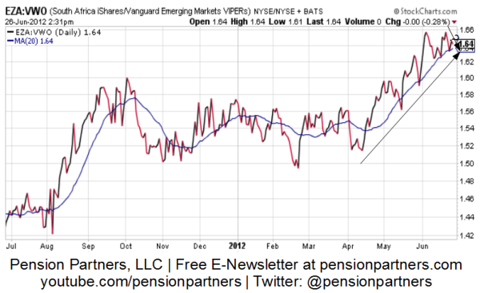 South Korea (NYSEARCA:EWY) failed to overtake ratio resistance which I put a spotlight on last week. Much of this may be attributable to weakness in Samsung (OTC:SSNLF), which makes up a substantial portion of the fund.
Taiwan (NYSEARCA:EWT) continues its more recent weakness, as other emerging markets get favored.
Russia (NYSEARCA:RSX) continues to surprise on the upside in the face of continued concerns over political risk and the price of oil.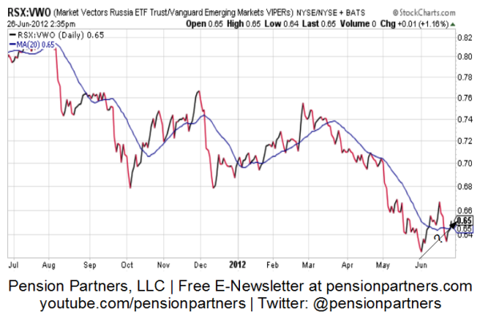 India (NYSEARCA:INP) may be about to stage leadership once again after last week's weakness due to RBI disappointment. Recent talk of intervention to help stem the rupee's slide amid potential fiscal growth measures may be the catalyst needed to lift the country's shares.
Mexico (NYSEARCA:EWW) outperformed in a vertical way last week, although it's unclear exactly why.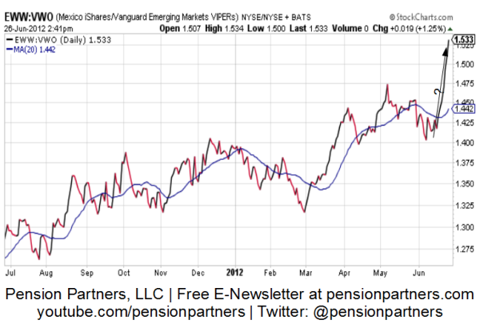 Indonesia (NYSEARCA:IDX) appears to be recovering off of the deep blow to price over the last few weeks. Leadership may now be here.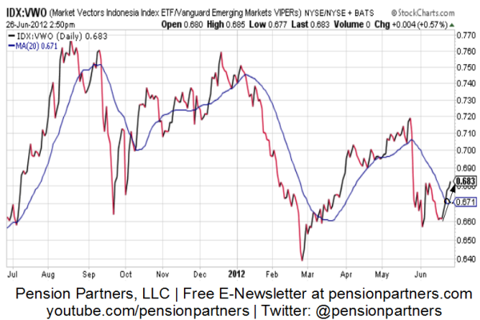 Conclusion: Brazil, Russia, India, and China (the BRICs) remain the areas to pay the most attention to in the coming weeks. There has been quite a bit of whipsawing in the last few weeks, but all of them appear to be in an important bottoming process, which makes emerging markets more and more attractive relative to developed economies.
Disclosure: No positions
Disclaimer: This writing is for informational purposes only and does not constitute an offer to sell, a solicitation to buy, or a recommendation regarding any securities transaction, or as an offer to provide advisory or other services by Pension Partners, LLC in any jurisdiction in which such offer, solicitation, purchase or sale would be unlawful under the securities laws of such jurisdiction. The information contained in this writing should not be construed as financial or investment advice on any subject matter. Pension Partners, LLC expressly disclaims all liability in respect to actions taken based on any or all of the information on this writing.