Don't you want your share? Google (NASDAQ:GOOG) is now the only tech company with a market cap over $50 billion that doesn't pay a dividend (if you don't count newly public Facebook (NASDAQ:FB)). Apple (NASDAQ:AAPL) is about to start sending shareholders $2.65 a share. Microsoft (NASDAQ:MSFT), Intel (NASDAQ:INTC), Cisco (NASDAQ:CSCO), IBM (NYSE:IBM), Oracle (NYSE:ORCL) and Qualcom (NASDAQ:QCOM) already pay investors. The large ADRs - Siemens, SAP, and Taiwan Semi - share the wealth.
Only stingy Google doesn't pay dividends.
When asked about Google paying a dividend, CEO Larry Page demurred: "Apple has more cash than we do." Larry, Google has plenty of money to pay a dividend. The company generated almost $12 billion in free cash during the trailing four quarters. Forty-eight billion bucks have piled up.
Location, location, location
When it comes to cash, it's important to have the money available. Too many techs have their money stashed overseas in their foreign subsidiaries, making it tough to get at. That's not the case with Google. Google has $23 billion in cash parked here in the U.S. Excluding Apple, Google has more cash in its U.S. coffers than every other tech company.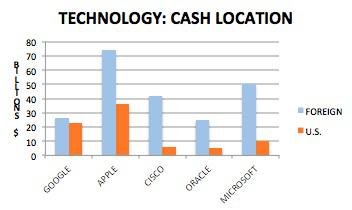 When it comes to U.S. cash per share, Google is the king.
Google's U.S. cash comes to $70 a share, dwarfing Apple's $39 a share. Cisco, Oracle, and Microsoft each have only $1 in cash a share in the U.S.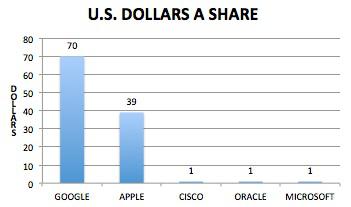 Three more reasons to share the loot:
1. All too often, companies waste that hard-fought money. Witness HP (NYSE:HPQ), a company that foolishly spent $43 billion over a 6-year shopping spree of acquisitions.
2. Google has a fortress balance sheet, beyond necessary or even desirable. Its current ratio is an incredibly high 5.8. The company has almost no debt. A dividend would not stress the balance sheet.
3. Rewarding investor loyalty. Shares are down 13% without even a small dividend to cushion the pain.
4. Making Google interesting to the market again. The stock has been a snore.
There's an old adage: Tech companies start paying dividend when they are done growing. I don't buy that. Look at dividend-paying big tech: Their revenue and profits have been increasing. Sharing with your minority owners doesn't mean growth is over, just that money is piling up faster than the company needs.
Stingy Google, without a dividend, you're the odd-man out.
Disclosure: I am long AAPL.
Additional disclosure: Disclaimer: The opinions in this document are for informational and educational purposes only and should not be construed as a recommendation to buy or sell the stocks mentioned. Past performance of the companies discussed may not continue and the companies may not achieve the earnings growth as predicted. The information in this document is believed to be accurate, but under no circumstances should a person act upon the information contained within. We do not recommend that anyone act upon any investment information without first consulting an investment advisor as to the suitability of such investments for his specific situation.