Introduction
In a previous article, about a month ago, I asserted that Sony (NYSE:SNE) needs a catalyst in order for the full-value of the company's stock to be realized.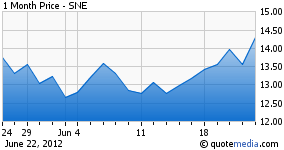 One catalyst has been taking shape. Sony's recent acquisition of an additional 32% in India's Multi Screen Media (NYSE:MSM) brings its ownership in the company to 94% and gives Sony a full-control. MSM, among other assets, owns the rights to show Indian Premier League in cricket. This long-term investment in the second most populous country's most popular sport highlights Sony's ability to invest for the long-term. This new development, together with the company's focus on innovation, emerging markets, and strengthening core businesses, could be important catalysts for the stock price going forward.
Full Control Of India's MSM
According to a study performed by the global assurance company PricewaterhouseCoopers, the TV market in India will rise from a market size of $6.8 billion in 2010 to $13.4 billion in 2015. Sony's recent acquisition of additional 32% in MSM gives the company access to one of the fastest growing TV markets. Following this, Sony will have six major channels on Indian TV: SET (Hindi general entertainment TV), SET MAX (premium movies and special events), SAB (Hindi channel for modern India), PIX (Hollywood movie product), and SIX (sports). Most importantly, Sony does not just re-transmit shows but also makes programming, in the local languages and of interest to each local market. Sony Picture TV produces and distributes over 6,000 hours of programming in 72 countries per year.
Sony is already a leader in a number of TV categories in India. In 2011, its programming took first place in talent hunt shows (Jhalak Dikhla Ja) and game shows (Kaun Banega Crorepati), second in Hindi general entertainment TV (with two fiction shows: Saas Bina Sasural and Krishnaben Khakhrawala), third in english film channels (PIX), and first in cricket (SET MAX). In addition, the company launched a Bengali movie channel in North America, available on DISH Network (NASDAQ:DISH). The new channel is targeting the Indian population in North America, which exceeds 4 million people and is one of the fastest growing ethnic groups.
Sony Television owns the second largest film library in India, with over 400 titles, second only to Zee-TV. While this library is impressive, I think that Sony will largely benefit from owning the rights to show Indian Premiere League in cricket. Cricket is by far the most popular sport in India, comparable to the popularity of basketball, football, and baseball in the U.S., taken together.
According to the PricewaterhouseCoopers' report cited above, in terms of ad revenues, the premiere league in India is even larger than the World Cup in cricket. The cricket premiere league 2011 season, which was about a month long, netted about 10,000 million Indian rupees of ad revenues or approximately $170 million. At a compounded annual growth rate of 15%, which is inline with the TV growth in India, this revenue will be almost doubled to $290 million by 2016. Assuming a valuation of two times revenues, which is similar to that of CBS (NYSE:CBS), a TV provider in the U.S., the cricket TV rights alone are worth about $600 million.
It is still too early to project the long-term impact on Sony's taking full-control of India's MSM. However, I think it will be an important asset going forward, given the growth rate in Indian TV and Sony's solid position in this market.
Competition and Valuation
Similar to other global electronic device companies, such as Nokia (NYSE:NOK) and Phillips Electronics (NYSE:PHG), Sony has had a few difficult years due to the financial crisis and the global economic slowdown. This situation was made worse and by natural disasters, which impacted Sony particularly bad. Sony has an enterprise value of about $10 billion compared to $2.4 billion for Nokia and $19 billion for Phillips. Sony should be worth more than Phillips as during its latest fiscal year ending March 30, 2012, Sony had revenues of $86.6 billion and operating income of $2.4 billion. This compares favorably to Phillips' revenues of $29.3 billion and a small operating loss.
Compared to Nokia, Sony has been able to execute much better in the highly competitive mobile handset market. For example, Nokia invested considerable capital and time to develop its own smart phone operating system, Symbian. Sony took another path, realizing that software is not one of its core strengths, and its handsets are successfully using Google's (NASDAQ:GOOG) Android software. Nokia just recently admitted its costly mistake and is starting to use the Microsoft's (NASDAQ:MSFT) Windows OS for its hardware while discontinuing Symbian.
On a per share valuation, Sony is trading at a tangible book value of 1.2, compared to 1.5 for Nokia and 10.7 for Phillips. For comparison, the price to book value of the average company in the S&P 500 Index (NYSEARCA:SPY) is 4.33. On an enterprise value to sales basis (discussed above), Sony offers the best value as well. Finally, Sony's financial situation is the most stable. The company has about $19.5 billion of cash on its balance sheet and generated $6.5 billion of operating cash inflows during the trailing twelve months. While I think that all three companies are undervalued, it seems that Sony has the largest upside potential coupled with a solid margin of safety.
Conclusion
India is the second largest country and the largest democracy and free economy in the world. In addition, the sport of cricket is by far the most popular sport in India. I think that Sony's recent share increase to 94% in one of India's leading TV and cricket distributors will be an important catalyst for the stock price in the coming years. While the stock is currently undervalued, I have faith in Sony's ability to execute well on its turnaround plan. Patient investors in Sony could be handsomely rewarded.