One of the best performing stocks in the video game industry today is Multimedia Games (NASDAQ:MGAM), a big contributor to casinos and state lotteries. According to several measures, MGAM stock still appears undervalued, even after rising almost 19% this quarter. Let's take a closer look.
Texas-based Multimedia Games provides Native American tribes, charity markets, and in-state and international lottery markets with casino gaming technology. According to the company's website, Multimedia Games is currently focused on:
diversifying into new markets, strengthening its strategic alliances, and pursuing dynamic opportunities worldwide.
As of Monday, MGAM stock is rallying above its 20-day, 50-day, and 200-day moving averages, and its price multiples indicate it may have farther to climb. PEG at 0.69, P/FCF at 11.92. TTM P/E at 20.48 vs. 31.66 for its industry's average.
Multimedia Games saw an impressive fiscal second quarter this year, reporting over 31% growth in sales and 5 times the earnings from the prior-year comparable period. On the downside, EPS is expected to fall 27% over the next year according to Fidelity, likely due to the latest supernormal earnings growth the company has seen. 5-year projected EPS growth stands at 30%.
Hedge funds stand behind MGAM stock, as they bought a big chunk of its share float last quarter. Net institutional purchases in the latest quarter at 2.2M shares, which represents about 8.18% of the company's float of 26.90M shares.
Sales trends also appear strong for Multimedia Games when looking at their accounts receivable: Revenue grew by 31.2% during the most recent quarter ($39.53M vs. $30.13M y/y). Accounts receivable fell by 38.24% during the same time period ($29.06M vs. $47.05M y/y). Receivables, as a percentage of current assets, decreased from 56.63% to 29.27% during the most recent quarter (comparing 3 months ending 2012-03-31 to 3 months ending 2011-03-31).
To top it off, they appear to have a pretty clean balance sheet, with a current ratio above 3, quick ratio at 2.92, and total debt to equity at 0.27.
For all the reasons above, I believe MGAM stock appears poised to continue outperforming, even with current market volatility.
For a closer look at MGAM stock, use Kapitall tools.
For an interactive version of this chart, click on the image below. Analyst ratings sourced from Zacks Investment Research.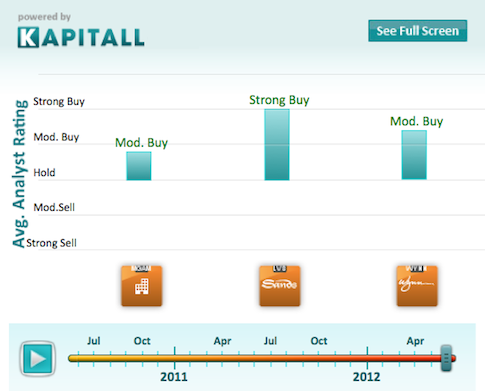 Tool provided by Kapitall (kapitall.com).
*Written by Alexander Crawford. Price multiple data and institutional data sourced from Fidelity, accounting data sourced from Google Finance.
Disclosure: I have no positions in any stocks mentioned, and no plans to initiate any positions within the next 72 hours.