On Thursday afternoon, Research in Motion (RIMM) will announce its fiscal first quarter earnings, for the three month period ending June 2nd. On Tuesday, shares of the Blackberry maker tumbled to new 52-week lows. One culprit of the decline was Morgan Stanley analysts calling the company "broken", and stating that fundamentals were quickly deteriorating. We also heard rumors over the weekend of the company potentially breaking itself up into two pieces, and that the possibility of strategic initiatives is likely. But most investors, on both the long an short side, will agree that this company's future is dependent on the Blackberry 10 phones that will be launched late this year or early next year. If that is the case, one must wonder if this week's earnings report may be a non-event. Let's look at both sides of that argument, and figure out where this stock may be headed.
The case for an earnings non-event:
The biggest argument for this week's report being a dud is that the company already provided an update as the quarter ended. CEO Thorsten Heins reiterated that the company remains in a significant transitional period as they gear up for the BB10 launch. As a result, the company expects financial results for the next few quarters to be rather poor, and the company may report an operating loss for Q1. We know that Apple (NASDAQ:AAPL) is obviously killing them in the smartphone race, and the tablet race as well. RIMM is also facing some competition from the Amazon (NASDAQ:AMZN) Kindle Fire, which could have a new version later this year. Don't forget about Microsoft (NASDAQ:MSFT) as well, which just announced a new tablet and the potential to launch a phone as well.
Because the company is not giving financial guidance at the quarter, analyst estimates for the quarter vary tremendously. The average revenue estimate is for $3.11 billion, a decline of 36.6% over last year's period. The range goes from $2.43 billion (-50.5%) to $4.11 billion (-16.3%). That is an extremely large range, but one thing is certain. The number won't be pretty. Now, it will certainly be a headline if the revenue number is at one of those extremes, but I don't see many investors caring if we get say a 34% drop instead of a 36% drop. At this point, that is small potatoes. The same wide range is true for earnings per share. The average estimate is for a loss of $0.01 versus last year's $1.33, with a range from a loss of $0.35 to a profit of $0.60. Again, it will be bad, but we expect it, as they've told us.
The second argument for a non-event is that Research in Motion might not say anything of real value. The company stopped providing financial guidance last quarter, and is unlikely to restart giving it now. We know that the company will tout its subscriber base somewhere in the high 70 million area, but so what? The company may be increasing its subscriber base, but from what I told you above, it isn't helping revenues or earnings. The second thing I'm sure about is that management will point out is their large amount of cash (and investments) on the balance sheet, which it expect to increase from last quarter's $2.1 billion. Great, cash is increasing (and becoming a larger percentage of the company's market cap), but what is the company doing with it? Obviously, the company needs some of it for the BB10 launch, but what else is it using it for? It seems like nothing at this point. I even pointed out in my latest RIMM article that the company announced a buyback program last year. With the market cap dwindling, the company could buy back a lot of stock here.
If the largest piece of the earnings release is about the restructuring process, this report will be a non-event. The company is currently involved in their CORE (cost optimization and resource efficiency) program, which aims at saving $1 billion by the end of fiscal 2013. While the company does need to significantly cut costs, I don't think anyone will care if they saved $200 million or $250 million a quarter when revenues may fall by 40% year over year. The restructuring has importance, but is not what investors are really dying to hear about.
Finally, I don't think the company wants to set itself up for disappointment, so I don't think we'll hear that much about the BB10 launch unless they are way ahead of schedule. Think about it this way. If the company plans on launching the phones in say November, it won't tell us that right now. Why not? Because if management sets a date now, it will be forced to meet it. If it doesn't, it would be an epic failure that probably would be the end of this company. If the company is planning to launch near year end, it probably won't announce the launch until at least the next earnings report.
The case for big news at this week's earnings release:
Well, how about the declining stock price? With shares currently struggling to now hold $9, you would think the company needs to do something to reassure investors. How about using some of that cash to buy back stock, as I mentioned above? That would certainly be a big deal and would signal that executives think this stock is too low.
A second possibility is the announcement of some strategic initiatives. One rumor we heard Sunday was that RIMM could sell the Blackberry business to Amazon or Facebook (NASDAQ:FB). The Sunday Times also suggested that the company could sell or open up its messaging systems to Google (NASDAQ:GOOG) or Apple, or even sell a stake in the company to Microsoft. Another rumor indicated that Research in Motion could divide the business in two.
Certainly, any of those would definitely be big news. So let me comment on a few of them. First, I don't see the company just splitting in two. It has failed in succeeding recently as one company, so it seems to me that trying to run two companies would be even harder! If part of the business is split off, I see the company selling the one part, not trying to run it. That would make the most sense to me.
So who do I see in this picture? Well, I do not see Apple at all. I think Apple is in great enough shape at this point, and I don't see Research in Motion getting involved with the company that has essentially caused their downfall. Sure, Apple could probably use a piece or two of RIMM's technology, but unless RIMM is completely breaking up, I don't think Apple is a large player in this.
I think Google and Microsoft would be two leading candidates here, as both try to increase their presence and influence in the smartphone race. If Microsoft were to take over the Blackberry unit, it would certainly have an established phone business to deal with, and I think Microsoft could certainly make it work. However, if Microsoft is more concerned with Surface right now, Google would be next in line. As for Amazon, I don't think Amazon should be entering this space right now. Amazon seems too broad at this moment, and really should work on increasing profit margins before expanding even further.
The last thing that could make a splash would be RIMM deciding to axe the Playbook, and this is something I've discussed in the past. Does Research in Motion really have a future in the tablet space with all of the other players? I really don't see one. Apple is selling as many iPads per week as RIMM is selling Playbooks in like 9-12 entire months. Yes, a significant upgrade of the Playbook could occur over the next year, but is it really going to make a difference? The Playbook doesn't account for a large part of the company's revenues, and RIMM has already taken some huge charges due to not selling it well. The future of this company is in the BB10 phones, not a slow selling tablet. News here would be very big for the company.
Stock price movement:
The following chart shows RIMM's 3-month change. It isn't pretty.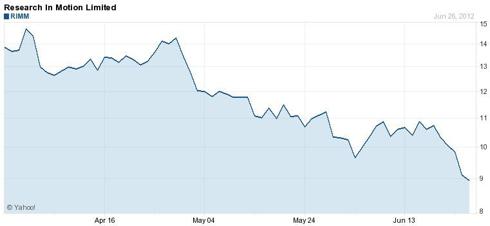 Click to enlarge
Source: Yahoo! Finance
With Research in Motion falling below $9 on Tuesday, one must wonder how much more downside there is here. Well, technically, there is plenty, because it could go to $0. I still believe that this is a long term short until it gets those BB10 phones out, and even that might not be enough. This company is in serious trouble right now, and the future is reliant on one new product essentially. That's never a good sign.
Now I must provide one caution for investors here. Even though I still say the company is a long-term short candidate, I am not necessarily recommending you short it through earnings. When the company reported Q4 earnings on March 29th, it was a bad report. The stock, which closed at $13.73 that day, fell to around $12.50 at its lows in the after-hours session. However, the news that the company had hired some firms to look into strategic initiatives fueled takeover speculation, and the name actually finished up $0.97, or 7%, the next day. That proved to be the key shorting opportunity, and we've fallen more than $5 since then. We could easily see another dead cat bounce or small short squeeze after this earnings report, and that might be the time to load up your short positions.
Conclusion / Recommendation:
I don't have a concrete vision of what Research in Motion will do this week when it reports earnings, which is why I've presented both sides. I look forward to an active debate, and I encourage both longs and shorts to provide their comments. At this point, I would put the odds at 60% that this week's earnings report will be a non-event, but that still gives a decent possibility that something does happen. This company has certainly surprised us in the past, and I wouldn't be shocked if they did it again.
As for the stock, it remains in my long-term short candidate bin, but at the moment, I'd wait for the next bounce to short it. At some point, this name will get low enough where it seems someone has to buy it, but I'm not 100% sure we are there yet. The future of this company is the BB10 phones. Given that they aren't expected to be out anytime soon, that could make this week's earnings report a non-event.
Disclosure: I have no positions in any stocks mentioned, and no plans to initiate any positions within the next 72 hours.