Barron's says shares of life-insurance seller National Financial Partners (NYSE:NFP) remain unsafe, despite a recent five-month plunge from $57 to $22.50.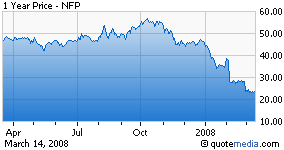 Much of NFP's growth came from sales of its "life settlement" products, in which policy holders sell their payout benefits to investors in exchange for cash. Demand for the products cooled substantially after regulators started cracking down on sales amid complaints of misrepresentation, including a high-profile lawsuit against the company by Larry King, who alleges NFP salesmen convinced him to accept $1.4M in cash against a $15M policy.
Many now fear NFP's policy of "rolling up" smaller life-insurance brokers (186 of them over the past 10 years) is backfiring, as previous owners fail to take an ongoing interest in their clients once selling out to NFP. To deal with the problem, NFP tries to incentivize acquired brokers to stay on, but anemic sales growth from brokers acquired five-or-more-years back attests to the incentives' failure -- not to mention dozens of NFP firms that folded in 2007.
Accounting abnormalities are worrisome, including one broker (who held the biggest post-IPO stake in the company) being pursued by the IRS for $800,000 in back taxes, and a second who suddenly transferred her NFP shares into a Virgin Islands tax-shelter.
At current prices, shares trade at just 8x NFP's declared 2007 EPS of $2.86. But the non-GAAP EPS ignore large non-cash amortization and failure writeoffs of the acquired brokers, including which GAAP EPS are just $1.35. "The stock is going to sink a lot more," Off Wall Street Consulting Group's Mark Roberts predicts. "This business doesn't work."