Silver Wheaton (NYSE:SLW) silver stream acquisition prospects appear to be dwindling. The last acquisition was made in August 2010, when they acquired Primero Mining Corporation's San Dimas mine. The most probable reason for a 22 month period without adding to new silver streams is that new deals are expensive, and that is unlikely to change.
Future Silver Stream Acquisitions:
Historically Silver Wheaton has been able to buy future streams for approximately $4 per oz in upfront consideration, and $3.90 per oz upon delivery. With silver below $30 per oz investors would expect the company to be acquiring significant future streams, but there has been no acquisitions in 22 months. After examining the potential reasons why the company has not grown future streams, it is clear that future streams will most likely be expensive compared to historical acquisitions, and may not provide a wide arbitrage margin at current prices.
Potential Reasons for No Acquisitions:
Inability of Silver Wheaton to come up with the cash to pay the upfront consideration.
Silver Wheaton ended 2011 with $840mm in cash, little debt, and an undrawn revolver. With the company's rock solid balance sheet they could readily afford to finance most deals with cash on hand.
Miners are not investing enough to find significant silver projects.
Precious metal miners are been increasing their investment in CAPEX significantly for years. The large investments in exploration and development all of the senior miners have made in recent years make this case unlikely.
Silver prices are too high.
Silver has come down from nearly $50 in April 2011 to $27.41. After a nearly 50% retracement over the last 14 months Silver Wheaton is unlikely to obtain significantly better prices than they can now.
The price miners are demanding to purchase future silver production has greatly increased, and leaves significantly less margin for Silver Wheaton to arbitrage than before.
This is the most probable explanation for Silver Wheaton's lack of acquisitions.
After silver spiked in the first half of last year, most miners have realized the potential for silver.
Most of the senior miners are well funded, and may not need to sell future streams at rates well below market to fund capital expenditures.
A strong gold price has resulted in: 1) large cash positions, 2) exceptional margins, and 3) large undrawn revolving lines of credit.
Even a mid-tier producer like Allied Nevada Gold (NYSEMKT:ANV) (a company I previously valued) was able to secure a C$400mm 7-year note.
Large producers could likely sell silver forward on the market, or enter into a silver loan with rates as low as they are.
Major producers are aggressively seeking to grow P&P reserves, and may acquire smaller miners with large reserves at a significant premium that otherwise may have used Silver Wheaton's service.
Other Risks:
Pascua-Lama
Barrick's (NYSE:ABX) Pascua-Lama mine is expected to have average annual silver production of 35mm ounces per year. With 25% (8.75mm Ag Oz) going to Silver Wheaton for upfront capital already paid, and $3.90 per ounce of silver delivered. Production is expected to start in 2013, but the project is only 30% complete, and having problems with local governments due to glacier and water issues. Through 2015 Silver Wheaton's potential shortfalls from Pascua-Lama are guaranteed by three other Barrick mines, but if long-term production cannot be met, Silver Wheaton would likely have to terminate the agreement in exchange for the $625mm upfront consideration, less any credit for silver delivered. With Pascua-Lama estimated to be 21% of Silver Wheaton's total future silver production, this would hurt the stock significantly.
Taxes
Silver Wheaton uses offshore subsidies in the Caymans and Barbados to reduce its tax rate to between 0-2%, which is currently being audited by the government. Although this is fairly routine, a negative judgment could dramatically affect shareholders.
Silver Wheaton Is Still Leveraged To Silver: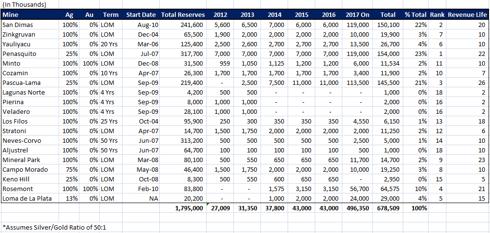 Click to enlarge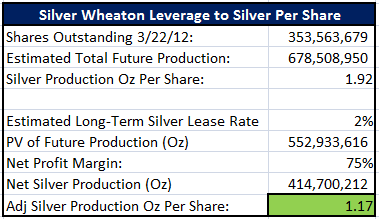 Even after discounting future production and removing operating expenses, Silver Wheaton is more leveraged to silver than pure play investments like the iShares Silver Trust (NYSEARCA:SLV) or Sprott Physical Silver Trust (NYSEARCA:PSLV).
Profit Per Oz At Various Upfront Consideration Costs: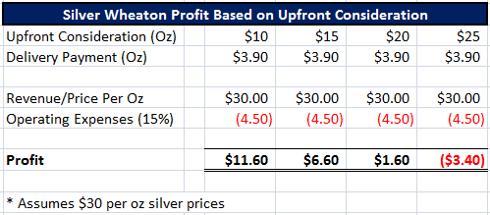 Click to enlarge
At $20 per ounce in upfront consideration Silver Wheaton would still make an estimated net arbitrage profit of $1.60 per ounce assuming a $30 silver price. Additionally, their leverage to potential silver price appreciation would increase.
Upside:
Without adding any additional silver streams Silver Wheaton is still a leveraged play on silver.
Using only the current contracts, and a $30 silver prices yields a DCF fair value of $23.33 per share.
At the current price of $26.71 investors are receiving a call option on any future silver streams the company acquires.
If silver prices increase significantly, Silver Wheaton's shares should also rise.
Even if future silver streams required $20 in upfront consideration, the company would earn an arbitrage profit, and increase its leverage to silver.
Silver Wheaton pays a dividend linked to operating cash flows, so investors are paid to wait.
With several streams expected to come on-line in the next few years, the company should have solid growth.
Related Miner Research: