The National Association of Realtors reported that pending home sales rose 5.9% to 101.1 for the month of May. In comparison with the prior year, sales rose 13.3%. Analysts expected a 0.5% increase for the month.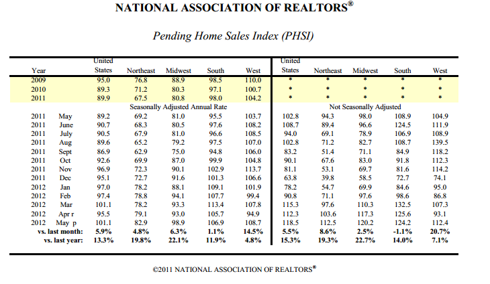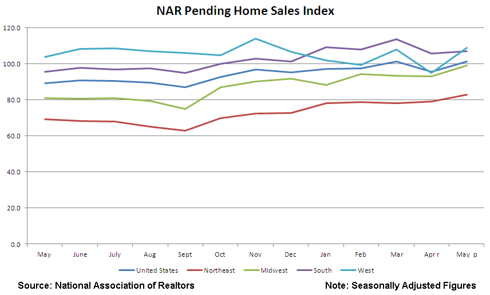 These results come on the heels of a very positive earnings report from Lennar Corporation (NYSE:LEN) this morning. Lennar reported that orders for new homes rose 40% and its production backlog rose 61%. It soundly beat analyst's earnings and revenue expectations.
As the housing market heats up, consumers remain pessimistic about the economy. Yesterday, the Conference Board reported that consumer confidence dropped to 62 during the month of May. A healthy reading for the index is 90.
Despite a lack of consumer confidence, home prices appear to be rising due to reduced supply of homes available for sale and increased demand from record low interest rates and attractive pricing. New homes sales are up 19.8% over the prior year and the industry reported that permits rose to 780,000 in May versus expectations of 725,000.
The SPDR S&P Homebuilders ETF (NYSEARCA:XHB) opened higher this morning by 1.35% to $20.25. The one-year chart shows that the company is trading well above the 52-week low of $12.21.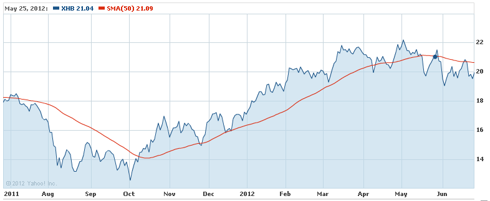 Some key holdings for the SPDR S&P Homebuilders fund include Ryland Group, Inc. (NYSE:RYL), Bed Bath & Beyond Inc. (NASDAQ:BBBY), M.D.C. Holdings, Inc. (NYSE:MDC), NVR, Inc. (NYSE:NVR), Mohawk Industries, Inc. (NYSE:MHK)
Disclosure: I have no positions in any stocks mentioned, and no plans to initiate any positions within the next 72 hours.