How do we quantify political risk?
This is one of the big questions underlying the recent release of the eighth annual Failed States Index, a joint effort from Foreign Policy Magazine and the Fund for Peace. This index should give all emerging and frontier markets investors pause, at the very least to reconsider how to assess risk in markets where information availability lags far behind North American and European standards.
For those unfamiliar with it, the Failed States Index intends to rank countries according to-and this is my paraphrasing of the effort in a concise manner-how vulnerable a government is to collapse into anarchy. It takes into account a variety of inputs describing the social, economic, political and military states of affairs in 177 countries.
A quick perusal of the 2012 ranking yields a number of countries in the high risk end of the spectrum that feature prominently in several ETFs: GlobalX FTSE Colombia GXG, Guggenheim's BNY Mellon Frontier Markets FRN, Market Vectors Africa AFK, iShares Thailand Index Fund THD, iShares MSCI Philippines EPHE, Market Vectors Egypt Index EGPT, FTSE Andean 40 AND and Market Vectors Indonesia IDX, to name just a few. And this does not include the increasing array of blue chips now depending on these very markets to sustain growth, ranging from Coca-Cola KO to General Electric GE to Glencore OTCPK:GLCNF.
The objectivity of specific variables is certainly up for debate, but given how wide ranging the criteria are, disproportionate influence of any one variable is sufficiently mitigated, resulting in a compelling picture for the world's frontier markets. While the so-called CIVETS acronym is gradually trending higher as a discussion framework for this niche of the investment universe (as shorthand for Colombia, Indonesia, Vietnam VNM, Egypt, Turkey TUR and South Africa EZA), the context of how Colombia is perceived vis-à-vis state failure compels a more appropriate comparison first. The following bar chart shows annualized historical returns of local stock market indices for the highest risk countries in the index that are tradable on a retail basis: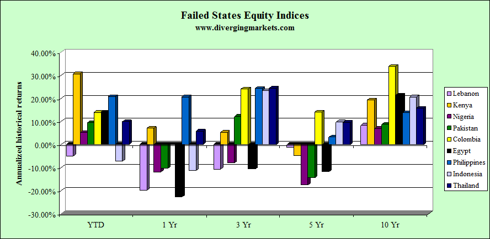 Source: MSCI
The equity indices are more preferable to compare than correspondent ETF performance for the sole reason that more historical data is available and therefore a longer time frame can be viewed. Colombia is arguably the most consistent performer of this cohort and given some of the other countries ranking as "more stable" than Colombia in the Failed States Index (Venezuela, Russia, Cuba, for example), a closer look at just what fuels this alarmism is warranted.
The first item worth noting is that in the first year this index was released, 2005, Colombia was in comparatively far worse shape, ranking right between North Korea and Zimbabwe. Granted, the sample size at that point did not include all of the 177 countries it does today, but anyone who has spent any time on the ground in Colombia over the past decade would immediately see that putting it in the company of Zimbabwe and North Korea makes no sense at all regardless of the criteria.
Today, Colombia's 'failed state' standing has improved, though for some reason it still hasn't quite graduated from the high risk category. According to index criteria, this has to do with population displacement stemming from ongoing paramilitary and rebel activity, uneven economic development where minority populations exist and factionalized elites whose infighting has resulted in political stagnation.
How one considers these challenges in the Colombian context is less relevant than how these challenges stack up relative to other countries at high risk of state failure. From a qualitative standpoint, there are a number of factors working in Colombia's favor, two of the biggest being close political and economic ties with the United States (most recently evidenced by the implementation of a free trade agreement) and growing energy production capacity which last month took the form of Ecopetrol EC briefly surpassing Petrobras PBR in market-cap terms.
From an economic management standpoint, there's really no comparison. Even in the depths of the global economic crisis of 2009, Colombia still managed positive real GDP growth and has since maintained steady growth in the 5 percent range after inflation, with inflation since 2009 remaining in the 3 percent to 4 percent range. President Santos' administration has inherited from his predecessor a relatively tight fiscal ship that he has thus far continued, logging budget, current account and trade account deficit-to-GDP ratios in low single-digit percentages. Internal management aside, its currently estimated $35 billion of foreign exchange reserves equate to more than 6 months' worth of import cover in the event of external shocks (which at this point it's safe to say will likely come-if at all-in the form of eurozone crisis fallout).
Colombia is far beyond the point at which we can expect the sort of high economic growth that results from a relatively low starting point. But the fact that its risk profile is still perceived in certain corners as being less politically stable than such countries as Venezuela, Russia, or Cuba, tells us that there is still a sizable gap between the country's perception and its reality.
Disclosure: I have no positions in any stocks mentioned, and no plans to initiate any positions within the next 72 hours.