Standard & Poor's has recently cut the corporate credit rating of the James River Coal Company (JRCC) from B- to CCC+ due to a milder-than-normal U.S. winter and increased switching from coal to natural gas by utilities.
As a result, stock prices of major coal companies suffered a significant dip, with most of them currently trading at their 52-week lows.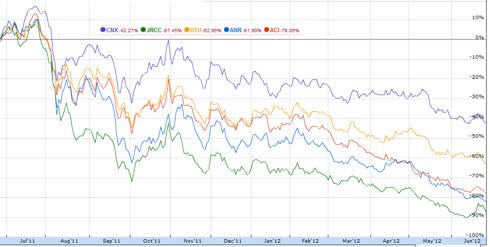 Demand for coal has significantly dropped due to the record low natural gas prices, which have continued the switching trend from coal to gas. In addition, coal inventories are at record high levels, which is further adding to the company's problems.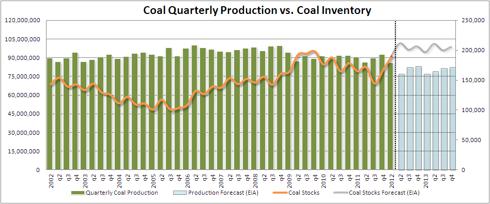 S&P expects the coal market to be weak through 2013, and predicts that JRCC's cash flows from operations will not be enough to cover capital expenditures. This downgrading was done despite JRCC's efforts to diversify into the more lucrative metallurgical coal, which is used for steelmaking, as the thermal coal market remains weak because of declining prices (currently trading at two-year lows) and increasing exports from Indonesia.
U.S. Met Coal Exports - A Possible Catalyst
The coal sector is expected to rebound if the U.S. Met coal exports continue their upward incline. However, the point for concern is the decline in Met coal prices due to slowing demand in China and the Euro zone, and fewer production disruptions in Australia. The slower economic activity in China, which is the biggest steel market, along with the ongoing summer season, have led to a decline in steel demand because of a dip in construction activity. This will further delay the rebounding of the Coal Sector as Met coal exports will be affected due to a drop in steel demand.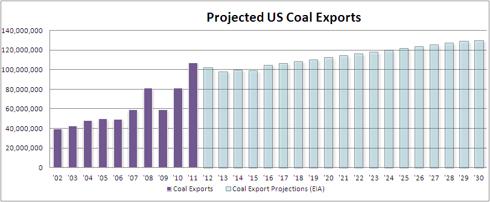 Coal Stock Recommendations
Amid such an uncertain environment, we recommend investors to currently stay away from this sector and look out for the trends in U.S. Met coal exports. If they continue increasing, then companies with a relatively high Met coal exposure can be potential buys for investors given the fact that most of the coal companies are currently trading near their 52-week lows. Let's look at the major coal stocks:
Alpha Natural Resources (ANR)
Given the uncertain coal market environment, we do not recommend investors to take a long position in ANR, unless U.S. Met coal exports continue increasing.
Bullish Factors:
It has become a global leader in Met coal supply after it acquired Massey Energy (NYSE:MEE).
It has stopped mining at four of its mines in Kentucky because of uneconomic production. Such production cuts will improve its future margins.
Cheap valuations. Its EV/EBITDA of 4.8 times is the lowest among its peers. Its stock is also trading at a 52-week low.
Bearish Factors:
It has posted its second straight quarterly loss.
It has to pay $209 million in civil and criminal penalties this year, due to Massey's role in a mine explosion in 2011.
Peabody Energy Corp. (BTU)
Despite weak macro conditions, BTU is still a potential buy.
Bullish Factors:
It is the most diverse U.S. coal producer, and its Australian asset base provides it with a comparative advantage over its peers.
Its liquidity position is very strong with cash on hand of $952.4 billion.
The demand for its ultra-sulfur coal has increased due to more stringent environmental regulations.
Bearish Factors:
Its valuations are comparatively expensive, but its current 52-week low share price still makes it a cheap buy.
Consol Energy (NYSE:CNX)
We reiterate our buy recommendation for CNX.
Bullish Factors:
CNX produces both coal and natural gas. . Despite the coal-to-gas switching trend in the industry, its diverse product mix prevented it to suffer a lot. Still, it is trading at its 52-week low currently, which is a great incentive for long term investors.
The reopening of the low-cost, high-value Buchanan mine and the restarting of its longwalls at Blacksville and Buchanan in May, which were idled in March, is a good signal.
It has no significant maturities in the upcoming years.
Bearish Factors:
Some of its high-quality steelmaking Met coal will be sold at prices below the current benchmark.
Its EV/EBITDA of 6 times is the highest among its competitors.
Arch Coal (ACI)
Like ANR, we advise investors to stay away from ACI and look for improvements in the macroeconomic environment.
Bullish Factors:
Its acquisition of the International Coal Group (NYSE:ICG) has made it the second-largest coking coal producer.
Bearish Factors:
It has reported a net loss and negative free cash flow in 1Q2012 primarily due to weakening U.S. thermal markets.
ACI has lost two-thirds of its market capitalization and is currently trading at 64% discount to its book value, which is expected to decline further.
Disclosure: I have no positions in any stocks mentioned, and no plans to initiate any positions within the next 72 hours.