I have been trying to make the case that the trend in real estate has not only bottomed, but begun to crawl out of the hole it dug for itself in the go-go days of 2002-2006 (articles here, here and here). There are many who continue to think that the real estate market still has another leg down, which is in direct contradiction to the various housing indices and the recent results of the homebuilder sector.
Today, yet another brick has been added to the foundation of real estate with the release of earnings by Lennar (NYSE:LEN). Within the release we get the following information:
Deliveries of 3,222 homes - up 20% from Q2 2011,
New orders of 4,481 homes - up 40% from Q2 2011,
Backlog of 3,970 homes - up 61% from Q2 2011,
Sales incentives offered to homebuyers were $29,800 per home delivered in the second quarter of 2012, or 10.7% as a percentage of home sales revenue, compared with $33,900 per home delivered in the same period last year, or 12.1% as a percentage of home sales revenue, and $34,200 per home delivered in the first quarter of 2012, or 12.2% as a percentage of home sales revenue.
Evidence from the field suggests that the 'for sale' housing market has, in fact, bottomed and that we have commenced a slow and steady recovery process. And while the housing downturn was broad-based and national, the recovery process continues to be very localized. Although highly conservative mortgage lending practices and challenging appraisals remain a constant headwind, we are experiencing net positive price and volume trends in most of our markets.
and importantly (and very telling):
During the quarter, we reversed a portion of the valuation allowance against our deferred tax assets amounting to $403 million. This conclusion was based on an extremely detailed evaluation by our management team and reviewed by our independent auditors, Deloitte & Touche. The evaluation consisted of all relevant evidence, both positive and negative, including such factors as nine consecutive quarters of earnings, the expectation of continued profitability, as well as the improved housing market.
It is important to realize that as with housing data, I am using the builders to indicate trends in the real-estate market, not to recommend the homebuilder segment. Why this caveat you ask? Honestly, it is a function of valuation. The homebuilders have had quite a run up in price thus far this year. Included in this group are: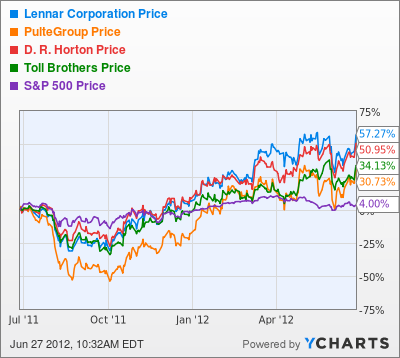 LEN data by YCharts
The increase in prices has lead to an increase in the price/book ratio, although the majority of the builders (PHM excepted) still trade below their book value: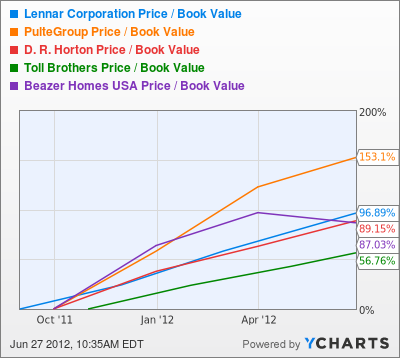 LEN Price / Book Value data by YCharts
Bottomline: Real estate continues to show signs of recovery and the trend is positive. This in and of itself is a favorable sign for the U.S. economy and the lending segment as well. While there are many housing naysayers, ignore the trend at your own risk (and return as it were).
Disclosure: I have no positions in any stocks mentioned, and no plans to initiate any positions within the next 72 hours.
Additional disclosure: This article is for informational purposes only, it is not a recommendation to buy or sell any security and is strictly the opinion of Rubicon Associates LLC. Every investor is strongly encouraged to do their own research prior to investing.