Cures for bacterial skin infections don't exactly make the front pages in health news these days, but NovaBay Pharmaceuticals (NBY) has something the world just may pay attention to in the near future. The company is initiating a Phase IIb study of its drug NVC-422 after completing Phase IIa earlier this month. NVC-422, as mentioned, is designed to treat skin infections, but as an alternative to antibiotic ointments. Phase IIb studies are critical in clearing the hurdle for companies to make efficacy claims and begin to vie for FDA approval.
NVC-422 is especially interesting because it could serve as a gateway to treating many other antibiotic resistant bacterial infections, and not just skin infections. For example, the drug has been made into drops and tested to treat conjunctivitis as well. It works by attacking a range of human pathogens via many different molecular targets as opposed to antibiotics which mainly attack at one or a small group of targets, making it very difficult for bacteria to build resistance.
Antibiotic resistant infections are becoming a serious problem worldwide, especially in hospitals, and NovaBay may be in a unique position to help solve the problem. The very initiation of the Phase IIb trial itself entitles NovaBay to up to $62MM in milestone payments from its partner Galderma, the largest dermatology company in the world. If successfully commercialized, NVC-422 will be marketed and sold by Galderma, with NovaBay getting a 10-30% royalty on net sales.
How this milestone may affect NBY is anyone's guess, but examples from NovaBay's competitors can give us an idea of the potential. Take Vivus Inc. (NASDAQ:VVUS), which had their weight loss drug Qnexa recommended for approval by an FDA panel on February 22. This is a few steps ahead of a Phase IIb trial initiation, but that week Vivus was transformed from a small cap company of $1.05B to a mid cap of $2.37B, their stock jumping 125%. On June 18, the stock reached an all-time high of $27.22.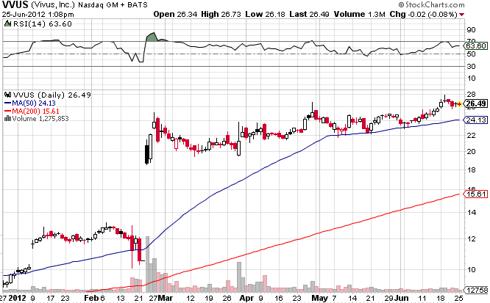 To take an example a bit closer to NovaBay's phase IIb, on May 7, Vertex Pharmaceuticals (NASDAQ:VRTX) reported a successful phase II study of two drugs that treat cystic fibrosis, VX-809 and Kalydeco. That day they moved from mid cap to large cap, and VRTX is still up 54% since the news.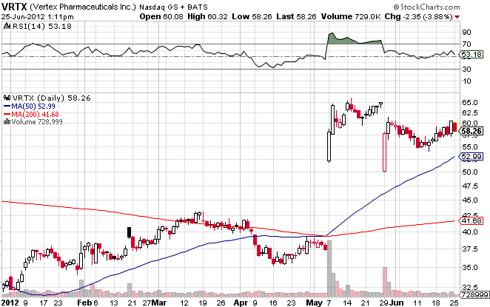 One final example: On May 11, Arena Pharmaceuticals (NASDAQ:ARNA) jumped 74% on news that an FDA advisory panel endorsed Lorcaserin, Arena's weight loss drug. Final approval is pending until June 27, but the FDA usually follows the advice of its panels.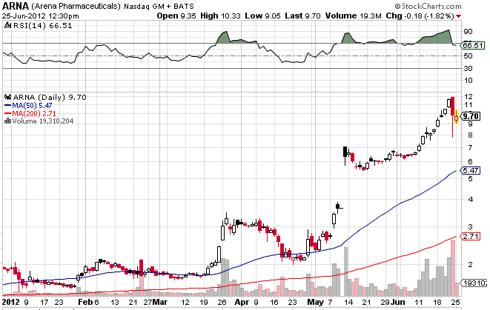 If this is what can happen when a new weight loss drug is approved into an already cutthroat weight loss market in the case of Arena, or a treatment for cystic fibrosis advances - a disease that affects a relatively small number of people worldwide (70,000) - imagine what can happen if and when NVC-422 is approved, a drug that has the potential to revolutionize the way bacterial infections are treated.
Many roadblocks lay ahead for NovaBay, and navigating the FDA bureaucracy is not a sure thing. Investing in microcap pharmaceutical companies like NBY is inherently risky. Nevertheless, NovaBay's advantage lay in the fact that the drug they are testing has real global benefits addressing a very dangerous problem. Meaning, it's not just the next weight loss miracle to come off the Pharma Press. Whatever happens, the FDA will take a close look at NVC-422. With phase IIB kicking off, they are one step closer.
Disclosure: I have no positions in any stocks mentioned, and no plans to initiate any positions within the next 72 hours.