Do you know how many producing natural gas (NG in brief) wells we have in the US? There are half a million of them. Most of them are called stripper wells as they produce very little gas each day. But collectively, they are important to the supply of NG in the US.
The NG Industry Has a Long Tail!
As I discussed before, all NG wells have their highest production rates when they are first brought to production. After a well starts to produce, its production rate will decline. The production would first decline rapidly, and then settle down to a slower decline that seems to last forever. Thus producers must keep drilling new wells to maintain overall production. See the chart below: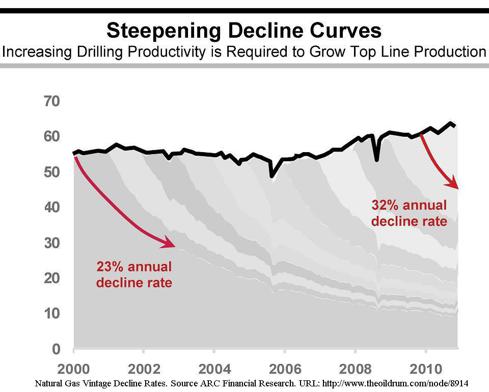 The long term trend of well declines seems to be speeding up, as the industry moves toward shale gas wells with higher decline rates than conventional gas wells. In early 2000, production from existing wells declined at an average of 23% annually. Today the decline is roughly 32%. It means that each year we need to drill enough new wells to replace 32% of the total production, just to keep up.
I pulled monthly NG productions; number of production wells and new development wells drilled each month and other data from EIA. I was able to create a chart of production declines that looks similar: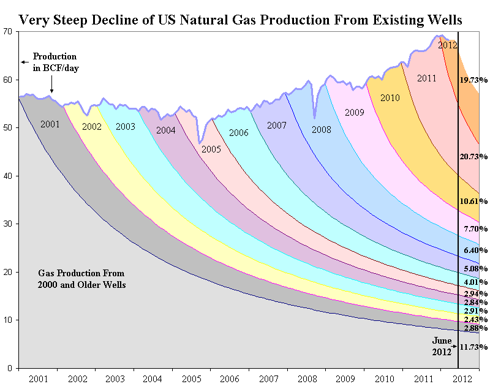 The number of gas wells drilled each year, and their estimated production rates today are listed below:
| Age of Wells | Well Count | Daily Production (BCF/day) | Production Per Well (BCF/year) | Percentage of Total |
| --- | --- | --- | --- | --- |
| 2011 | 14,074 | 13.724 | 0.35591 | 20.73% |
| 2010 | 15,929 | 7.026 | 0.16101 | 10.61% |
| 2009 | 17,038 | 5.101 | 0.10924 | 7.70% |
| 2008 | 29,929 | 4.240 | 0.05170 | 6.40% |
| 2007 | 29,925 | 3.365 | 0.04103 | 5.08% |
| 2006 | 30,382 | 2.658 | 0.03194 | 4.01% |
| 2005 | 26,449 | 1.950 | 0.02690 | 2.94% |
| 2004 | 22,515 | 1.882 | 0.03050 | 2.84% |
| 2003 | 19,725 | 1.924 | 0.03559 | 2.91% |
| 2002 | 16,498 | 1.607 | 0.03551 | 2.43% |
| 2001 | 21,020 | 1.907 | 0.03311 | 2.88% |
| 2000 | 16,394 | 1.266 | 0.02818 | 1.91% |
| 1999 and Older | 241,823 | 6.502 | 0.00978 | 9.82% |
| All But 2012 Wells | 501,701 | 53.152 | 0.03865 | 80.27% |
Note in the last row of the table, the production from all wells 2011 or older is only 80.27% of the total. Current daily NG production is about 66.22 BCF/day. Wells from 2011 and earlier account for 53.152 BCF/day. About 19.73% of production comes from new wells drilled in 2012.
The number of existing gas wells is about half a million. More than half of them are wells from 2000 or earlier. Production from these old wells is 11.73% of the total. That is a significant portion of the supply. We could see a NG shortage if this supply is gone.
This is what I called the long production tail of the NG industry.
When Will the NG Industry Lose Its Tail?
The stripper wells can produce gas forever. But producers will not keep them producing forever. When the revenue from a well drops below the well's maintenance cost, the well will be dismantled. Although each stripper well produces very little, collectively they produce a significant portion of the NG supply. So when they are dismantled in large numbers, there will be a big impact on NG supply.
Revenues depend on both gas prices and production volumes. When prices are high, the industry would keep the stripper wells producing longer. But when prices are low, they would abandon the wells prematurely. This is not just a hypothesis. Premature abandonment of oil or gas wells did happen in history.
What is the threshold to dismantle a stripper well? From private emails and other sources, the cost to maintain a well is about $5000 to $7000 per month, not including repairs. With repairs and other costs included, I think $10K/month is a reasonable number.
At current NG spot price of $2.70/mmBtu, to cover $10K/month cost, a well needs to produce 3.7 MCF/month, or 0.044 BCF/year.
When I apply that threshold to the wells, it seems that only those drilled in 2008 or later would produce enough to stay in production. Those wells from 2007 and earlier all need to be abandoned! The abandonment could tally up to 34.8% of existing production, and 84.66% of existing wells!
When will the NG industry abandon the non-profitable stripper wells en mass? EIA reports number of existing gas wells and number of new gas wells drilled each year. With both numbers one can deduce the well abandonment each year. Unfortunately we only know the number of existing wells up to 2010:
| Year | Wells Drilled | Change of Well Count | Wells Abandoned |
| --- | --- | --- | --- |
| 2008 | 29929 | 23707 | 6222 |
| 2009 | 17038 | 16448 | 590 |
| 2010 | 15929 | -5473 | 21402 |
The industry abandoned only 590 gas wells in 2009, thanks to high NG prices in 2008. The abandonment reached a multi-year high of 21402 in 2010, probably due to low NG prices in 2009 and early 2010. As expected, the data suggests that profitability must be the deciding factor in well abandonment.
We do not know how many wells were abandoned in 2011 and in 2012 so far. But given current decade low NG prices, producers should be dismantling a lot of wells lately.
Although stripper wells are costing producers money, they may not be immediately plugged. The reason is that plugging them costs more up-front money. In the long term, producers are better off plugging wells once they become non-economical. In the short term, they may not immediately plug the wells if they are short of cash.
In recent months, NG production has been trending down slowly. The slow pace of production drop suggests that producers are not shutting down the stripper wells massively yet. So the old wells are still draining cash liquidity from producers. If producers do not even have money to shut down old wells, as they should, they are unlikely to spend money to drill new wells to replace the old ones.
NG prices are going up. This may bring relief to the cash liquidity positions of NG producers. If producers have more cash at hands, will they resume aggressive drilling, or will they spend the money to dismantle non-profitable stripper wells first?
I explained that due to capital destruction, producers would not rush back to drill more. Their priority now is consolidation of balance sheets for survival, not aggressive growth. A lot of NG producers are hoping to sell assets to raise desperately needed capital. The money losing stripper wells are liabilities to get rid of, not assets to keep. I believe they would rather spend money to plug wells that are due for abandonment. This will cut production and boost NG prices. This will also make their assets appear more valuable to potential buyers.
Due to the double whammy of NG producers being unable to keep spending money to drill new wells, and accelerated abandonment of stripper wells, I believe we will run into NG shortage later this year.
Implications for Investors
The outlook is bullish for both NG and coal. Prices of both energy commodities will go a lot higher. But as I have explained many times, shale gas is not profitable unless NG prices go to very high levels.
Finding a position to directly leverage on higher NG prices is difficult. I do not recommend the United States Natural Gas fund (NYSEARCA:UNG), or any ETF that holds future contracts, as long-term investments. But shorting such paper ETFs, such as shorting ProShares UltraShort DJ-UBS Natural Gas (NYSEARCA:KOLD), might be a good long-term play.
I continue to caution against buying NG producers just because NG prices are rising. A lot of shale gas players probably will not survive. The shale gas industry racked up heavy debts in the rush to the shale gas hype. To pay off those debts, not only shale gas needs to become profitable, but there needs to be sufficient growth as well. The US NG market is a mature market that allows little room for growth. Aggressive production growth leads to destruction of NG prices and loss of profitability. We are learning that lesson now.
The NG industry is stuck with a mountain of debts while it faces poor prospects of profitability of shale gas and limited NG resources to develop and turn into profits. I believe a lot of the debts have to be resolved eventually by bankruptcies, not by profits from gas.
I am studying the debt figures and wish to write more on the issues. I believe that all NG players are in danger. Some of them may not survive. Others will survive but not before taking a heavy casualty. You might be able to pick up the survivors at great discounts in the mid-term future. Right now it is hard to tell who will survive. Making it more difficult to tell is the fact that it is hard to determine the fair value of their assets. Many producers intend to sell assets. It is still not clear who will buy those assets, and at what discounted prices.
Considering the danger, I would not buy any NG players now. Considering the rising NG prices, I would not short NG players, either. So I would advise that people stay on the sideline to watch these names:
Apache Corp. (NYSE:APA)
Chesapeake Energy Corp. (NYSE:CHK)
Constellation Energy (CEP)
Cabot Oil & Gas Corp. (NYSE:COG)
ConocoPhillips (NYSE:COP)
Anadarko Petroleum Corp. (NYSE:APC)
EOG Resources Inc (NYSE:EOG)
Devon Energy Corp. (NYSE:DVN)
Baker Hughes Inc. (NYSE:BHI)
Southwestern Energy Co. (NYSE:SWN)
Sand Ridge Energy (NYSE:SD)
Pioneer Natural Resources (NYSE:PXD)
Magnum Hunter Resources (MHR)
Kinder Morgan Energy Partners (NYSE:KMP)
Enerplus Resource Fund (NYSE:ERF)
Carrizo Oil & Gas (NASDAQ:CRZO)
Callon Petroleum (NYSE:CPE)
Enterprise Products Partners LP (NYSE:EPD)
Goodrich Petroleum (GDP)
GMX Resources (GMXR)
IDT Corp (NYSE:IDT)
Lucas Energy (NYSEMKT:LEI)
Rex Energy (NASDAQ:REXX)
Approach Resources (NASDAQ:AREX)
Natural Gas Services Group (NYSE:NGS)
Breitburn Energy Partners (BBEP)
National Fuel Gas (NYSE:NFG)
Range Energy Resources (NYSE:RRC)
Petroquest Energy (NYSE:PQ)
Unit Corp. (NYSE:UNT)
Discussion of NG is relevant to the US coal sector. Currently US coal stocks are trading at very deep discounts. Investors seem to have a common perception that coal is doomed for good, and that cheap and abundant NG will replace coal.
Nothing is further from the truth. NG is neither cheap nor abundant. Early this year, EIA slashed estimate of technically recoverable Marcellus shale gas from 410 TCF to only 141 TCF, or less than six years worth of US demands. Marcellus is almost half of all US shale resources. We don't have 100 years of NG supply as some thought!
Coal is still America's most abundant and most reliable fossil fuel. Meanwhile China's coal imports in the first 5 months of 2012 reached 112.73M tons, up 67.8% from a year ago!
China's coal imports grew rapidly thanks to the fact that domestic Chinese coal is more expensive. The 5500KCal Chinese coal is selling for $120/ton. Better quality US CAPP coal is only $55/ton.
Chinese coal is expensive not only in terms of US dollars, but also in terms of human lives. I am not just talking about coal miners killed in accidents, as Chinese coal mines have the worst safety records. I am talking about millions of Chinese coal miners quietly dying from black lungs, a covered-up fact. I will write about that soon.
In contrast, US coal is dirt-cheap. US coal stocks are selling at rip-off prices. I continue to recommend these great values in coal:
James River Coal Company (JRCC)
Patriot Coal (PCX)
Arch Coal Inc. (ACI)
Cloud Peak Energy (NYSE:CLD)
Alpha Natural Resources (ANR)
Consol Energy (NYSE:CNX)
Black Hills Corp. (NYSE:BKH)
Walter Energy (NYSE:WLT)
Westmoreland Coal (NASDAQ:WLB)
Peabody Energy (BTU)
Nacco Industries (NYSE:NC)
Alliance Resource Partners LP (NASDAQ:ARLP)
Market Vectors Coal ETF (NYSEARCA:KOL)
Kudos to Richard Bloch, Sol Palha, Brian and others for help with this article.
Disclosure: I am long JRCC, PCX, ACI, ANR, BTU.