Tongjitang Chinese Medicines (NYSE:TCM) was founded in 1995 in China. In March 2007, it issued an IPO and began trading on the NYSE. Tongjitang Chinese Medicines is currently trading at $8.50, which is about 50% of its original intended IPO price of $15 to $17 per ADR share.
The investment thesis for Tongjitang is as follows.
Well respected brand name.
Excellent fundamentals with a recurring revenue stream.
Products are ingrained in Chinese culture.
Industry is favored by the Chinese government resulting in favorable policies.
Products benefit from strong macro trends of an aging population and a growing middle class in China.
Medicines are based on scientific clinical trials and prescribed in hospitals.
Currently trading at 9-10 times earnings that are growing at 20% plus.
Strong balance sheet with $100 million in cash and total liabilities of $30 million.
Business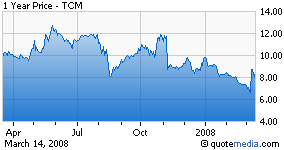 Tongjitang's main product is Xianling Gubao, which is the leading traditional Chinese medicine for the treatment of osteoporosis in China. Tongjitang has approximately 70% market share. Xianling Gubao is covered under a national medical insurance program. The company also manufactures and markets 14 other modernized traditional Chinese medicine products and several western medicines treating a variety of indications.

The chart below shows Tongjitang's main products and the indications treated (click to enlarge).

In recent years, Tongjitang has demonstrated good growth and excellent fundamentals in its core business. Using a fixed exchange rate, results is US$ are as follows:

Return on capital is in the 20% plus range.
For the nine months ended September 2007, revenues increase by 25% to 55 million, Gross margin was 64% and net income was 16 million. Company guidance on full year revenue is expected to be approximately 80 million. The results seem solid enough, but the market sold off Tongjitang because their main product only grew by 2% in this quarter. Overall sentiment seemed to ignore the fact that growth in their other products more than compensated.
Tongjitang has relied heavily on their main product, Xianling Gubao. It has accounted for approximately 65% to 77% of their total revenue. So there is some concern regarding the drop in growth of its main product. However, management has stated that one of their goals is to create a more diversified revenue stream. The growth in their other products in the third quarter of 2007 was a positive development that unfortunately was overshadowed by the anemic growth in their main product. However, it is doubtful that their main product is mortally wounded. The long term growth story is still intact and management expects that Xianling Gubao will return to its normalized growth rate of 20%.
From a fundamental standpoint, there is little reason to believe that Tongjitang is in any near term deterioration. In the recent fourth quarter report, their main product had a 14% growth year over year which is closer to its normalized growth rate.
An easily overlooked aspect of Tongjitang's business is the tie to Chinese culture. Traditional Chinese Medicine is a source of national pride in China, particularly high quality manufacturers that have to pass clinical trials. This has resulted in favorable policies for Tongjitang, such as the inclusion of its main products in the National Medical Insurance Program. The size of the National Insurance Program is expected to double from 2006 to 2010 and traditional Chinese medicine is well poised to benefit from this growth. In 2004, the Chinese government increase the number of traditional Chinese medicines in the National Insurance program from 36% to 44% (2004 is the current version). Tongjitang has been a direct beneficiary of this trend.
Medicines are also subject to price control boards in China. In August 2006, the price control board decreased the retail price of 400 medicines by an average of 30%. None of Tongjitang's treatments were affected. Their products continue to be priced near the ceiling permitted. This certainly suggests that high quality manufacturers of traditional Chinese medicine continue to receive favorable treatment by Chinese officials.
In addition, Tongjitang receives favorable tax treatment because traditional Chinese Medicine is classified as a "key and encouraged industry" by the Chinese government. Tongjitang has an effective tax rate of 15% rather than the 33% for other enterprises. The practice of favoring certain industries has not been well received by the WTO and it may not continue indefinitely. But for time being, Tongjitang benefits from this policy.
Valuation
Tongjitang's current market cap is approximately $285 million. If we deduct the net cash in the balance sheet ($70 million), Tongjitang's enterprise value is about $215 million. Current year earnings are on track to exceed 20 million, so Tongjitang is trading at about 9-10 times current year earnings. For a company forecasted to grow at 20% annually for the next five years, it is currently a bargain.
Assuming that fundamentals remain the same, Tongjitang's share price could conservatively appreciate at least 15% per annum over the next three years. In best case scenarios, appreciation could exceed 20% per annum.
Risks
Investing in Tongjitang is not without risks:
As stated, Tongjitang relies heavily on its main product. Any change to demand would materially affect results. Xianling Gubao accounts for approximately 65% to 77% of their total revenue. Also, any changes in raw material costs (Barrenwort) used to manufacture Xianling Gubao would also materially affect results. So far, both demand for the product and raw material costs have been relatively stable but that could change in the future.
Any change in Government policies could materially affect Tongjitang. Exclusion of its products from the National Insurance Program, a price control decrease in its selling price or a change in it favorable tax rate could change the high net margins in currently obtains.
Tongjitang's competitive protection relies on proprietary manufacturing processes, brand name and trade secrets rather than patents. It is therefore subject to some copycat competitors, who try to knock off its main products. However, Tongjitang is a reputable manufacturer of traditional medicines and that is not easy for an inexpensive knock off to compete against. Tongjitang's products are included in a catalog of medicines that are covered by a national insurance program and have been proven through a clinical trial process.
During the IPO process, Tongjitang identified some accounting weaknesses. This is primarily related to its ability to report in US GAAP. Management has stated that they are correcting the situation but it is something to keep an eye on.
Despite these risks, Tongjitang's business has been growing well in the last few years with excellent fundamentals. The aging population and growing middle class are two strong macro trends that are not going to diminish. Also, with a pure China play like Tongjitang, a North American investor will benefit from the expected appreciation of the Chinese Yuan. On top of all this, the Chinese government is making life easy for Tongjitang by including its medicines in the National Insurance program and lowering its tax rate.
Catalyst
Possible catalysts include future quarters that meet or exceed projected growth rate. Tongjitang's management has stated that it wants to be a leading consolidator in a highly fragmented industry, possibly using its shares as currency. Management therefore is highly motivated to unlock value in their shares. This could come in the form of share buy backs.
The recent buyout offer of $10.20 from two insiders highlights a couple of main points for investors. First, several insiders feel that the current share price is deeply undervalued, which is always encouraging. Second, the offer is contingent on financing, there is no guarantee that the buyout will occur and Tongjitang's share price could be subject to increased volatility in the next few months.
Disclosure: None at the time of this report