Ann Taylor (NYSE:ANN) announced poor results [click here for conference call details]. This is not surprising. It is a retailer and consumers are not spending money. The question becomes, how do you stay compelling and relevant?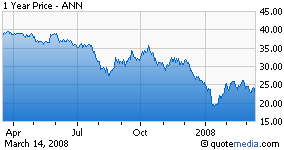 It is announcing store closings and some openings. It announced a strategic three year plan designed to produce all sorts of nice numbers. The three year plan allows it to skate around more important quarterly and annual numbers. Investors, particularly investors who invest in retail stocks with an inherent seasonality risk, are not impressed with a three year plan.
Management comments are almost entirely focused on sales, stores and per square foot metrics. The cash position is off dramatically. Year end working capital ratio is down from 2.31 year end last year to 1.64 currently. Yet Ann Taylor President & Chief Executive Officer Kay Krill stated, "We managed our inventory levels and in-store metrics very well all year, and we are entering fiscal 2008 in excellent shape." Management needs a dose of reality and should start to focus on real housekeeping issues.