I took the recent weakness in share price of dividend growing General Electric (GE) as an opportunity to add to my position in the company. This past Friday I bolstered my position in the global conglomerate, which builds jet engines and owns the media network NBC. For most of my general thoughts on why I believe GE is a great investment, see my post titled "GE, Past Success, Future Potential."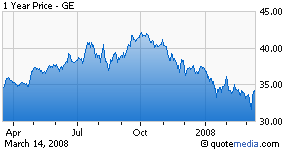 Stock valuation-wise here are some of the key points that make GE so attractive at these levels. Let's look at GE over the last 5 years, since 2003:
2003
In 2003 GE traded between $23 and $33 per share.
In 2003 GE paid a dividend of $0.19 / share.
GE's dividend yield ranged from 2.3% to 3.3%.
In 2003 GE's Return on Equity [ROE] was 17.7%.
The Key Fundamentals of Growth Since 2003
GE has grown it's annual EPS consistently from $1.40 to $1.59 to $1.64 to $1.86 to $2.20 in 2007.
GE has grown it's quarterly dividend consistently from $0.19 to $0.20 to $0.22 to $0.25 to $0.28 to $0.31 currently.
GE is currently cheaper than it has been at any time in the past 5, or possibly even 10 years.
This past Friday, five years later, I bought the stock at $33.47. Should I have been able to get the stock this cheap given it's earnings growth and dividend growth over the past five years?
The stock currently yields 3.7%, easily right near a 5-year high, and there is no reason to think GE won't continue raising it's dividend at swift rates in 2008 and beyond.
GE's Return on Equity in 2007 was 19.4%.
In Summary
So why is GE such an attractive buy today? It is all in the numbers:
Today GE is earning $2.20 vs. $1.40 per share in 2003 (36% more today).
GE is now paying $0.31 vs. $0.19/share in dividends (40% more today).
GE is currently more efficient at generating profits, and is showing a ROE of 19.4% vs. 17.7% in 2003.
All this is for a $0.47 premium on it's 2003 high trading price, giving the shareholder 3.7% of his/her money back annually, whereas in 2003 he/she would have received only 2.3% back as yield on their investment.
While these numbers are compelling to show GE's relatively attractive valuation, some might see the recent enthusiastic insider buying by CEO Jeff Immelt as a bullish sign as well. While Jeff should have a unique view of where GE is going in the next two years, he might just be buying because he has also looked at where GE has come from, and has realized that, relative to its history, the company is cheap.