We are resuming coverage on Corrections Corp (NASDAQ:CXW) with a buy rating and an aggressive 12 month price target of $38, reflecting ~45% upside from the current price of $26. Our investment thesis is based sustainable demand for correction facility beds vis-à-vis an ongoing difficulty at the federal and state level to fund new prison growth. More than 7% of the US prison population is housed in a private detention facility; CXW has approximately 50% of the market and with secular tailwinds at its back, should keep ripping estimates with double digit top line growth for the next few years.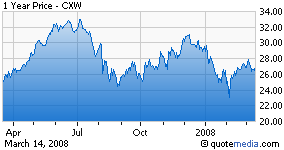 Since
we initially launched coverage
on CXW back in August of 2006, the stock has risen 30% and that's
without
adjusting for 2 stock splits. In the last few months, however, the stock has dropped 21% on evidently no news or fundamental slippage. We believe the
overall investment case is intact and would use the recent sideways action as an attractive entry point for investors with a longer time horizon.
Business Overview
Corrections Corporation of America has the private prison market on lock down. The company, founded in 1983, operates more than 65 correctional, detention, and juvenile facilities with a capacity of some 78,000 beds in about 20 states and Washington, DC. CCA contracts with federal, state, and local authorities to manage the facilities, about 40 of which are company-owned. CXW also owns three facilities that are managed by other companies. Federal correctional and detention authorities account for 40% of CXW's sales. The company provides rehabilitation and education programs for inmates of its facilities. CXW also provides transportation of prisoners through its TransCor America unit. TransCor operates throughout the US and serves more than 800 federal, state, and local agencies. CCW employs 16,000 people.

Investment Thesis
One in every 100 Americans is now living behind bars, according to a recent study by the Pew Center. More distressing is the fact that even though the population has increased threefold over the last 20 years, the costs associated with corrections/imprisonment have more than quadrupled over the same time period. Our nation currently spends 60c on correction for every dollar it spends on higher education – this reflects an increase of 28c over the last 20 years. Clearly, policy choices made over the last 2 decades have sent more offenders to prison and kept them there longer. Between 1996 and 2006, the US prison population increased more than 3% on average.
Collectively, $44 billion was spent on corrections last year, a 127% increase over 1987 totals, according to Pew. In this same time period, spending on higher education increased at just 21% -- this is dire news to hear, we know, but we believe policies aiming to cut the massive amounts of dollars spent on corrections will take longer than expected. This means, jail stocks will still be good investments over the next couple of years. Crime is still too high, as are recidivism rates. The "Catch and Release" program (in which people are now held until their hearing date, rather than set free) has become another source of unmet demand.
With the rise of the Echo Boomers – comprised of 18-24 year olds, the age group most likely to be incarcerated – we believe modeling ~4-5% or higher prison population growth over the next decade is realistic. These Echo Boomers will soon enter their adult years and the prison population will rise to 2 million by 2011, according to the Pew Report. This will cost tax payers approximately $27 billion.
Just 7% of the US prison population is housed in a private detention facility; Corrections Corp has more than half of the market and has the wind at its back. The federal government perpetually has a hard time selling taxpayers on the notion of building new prisons. At the same time, however, state prisons are nastily congested (in some states, jails are so crowded that inmates are forced to sleep in the gymnasium): federal prisons are running at 134% capacity and 23 state prisons are running at 100% capacity. What this means for Corrections Corp is pricing power. It is estimated that state and federal customers will need another 14,000 beds over the next five years. That's the demand side, and management is meeting it with flawless execution: At a 95% occupancy level, CXW is generating a pre-tax return on invested real estate capital of 15% and giving the Street revenue visibility investors attach higher multiples for. There is no reason for CXW to not capitalize on this secular theme. The demographics at play suggest more crime is on its way, and no one's better positioned – from a managerial and pipeline perspective – than CXW.
Moreover, stricter Border controls (The DoH Security's secure border initiative, passed in 2005, calls for a pick up in new border patrol agents) have meant that more and more people are being detained – that means, quite simply, that more beds are needed fast since it takes years for government-run facilities to be put in place. As we all know, budgets at all levels are constrained and no one wants to cut back on health care and education to build another prison – that's where private facilities like CXW drive home with a solution – driven by economies of scale – that could save tax payers as much as 20%, according to experts. Since private facilities have the same safety record as public prisons, they are clearly a viable solution for policy makers as they weigh and deliberate the costs of new prisons.
It's at its essence a supply-demand imbalance, the same type we diagnosed with Potash (NYSE:POT) 15 months ago; what we learned from our ripping Potash/fertilizer call is this: pick those companies best suited to meet capacity demand -- CXW is a drop in the bucket if you can weather the quarterly blips. CXW owns over 65% of its capacity, which should increase over the next year per since its pipeline is replete with owned developments. CXW will add close to 9,000 beds in the next 18 months, with more than half of those contracts coming with a guaranteed utilization.
The detention & corrections industry in the US comprises a $61B opportunity. Just 7 out of every 100 prison beds are outsourced to private companies. The trend to outsource is nowhere far from saturation: in 1990, privatized beds in our nation totaled just over 10,000; today, that number is closer to 165,000. We believe that not only will the trend continue in the near future, but possibly accelerate; if we are right, and the Street is playing conservative, CXW will smash consensus even further.
Valuation
The stock is 21% of its 52 week high and the tumble is what triggered our screens. We are modeling continued EBIT margin expansion due to low supply/high demand for beds, continued market share gains, and G&A leverage. Correction's peer group fetches 17x 08 Street estimates and just over 14x 09s. Meanwhile, CXW is going for ~17x our 09 number, which we do not think justifies the company's leadership position, strong pipeline, unmatched sales visibility, and potential to boost margins further. CXW is growing EPS as fast as rivals GEO and CRN, but with less leverage. Our price target of $38 reflects a 25x P/E to our 09 EPS estimate of ~$1.50.
Risks
Most salient risks include: 1) Investor backlash at the idea of profiting off the incarceration of inmates may create enough negative sentiment to keep potential investors on the sidelines 2) Unions representing prison guards sued CXW last year, claiming that the transfer of inmates from prisons to facilities was infringing on prisoner rights; there is no guarantee similar cases will not break out in other states; investors need to keep their eyes on everything to congressional hearings to abuse cases to CXS's large insurance expenditures. 3) Federal customers, via three agencies, account for 41% of CXW's revenue base: any drastic change in policy and/or federal budgets (mandating new prison build outs) would most likely pound the stock. 4) CXW runs a capital intensive business: it costs ~$70K per bed to build each facility ($414M planned CAPX for '08, an 11% increase from 2007) -- slower-than-expected facility ramp up would create an immediate cash flow drain. The silver lining in all this is that the correction facility business is high barrier-to-entry, an attribute we screen for whenever we ramp into a stock.
Trader's Corner
Start building a position in the low 20s if we can get it and add to the core on mild pullbacks throughout 08. On a base-bust and retest of the 52 week high, trim half for a partial and let the other half run deep into '09. Remember that CXW wants to add 9,000 beds in 2 years; let the stock gyrate along with bed utilization rates, ramp up costs, and new contract bidding, using hiccups opportunistically. Even a mere round trip to the low 30s would represent a 20%+ return and with just 5 analysts following the stock, there's definitely room for estimate revisions. Based off a 4 up/1 down risk reward (assuming resistance is at $30 and $25 is support), we think even nibbling at the name here makes sense.
click to enlarge image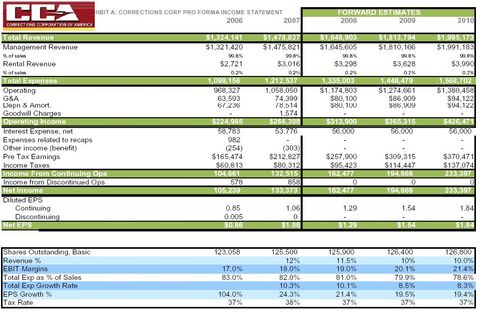 Disclosure: At the time of publication, the author was not long CXW, although that can change at any time.
"Trader's Corner" is a new addition to our research offering and will be included in all subsequent Seeking Alpha articles. Catablast! Media was the former name of Ceviche Fund Partners LP.