A severe drought in the Midwest grain belt has caused serious damage to corn crops. Although some rainfall is expected later this week, there are forecasts that dry and hot weather will persist in the near future, which will continue affecting corn yields. The U.S. Department of Agriculture's (USDA) recent weekly crop progress report showed that corn crops are lowest for this time of the year since 1988. According to a Morgan Stanley (NYSE:MS) analyst, "The Midwest drought will probably spur the USDA to cut its estimate for 2012 corn yields next month."
USDA has also reduced the rating of good to excellent corn to 56%, from 63% a week ago. This reduction in ratings is happening for the third consecutive week, and so, the previous expectations of a bumper crop have started to fade. As a result, the U.S. new-crop corn futures surged to a new 9-month high and corn prices have also experienced an upsurge.
U.S. Corn Prices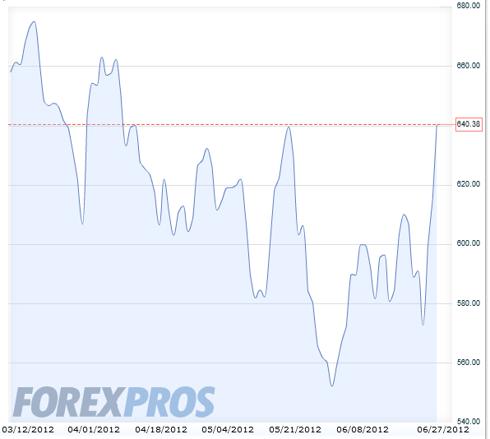 Click to enlarge
According to the International Fertilizer Industry Association (IFA), these tight market conditions, especially for corn, will incentivize farmers to bolster production. This is because the decline in corn yield will have a positive impact on the demand for fertilizers in the next planting season.
The fertilizer stocks responded positively to this catalyst because of corn's intensive need for nutrients. The CF Industries' share price increased by more than 4%, while Potash Corp. also rose by 3.5%.
Currently, the record-low natural gas prices are having a positive impact on global fertilizer supply, as IFA has forecasted a surplus capacity by 2015. Surplus capacity is especially expected for Nitrogen and Potash fertilizers, thanks to a new $90 billion investment, according to the IFA. We also expect the fertilizers' rate of supply growth to surpass an increase in the rate of demand, resulting in a reduction in its prices. However, for short-term, we maintain a positive outlook for the Fertilizer Industry amidst the recent rise in demand.
One bushel of grain corn requires 1.25 lbs. of nitrogen, 0.6 lbs. of phosphate, and 1.4 lbs. of potash. So, the firms that are most exposed to nitrogen and potash will benefit the most from reduced corn yields.
Let us analyze major companies in this industry.
CF Industries Holdings Inc. (NYSE:CF)
We reiterate our buy recommendation for CF because of its high nitrogen exposure, as well as the following factors:
Bullish Factors
A production boost due to falling natural gas prices, and the North American spring planting season. The company expects that higher crop prices and lower natural gas environment will benefit it in the future.
High gross margins. An increase of 4% this quarter, from 48% last year.
Sales of its nitrogenous fertilizers increased by 37%.
Its EV/EBITDA of 3.4x is the lowest relative to its competitors.
Bearish Factors
Dividend yield of 1% is slightly behind the industry average of 1.16%.
Potash Corp. (NYSE:POT)
Potash Corp. is also a potential buy given that it is the world's leading Potash producer and corn crops need Potash the most. Other important factors influencing our recommendation are:
Bullish Factors
POT has the largest share in Potash-making consortium, Canpotex, which has recently signed a contract with Sinofert Holdings to supply 500,000 tons of Potash in 2Q2012.
In the second half of 2012, a new contract with Indian buyers is also expected.
Global potash demand is expected to increase from April onwards. This is because the North American planting season has gained momentum and China has settled its new supply contracts.
Bearish Factors
Its Potash inventories are 43% higher than the previous five-year average.
The Mosaic Company (NYSE:MOS)
The Mosaic Company is the world's leading producer and marketer of concentrated Phosphate and Potash. Its lucrative future prospects, coupled with increasing corn prices, are why we reaffirm our previous recommendation; long its stock.
Bullish Factors
An accretion of 1.3 million tons of capacity (from January 2013 onwards) as its Potash tolling dispute has been resolved.
MicroEssentials®, its innovative Phosphate product, will have a new capacity in 2013.
It is the second-largest shareholder in Capnotex, whose recent contract with Sinofert Holdings will drive MOS' potash sales as well.
Bearish Factors
Previous quarterly earnings were not so good, due to lower Potash volumes and higher Phosphate raw material prices.
The bullish earnings report by Monsanto (NYSE:MON) will also help fertilizer stocks to move higher.
Investors can also buy the Grains ETF (NYSEARCA:DBA).
Disclosure: I have no positions in any stocks mentioned, and no plans to initiate any positions within the next 72 hours.