I'm really surprised that no one has brought up the possibility of Akeena Solar (AKNS) as a merger or acquisition target for 2008. Every burgeoning sector has its window of opportunity for consolidation. The time to pick up great companies on the cheap is when their stock price is depressed. The phrase "this too shall pass" is apropos to the current interim hiatus in retail solar installations in California.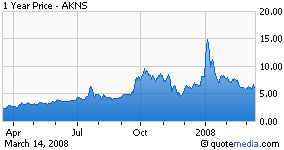 Looking ahead to 2009, there are several converging patterns which place Akeena squarely in the M&A target zone. Sunpower (NASDAQ:SPWR) and Akeena are members of the small handful of American solar companies experiencing strong growth (maybe Suntech International (NYSE:STP), in San Francisco, could be included too). Why wouldn't (shouldn't) Sunpower buy Akeena NOW, while its cheap, in order to augment their downstream offerings later on?
Whoever acquires Akeena doesn't really need their multiple office locations or small army of installers, they need their Andalay panels - hundreds of thousands of them - to sell to contractors and roofers all over the sunbelt of the United States. Akeena's existing branches could be independently ceded as franchises back to their original owners, with the new proprietors given stock in the acquirer and a chance to purchase cheap wholesale panels to start up.

If large solar farms are going to be built in the U.S., Sunpower's subsidiary - Powerlight - one of the world's leaders in large installations - will be a likely candidate to get the nod. There are very few "other" American solar companies (such as Akeena, First Solar (NASDAQ:FSLR), Energy Conversion Devices (NASDAQ:ENER) and Evergreen (ESLR)) with the skill or scale to be to develop such large scale projects, much less ramp them. General Electric (NYSE:GE), Chevron (NYSE:CVX), BP Solar, Tyco (NYSE:TYC) - that's a different story. They could do these kinds of things.

2009 will usher in some interesting solar investment paradigms.

1) Sufficient poly supply (a glut?) for the first time in 3 years (coming out of Asia) - thus driving down the ASPs of cells and modules and increasing demand - as solar falls ever closer to grid parity costs.

2) The first inkling of a resurrection in new real estate construction. By that time there will be cheaper solar products available (by as much as 25-30% under today's prices) for building-installed residential construction.

3) A new national alternative energy bill (probably modeled after California's) will be in the works - one that highlights solar and wind (ethanol was taken care of last year). Given that all the candidates for the presidency have mentioned the need for a national alternative energy plan, and there's the distinct possibility that Congress will be dominated by one party in favor of it, we're likely to have a favorable demand market for solar installations, powered by subsidies in 2009.
Following the Nixon debacle in 1976, the other party (Democrats) landed landslide victories with the presidency, a 2 to 1 majority in the house, and 61 senators. As long as legislators voted along party lines they were able to pass almost any legislation in 1976-1980. Policy was their's to make. This is why I am so bullish on solar energy for the United States today.
I think a similar thing is afoot for November 2008. The only thing keeping public energy policy in the grip of farmers and commodity providers today has been the political base (red states) of our current administration. When that changes, the pendulum will swing the other way (one just hopes not to "rob the smart and give to the poor"). The Saudis have sworn for 5 years that there is more than enough oil and that too much of it has been locked up in the financial derivatives of speculators.
A national alternative energy act - similar to putting a man on the moon in 10 years in the 1960s - could break the back of the inflation we're now experiencing. Sunlight can do for America what it's done for Germany, Japan and Spain: create jobs and increased energy independence. In some respects our Great Western Desert is an American version of a "Sunlight Saudi Arabia".
An acquisition of Akeena at $12-$14/share -well above today's depressed and uncertain prices, split between cash, options, and shares in the acquirer - might make for some happy Akeena investors, and give this company it's first crack at taming the elephant in its back office: profitability.
I see the likely candidate as a large technical manufacturer, or chipmaker/solar cell maker, with upstream poly and downstream manufacturing prowess who can apply profitable economies of scale to producing the Andalay panels. As mentioned previously, Suntech, BP Solar, or General Electric are other names that comes to mind. The important thing about the Andalay panel is it's simply the best product in its class for pre-existing commercial roofing installations. It transforms moderately-skilled labor subcontractors into "solar-installers" overnight.
Follow this link to Scientific American's outline of a national solar energy initiative and infrastructure build out.
Disclosure: Author's website portfolio has a small position (long) in Akeena