Monsanto Co. (NYSE:MON) reported earnings before the market opened today, June 27th, of $1.74 per share compared to analyst estimates for $1.60 per share. That represents a 38.1% increase of the same quarter a year ago, on an increase in revenues of 17% year-over-year. This is the sixth quarter in a row Monsanto has beat earnings estimates, and estimates have been moving up for both this year and next over the past 90 days. The company reaffirmed guidance for the fiscal year 2012 and is expecting EPS growth in 2013 to be in the mid teens over 2012, right in line with analyst estimates.
While performance and execution has been strong at Monsanto, it has also attacked premium valuations. The company trades at 19 times forward earnings, has a PEG ratio of 1.8, and EV/EBITDA of 11.17. This compares to DuPont (NYSE:DD) trading at 10.5 times forward earnings, a PEG of 1.4, and EV/EBITDA of 8.38. Monsanto recently announced at $1 billion share buyback program over the next three years. You can read here about why a dividend may have been a better idea than another buyback program.
Over the long-term increasing populations and improving economies will require better crop yields around the world. Monsanto is a key company in improving yields. Furthermore if hot, dry weather continues in the US reducing the corn harvest, corn stocks could remain low driving another strong year of corn acres planted in 2013 as well.
This strong demand from the US along with strong corn and soybean demand from South America will be the main growth drivers over the next year. The company is also expecting strong volume gains in vegetables and some new products driving growth of that business line. Monsanto also recently announced they are buying Precision Planting Inc. for $250 million. The company stated it might look for more acquisitions in the space, and believes that improved planting, spacing and seed mix could improve yield by 8 to 10 bushels per acre.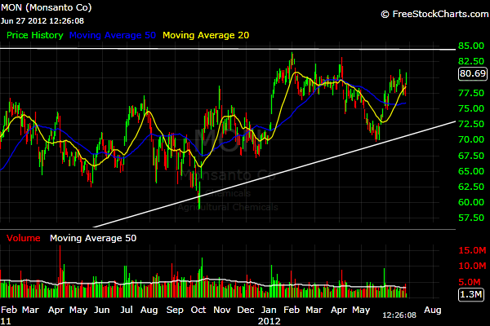 The lower white line is an uptrend that has been in place since the middle of 2010, while the upper white line is resistance around $84 per share dating back to the start of 2009. I believe the uptrend line has been influencing the stock over the past 18 months, and that the recent move down to test that trend and positive response could be bullish. With that said should Monsanto reach resistance again and fail at that level it could be time to short the stock as that would be the third time this year it has failed to move above that resistance.
Agriculture equipment maker Lindsay Corporation (NYSE:LNN) also reported strong earnings this morning with EPS of $1.47 compared to estimates of earnings of $1.36 per share. Domestic irrigation revenue increased 38% year-over-year and accounted for over 61% of revenue during the quarter.
Data sourced from: Company filings, and Yahoo!Finance. Chart from: Freestockcharts.com.
Disclosure: I have no positions in any stocks mentioned, and no plans to initiate any positions within the next 72 hours.