Wednesday morning saw cereal and snack foods company General Mills (NYSE:GIS) release full-year and fourth-quarter earnings. The company also provided an outlook for its 2013 fiscal sales. Listed below are some of the highlights from the earnings call.
Fiscal 2012 Sales
General Mills reported net sales growth of 12%. Net sales rose to $16.7 billion from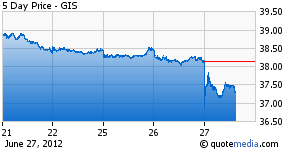 strong international growth and the company's newly acquired Yoplait international yogurt business, which provided 7 points of net sales growth.
The United States retail segment saw new products provide 5% of net sales growth. New products like Fiber One 90 Calorie Brownie Snack Bar, Peanut Butter Multi Grain Cheerios, and Yoplait yogurt and granola parfaits were well received by consumers.
Earnings per share for fiscal 2012 were $2.35 (diluted) and $2.56 (adjusted). The adjusted earnings beat last year's reported $2.48. The reported earnings did beat the $2.54 predicted by analysts on Yahoo Finance.
In the United States retail segment, all areas saw growth, with the exception of the Yoplait U.S. brand. The U.S. retail was responsible for 3% sales growth to $10.5 billion. Listed below are the results by segment:
Big G Cereal: +4%
Snacks: +15%, led by strong gains in Fiber One and Nature Valley brands
Pillsbury: +3%
Baking: +3%
Yoplait USA: -5%
Small Planet Foods: +19%, strong gains for Larabar natural fruit bars, and Cascadian Farm organic cereals
International sales for the full year were up 46% to hit $4.2 billion. Acquisitions were a key driver for General Mills, as they provided 37 points of growth in the international segment. Sales by region:
Europe: +100%
Canada: +28%
Asia/Pacific: +17%
Latin America: +14%
The rest of the fiscal year sales came from Bakeries and Foodservices ($2.0 billion) and Joint Ventures ($88 million). The Bakeries and Foodservice segment saw 8% growth for the year. The segment saw growth in Foodservice (+8%), Convenience Stores (+8%), and Bakery/National Restaurant (+8%).
Fourth-Quarter Sales
Net sales in the fourth quarter were up 12% to $4.1 billion. Yoplait attributed nine points to net sales growth. Earnings per share for the fourth quarter were $0.49 (diluted) and $0.60 (adjusted). Adjusted earnings per share increased over last year's reported $0.52 by 15%. The reported earnings also beat Yahoo Finance analysts' predicted $0.59. The United States retail segment reported sales of $2.4 billion, a 3% increase. In the fourth quarter, international sales increased 46% to $1.1 billion
Acquisitions
In fiscal 2012, General Mills made four strategic acquisitions to strengthen its strong United States retail segment and increase its international sales. The acquisitions were:
Yoplait - international, yogurt
Food Should Taste Good - United States, natural potato chips, crackers
Parampra Foods - India, convenient meals
Yoki Alimentos - Brazil, snack foods, convenient meals
The Yoki Alimentos acquisition is not priced into the 2013 sales forecast. The deal gives General Mills a company that had 2011 sales of around $52.9 million. The company has a strong presence in Brazil, which has one of the largest growing middle class populations in the world. The company sells over 600 products in the following categories: popcorn, snack nuts, convenient meals, dry soups, grains, beans, and seasonings. The deal will double General Mills Latin America sales to $1 billion.
I wrote an article about the Foods Should Taste Good acquisition and then argued that General Mills should purchase Smart Balance (SMBL). Smart Balance is a leader in the natural foods category with product offerings like milk, butter, spreads, peanut butter, and gluten free snacks. Smart Balance has a market capitalization of $552 million and is approaching fifty two week highs. The company is finally being respected by Wall Street after several acquisitions in the gluten free category. General Mills could acquire the company for less than $750 million.
I also think that Annie's (NYSE:BNNY) looks attractive as a takeover target for General Mills. The company sells products in three categories: Snacks, Meals, and Dressings (Annie's: Is This Rabbit Lucky?). Annie's, which went public this year, has a market capitalization of $552 million. The Small Planet Foods section of General Mills U.S. Retail saw the largest growth. Consumers in America are constantly shifting to healthier foods and this trend appears to have staying power.
Dividends
Yesterday, General Mills announced a dividend increase to $0.33 each quarter. The new annual payout of $1.32 now represents a yield of 3.5%. General Mills has been growing its dividend each year. The company also has now paid a dividend every year for the last 113 years, without interruption. The company also bought back $313 million worth of its own stock in fiscal 2012. This buyback was less than the previous year due to funding for the Yoplait acquisition.
2013 Outlook
The company's conservative growth outlook has scared investors away this morning. General Mills is forecasting net sales growth in the mid single-digit range. The company also is forecasting earnings per share on an adjusted basis of $2.65. Analysts had been hoping for $2.75. General Mills is not factoring in the Yoki acquisition and I believe is playing the Yoplait Canada launch conservatively. The company does not take control of the Yoplait brand in Canada until September 1st. Yoplait Canada has a 28% market share in the country and over $1 billion in annual sales. The Yoplait brand also distributes the Liberte brand, which has a 8% market share in Canada, and is the number one Greek yogurt in Canada.
General Mills has recognized that consumers want organic and natural foods. Strategic acquisitions have powered the company forward in natural foods and international sales. I think General Mills will make a large United States acquisition and also several small International ones. With shares yielding 3.5% and approaching 52-week lows, they are worth buying here.
Disclosure: I have no positions in any stocks mentioned, and no plans to initiate any positions within the next 72 hours.