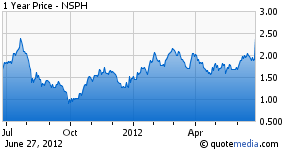 Today Nanosphere (NASDAQ:NSPH) received approval for their Gram Positive blood stream infection test from the FDA. This test will be utilized in hospital level labs to identify blood infection pathogens and their resistance markers in less than 8 hours. This test will replace the current blood culture lab test that takes 2 to 3 days for a result.
This is the first approval by the FDA of a sample to result, multiplexed test. Multiplexing is the detection of multiple pathogens within one test. A lab technician can perform the Nanosphere test with minimal test prep and the Verigene system produces an easily read result.
The increased speed of diagnosis of the test will allow doctors to focus antibiotic treatment faster. The faster the antibiotics can be focused (from broad spectrum treatments to pathogen specific treatment) will decrease recover times, side effects to the patients, and cost to the hospitals. Most of these blood borne pathogens are acquired while patients are already hospitalized for other illness or surgeries.
The company's research says that faster treatment will save hospitals $21,387 per patient and reduce mortality rates by 80%.
The cost of the tests are in the $30-$100 range and require only a lab tech to perform and read. The Nanosphere Verigene system's technology is similar to Cepheid's but allows for multiplexing. This allows for each test to detect a wide array of pathogens per test.
A full explanation of the technology, market size, and product can be found in the company's presentation here: June Presentation
This test will be the first of company's tests that will ramp revenue. The company has 3 more tests in clinical trials or development. The company expects another approval this year for a C. Difficile test with 2 more approvals expected in 2013.
The company also expects placements of its Verigene to increase to 381 by the end of Q1 2013. This footprint will give the company enough scale to approach profitability. The company finances and leases the systems to customers. The average cost of a system is about $100,000.
The key takeaway from this clearance is the company has reached an inflection point, moving from development stage to operations. The validation of the technology by the FDA changes the game for NSPH and its investors.
Disclosure: I am long NSPH.