A few years ago I set out to find the best investments I could to take advantage of higher oil prices. I looked at deepwater producers, international producers and oil sands producers. Eventually I settled on investing in tight oil producers where I believed the stock market was greatly underestimating potential for massive production increases.
I think that I was correct in that most investors didn't know the production ability of these unconventional producers. I've been very satisfied with how the companies I am invested in have performed (not so much with their stock prices).
Some of the companies that I own that I think are in the bargain bin these days include:
Petrobakken Energy (PBKEF.PK)
Penn West Energy (NYSE:PWE)
Bellatrix Exploration (BLLXF.PK)
But I now have a concern. I'm worried that these unconventional oil producers are going to be so successful in ramping up production that it collapses the price of oil.
EIA Annual Energy Outlook - Too Pessimistic
This week the Energy Information Agency released its updated Global Energy outlook and in it included some estimates of how much production we can expect from unconventional or "tight" oil.
"Tight oil production is highest in the High TRR case, which assumes both higher EUR per well and generally lower drainage area per well than in the Reference case. In the High TRR case, tight oil production increases from roughly 400,000 barrels per day in 2010 to nearly 2.8 million barrels per day in 2035, with the Bakken formation accounting for most of the increase. The TRR estimate for the Bakken is more than 7 times higher in the High TRR case than in the Reference case-39.3 billion barrels compared to 5.4 billion barrels-which supports a continued dramatic production increase through 2015 and a longer plateau at a much higher production level through 2035 than in the Reference case. Bakken crude oil production (excluding NGPLs) increases from roughly 270,000 barrels per day in 2010 to nearly 800,000 barrels per day in 2015 before reaching over 1 million barrels per day in 2021 and remaining at that level through 2035."
In their most optimistic case the EIA is estimating that tight oil will reach 2.8 million barrels per day by 2035.
That estimate seems pretty pessimistic to me even though that is the EIA's most optimistic of four possible production scenarios.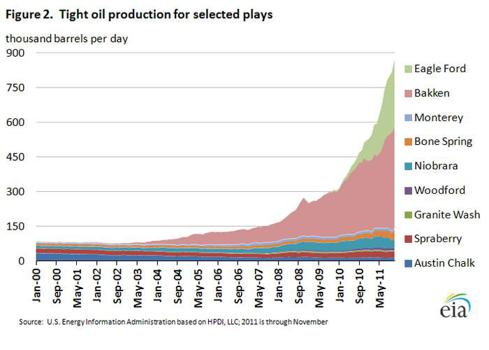 Click to enlarge
The above graph shows that tight oil production as of last November was 850,000 barrels per day and is likely already pushing the 1 million barrel per day mark. The EIA is projecting only a 2.8 million barrel per day rate by 2035 and we are already almost there.
To try and get more insight I listened to the most recent presentation made by EOG Resources (NYSE:EOG) CEO Mark Papa which was made on June 15, 2012. EOG is a large player in the most significant American tight oil plays which are the Bakken and the Eagle Ford.
Papa posed a question to himself. "Won't all of the oil and gas companies switching capital to drilling tight oil resource plays destroy the price of oil?" Papa's answer is that it won't. While his forecast for tight oil production by 2015 is 2 million barrels per day which is more aggressive than the EIA, he thinks that next to the 90 million barrels a day that are consumed daily total tight oil production isn't enough to greatly influence the price.
Global Oil Demand Growth
What I like to do in order to try and understand whether this tight oil growth from North America can really impact the global oil price is look at the demand side of the equation.
The International Energy Agency's most recent growth figures for 2012 are:
"After posting near-zero annual growth in the fourth quarter of 2011, global oil demand growth will gradually accelerate throughout 2012, culminating in an increase of 1.2 million b/d by this year's final quarter, the International Energy Agency said in its latest monthly oil market report.
Global oil consumption is set to rise by 800,000 b/d this year to 90 million b/d, unchanged from the agency's previous report, with gains in developing countries more than offsetting declining demand within countries of the Organization for Economic Cooperation and Development."
That rise in demand of about 1 million barrels per day year on year is likely what we can expect going forward as China, India and the billions of people in the emerging economies consume more oil.
And at a high level that does provide some context as to how significant the tight oil ramp up in the United States will be to global oil prices.
Every year the world needs to raise its daily global oil production by 1 million barrels per day in order to keep up with demand. EOG's Mark Papa is forecasting that by 2015 tight oil production can increase by 2 million barrels per day. That is 3 years from now, which would mean that daily global oil demand will have increased by 3 million barrels per day and outpaced the growth in tight oil production.
And don't forget that while tight oil production is increasing quickly, conventional oil production is decreasing so the net gain in production is considerably less than the gross tight oil gain.
To show you what I mean, have a look at US crude oil production per year as detailed by the EIA:
2009 - 5.36 million barrels per day
2010 - 5.48 million barrels per day
2011 - 5.67 million barrels per day
In two years total US production with the help of surging tight oil production has increased by 5.67 million - 5.36 million = 310,000 barrels per day.
Total US production is not going up as fast as US tight oil production because existing fields are declining and a huge amount of capital is going towards the tight oil plays.
Conclusion - Great News for the United States
There is no doubt that American oil production is on the upswing and is going to continue for a long time provided the price of oil does not collapse. Remember, these tight oil plays don't work at $40 oil.
And that is great news for the United States as each and every year dependence on imported oil is going to decline.
What I don't think will happen is that the tight oil revolution will turn the global oil market upside down and collapse the price of the commodity. And I'm counting on it as I've got a big chunk of my cash in a portfolio of unconventional oil producers that are going to be increasing production for at least the next decade.
Disclosure: I am long PBKEF.PK, PWE, BLLXF.PK.