Looking for a dividend stock you can count on? Shoe and bag maker RG Barry (NASDAQ:DFZ) should be on your shortlist. The footwear and accessory maker has been around for a long time, publicly traded for 50 years, and with a diversified product portfolio, strong sales trends, and healthy liquidity, its 2.44% dividend yield looks stronger than ever.
RG Barry has three major brands: the Dearfoams shoe and slipper line that is based off of the company's 1947 invention of the original foam cushioned slipper; the Baggallini line of travel handbags and accessories; and the Foot Petals line of footwear accessories. Its market cap stands at $146.68 million, at an intra-day price of $13.23 a share as of Tuesday.
The company's dividend yield is at 2.44%, and has a sustainable payout ratio of 24.56%. The yield level can be trusted (no value traps here) because the stock is currently rallying above its 20-day, 50-day, and 200-day moving averages. Liquidity is also strong enough to support the dividend for some time. As of the end of the first quarter, the company was sitting on over $40 million in cash and short-term investments. Current ratio is at 4.43, and quick ratio is at 3.43.
Despite the stock's recently strong performance, the stock still appears undervalued relative to EPS trends. Based on the assumption that P/E is equal to a constant k, increases in EPS should be matched by proportionate increases in price. But the company's EPS estimate for the current year increased from 1.12 to 1.23 over the last 30 days, an increase of 9.82%. This increase came during a time when the stock price changed by -1.7% (from 12.91 to 12.69 over the last 30 days). This may indicate that the stock has more value to price in.
Price multiples also point to an undervalued stock. PEG is at 0.81. P/FCF is at 8.88. TTM P/E is at 11.31 vs. 14.68 for the industry average. TTM P/Sales is at 0.94 vs. 2.31 for the industry average.
Sales trends have been steadily rising over the last 5 years, rising 4.2%. Comparing revenue trends to accounts receivable and inventory also point to strong sales trends. Revenue grew by 24.86% during the most recent quarter ($25.11M vs. $20.11M y/y). Accounts receivable grew by 12.11% during the same time period ($14.9M vs. $13.29M y/y). Receivables, as a percentage of current assets, decreased from 20.87% to 19.88% during the most recent quarter (comparing 13 weeks ending 2012-03-31 to 13 weeks ending 2011-04-02).
Inventory fell by 13.92% during the same time period ($17M vs. $19.75M y/y). Inventory, as a percentage of current assets, decreased from 31.02% to 22.68% during the most recent quarter (comparing 13 weeks ending 2012-03-31 to 13 weeks ending 2011-04-02).
On the downside, EPS has fallen 3% over the last 5 years for DFZ. But year-over-year EPS growth was impressive at 93%. 5-year projected EPS growth is at 14% according to Finviz.com.
For all of these reasons, I believe that DFZ offers a reliable dividend supported by strong sales trends and strong liquidity. The stock itself also appears undervalued to me by many measures. With its strong balance sheet and income statement, this company seems very well positioned for a recovery in global consumer spending.
For a closer look at RG Barry, use Kapitall tools to dig deeper!
For an interactive version of this chart, click on the image below. Market cap data sourced from Zacks Investment Research.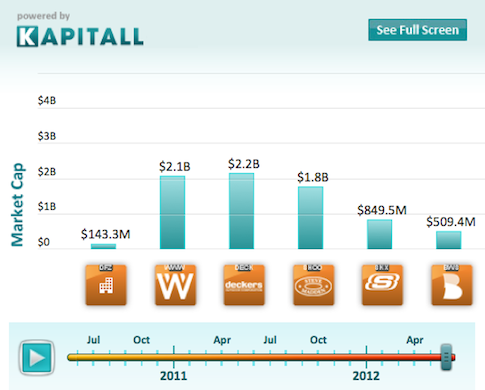 Tool provided by Kapitall (kapitall.com).
*Written by Alexander Crawford. Price multiple data sourced from Fidelity, EPS data sourced from Yahoo! Finance, accounting data sourced from Google Finance.
Disclosure: I have no positions in any stocks mentioned, and no plans to initiate any positions within the next 72 hours.