Global airlines are bracing themselves for the Europe's debt crisis to worsen during the year, warning it would wipe out the benefit to the industry of cheaper fuel prices. The International Air Transport Association [IATA] left its 2012 global airline profit forecast unchanged at $3 billion, masking a widening gap between regions as only North and South America saw their profit outlook improve.

The euro zone's troubles have already pushed many European carriers into the red and projects a "serious risk" of bankruptcies. Indeed, Malev and Spainair, two fair-sized European airlines, have already gone bust. Several big airline groups, notably Air France-KLM, are trying to make deep cuts. The global industry's after-tax profits are forecast to fall from $7.9 billion in 2011 to $3 billion this year; that is just 0.5% of revenue.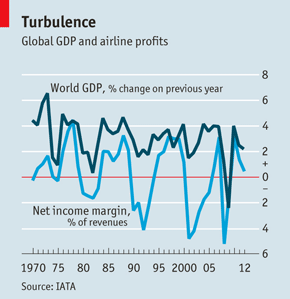 Things feel all the worse because 2012 might otherwise have been a good year. Oil prices have moderated of late. Global passenger traffic has risen by 6%, faster than the long-term trend. Freight contracted in 2011, but is reviving in many markets (though not Asia). Asset utilization is 79%, up from 74% in 2009. Planes are relatively full, especially in America.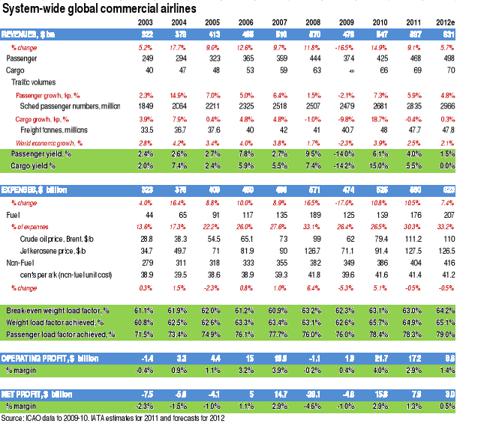 That said, the industry faces the following three major risks apart from a European meltdown.
1. Oil: Supply Shock emanating from Iranian crisis would lead to oil prices shooting northwards and wiping off profits. Delta Airlines (NYSE:DAL) has purchased a refinery from ConocoPhillips (NYSE:COP) for $180mn to offset the risk of higher jet fuel prices. The company estimated that it would reduce its annual fuel expense by $300 million, once the refinery is refurbished and operating again. Others like US Airways (LCC), Alaska Air Group (NYSE:ALK) JetBlue (NASDAQ:JBLU) and United Airlines (NYSE:UAL) use financial hedges, but these are pricey and can backfire if oil prices drop. United Parcel Service (NYSE:UPS), FedEx (NYSE:FDX), which have aircraft fleets that rival other airlines, simply pass the rising costs to customers, through surcharges.
2. A fleet of new planes is scheduled for delivery in the near term. Capacity has remained tighter than planned as a result of production snags at the work places of Airbus (OTCPK:EADSF), Boeing (NYSE:BA) and Embraer (NYSE:ERJ). The Airline companies resorting to use the new capacity to expand capacity/routes, instead of replacing their old aircrafts, could hurt capacity utilizations.
3. Aviation accounts for close to 2% of the global GHG emissions and European Commission has included greenhouse gases from aviation in its emissions-trading scheme [ETS]. The move is opposed by over 30 countries, of which China is the most defiant. If a compromise is not found, European countries must levy hefty fines on offenders and may seize aircraft, which could set off a trade war. On June 12th, the China Air Transport Association, which represents Chinese carriers, said that China would retaliate with similar measures. Many airlines like KLM, Lufthansa (OTCQX:DLAKY), Finnair (OTC:FNNNF), Thomson Airways, Aeromexico, US Airways and United have made varying commitments to use bio-fuels, and commercialization appears to be a decade away. Moreover, with a view to stop climate change and carbon emissions, Honeywell (NYSE:HON), Boeing (BA), United Airlines, Continental Airlines, Japan Airlines and Virgin Atlantic, all are involved in research and development using biofuels to replace up to 40% of the jet fuel needed to fly airplanes.
Disclosure: I have no positions in any stocks mentioned, and no plans to initiate any positions within the next 72 hours.